Crock Pot Cube Steak is the best comfort food. The gravy combined with the tender cube steak make an amazing meal and so easy in the slow cooker.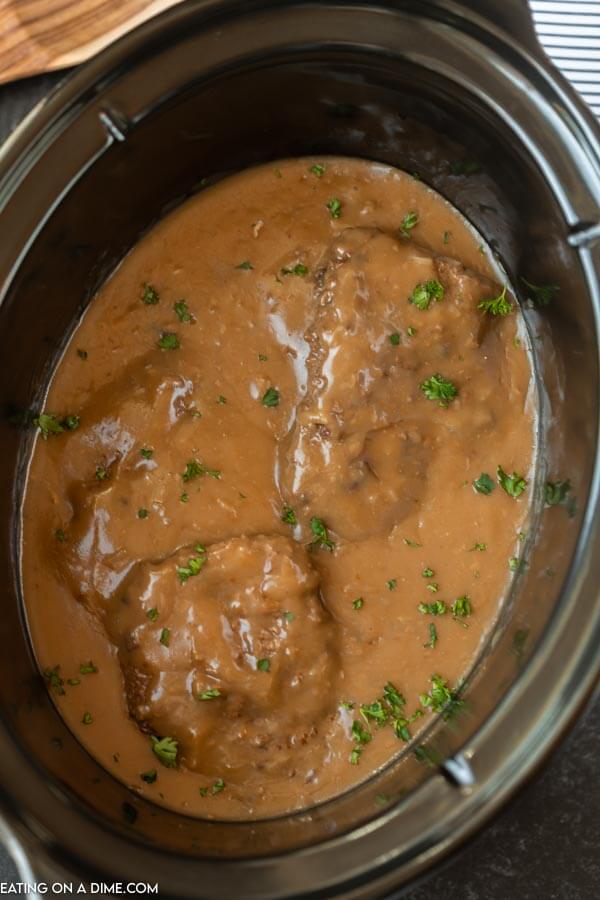 Crock Pot Cube Steak
We love a good crock pot recipe and this one does not disappoint. This cube steak is delicious after being slow cooked all day and that gravy is just the best.
You will love how tender the meat is and you can cut it with a fork. Make sure to serve this meal with bread because you will want to dip it into the gravy.
The gravy is my favorite part. We make these Easy Homemade Dinner Rolls and it is SO good with the gravy.
If you are like me and don't have much time to cook traditional cube steak, this cube steak and gravy recipe is a must try.
What is cube steak?
This is a type of beef that has been pounded with a meat tenderizer. It is normally top sirloin or top round.
Will steak get tender in crock pot?
Yes! The cube steak is incredibly tender from being slow cooked all day. It is actually my favorite way to cook this type of meat.
The meat is so tender that you can cut it with a fork.

Ingredients:
How to make Crock pot Cube Steak:
First, place the cube steak in the crock pot. I love the Ninja cooking system because you can brown the meat right in the crock pot for recipes that call for that.
Add the onion soup mix, cream of mushroom soup and beef broth over the meat.
Second, just let the slow cooker do the work. I prefer to cook it on low for 6 to 8 hours. However, you can cook it on high if you don't have much time for 3 to 4 hours.
Finally, about an hour before you plan to serve, combine the water and cornstarch in a small bowl. Once this is mixed together really good, pour into the crock pot on the high setting. It will thicken the sauce and be perfect when it is time to eat.
What to serve with slow cooker cube steak?
Egg Noodles
Rice- We freeze rice for an easy side on busy weeknights.
Steamed Broccoli- easy microwave recipe that takes minutes.
Easy Homemade Dinner Rolls or any type of bread. You can grab some from the bakery. You definitely want something to dip into that delicious gravy. Trust me!
Slow cooker cube steak with onion gravy has the best flavor!
The onion soup mix combined with cream of mushroom soup and broth give this meal the most delicious flavor. Your family will go crazy over this Crock Pot Cubed Steak recipe.
Slow cooking makes this meal really easy and all the flavors get blended together.
More ideas to try with slow cooker cube steak:
You can also try Crock Pot cube steak with cream of celery instead of cream of mushroom.
For a change, try substituting the cream of mushroom with cream of celery. It changes the flavor and is a nice change if you want to try something new.
Try making Crock pot cube steak and potatoes. Just toss a few potatoes into the slow cooker if you prefer. The potatoes taste amazing with the beef and gravy.
Leftovers- Make open faced sandwiches with the leftovers. Just use a slice of loaf bread and top with meat, gravy and potatoes. It is the best lunch or dinner idea for the next day.
You will love cube steak crock pot recipe!
Slow cooking is such a big help on a busy day. This cubed steak with gravy is the best comfort food.
I think you are going to really love it. It is just so easy and delicious.
If you love comfort food like my family does, this is a must try. You will not be disappointed. Just toss and go and be prepared for the best dinner.
Print this Easy Cube Steak crock pot recipe:
More steak recipes to try: