Try Crock Pot Hawaiian BBQ Meatballs for a really easy meal that everyone will love. With just a few simple ingredients, it is so easy to make these tangy Hawaiian meatballs for parties, family dinner and more!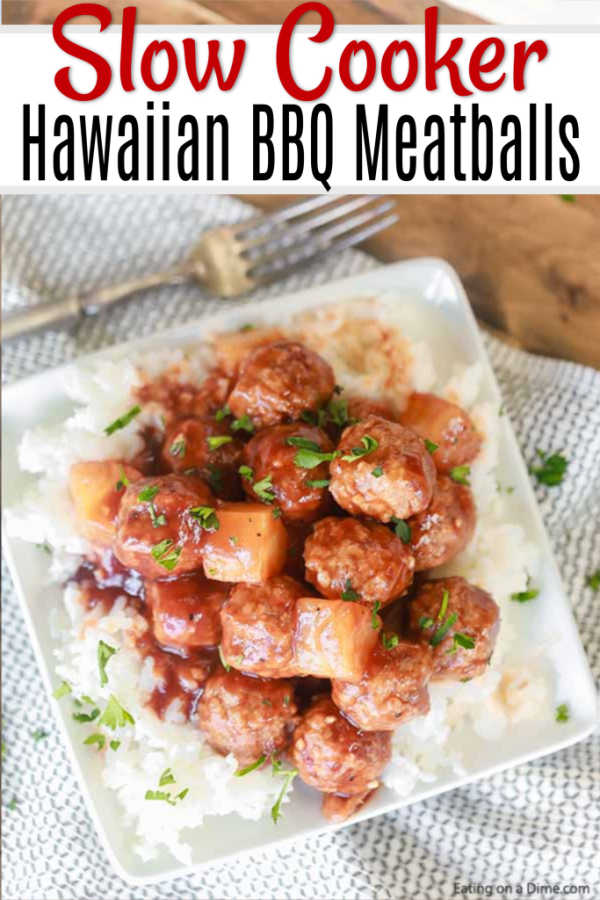 Crock Pot Hawaiian BBQ Meatballs
The slow cooker does all the work for these flavorful sweet and sour meatballs with pineapple and bbq sauce. Sweet and savory combine for the best tangy meatballs!
The sauce is amazing! Your family will go crazy over this meal.
You literally throw everything in the crock pot and that is it! Plus, it is only a few ingredients. This recipe is SO simple but the results are so delicious!
Crock Pot Hawaiian Meatballs are perfect for parties!
We love to make these for family dinner but they are just as amazing served at parties. They make the perfect appetizer or party food.
Plus, it is so simple so you can spend even more time with your guests. It is a win all around!
We have made these and also Slow Cooker Teriyaki Meatballs Recipe for parties and they are always a big hit.
Whether you are hosting a birthday party or it is Game Day, these meatballs do not disappoint.
Grab some toothpicks for appetizers and easily serve these meatballs. Guest can grab and go and easily eat and socialize.
You could even serve these for baby showers and more. They are the perfect party food because the crock pot does all the work.
They are simple to make and easy to keep warm until ready to serve and enjoy. It can't get any easier!
Your family will love these Slow Cooker BBQ Meatballs!
No one will be tempted to grab take out when you make this amazing meal. Toss everything in the crock pot in the morning and come home to dinner waiting.
It is so good and the flavors are even better from being slow cooked all day. So yummy!
The mixture of sweet and savory really make this meal amazing. Give it a try and let us know what you think!
What do you need to make Hawaiian barbecue meatballs:
frozen meatballs
bbq sauce
pineapple chunks
minced garlic
I told you it was SO simple! You won't find any complicated ingredients here.
How do you make BBQ meatballs in a crock pot?
Put everything in the crock pot and cook on low for 4 hours. Easy!
This is my go to recipe when I need to literally just toss and go in the mornings. I can put this together in just minutes and have a great meal waiting for us when we get home.
We save a ton of money because I'm not tempted to grab take out on busy days or when we are running to various sports activities. I love coming home to a great meal to feed my family!
Should I thaw meatballs before putting in crockpot?
No need to thaw the meatballs. Just put them in the crock pot frozen and let the slow cooker do all the work.
We are all about easy and you won't find any complicated recipes or ingredients here! We have busy schedules and kids and all sorts of things going on.
Simple and easy recipes are the way to go!
What goes well with BBQ meatballs?
The meatballs are so delicious served over rice. You can pour the BBQ sauce over the rice and it is so good!
You can save even more time and learn how to freeze rice and you can make this meal even easier. I love to grab the rice from the freezer in the morning and when we come home it is all ready to enjoy.
It is much cheaper than those prepackaged servings of rice and so fast and quick. We do this all the time and it is the best time saver and great on the budget.
Keep things simple and just add a simple side salad. You could also try Roasted Green Beans or learn how to steam broccoli in the microwave for a super easy veggie side dish.
I think mashed potatoes would also be delicious. You can spoon the sauce over the mashed potatoes. This is one of our favorite side dishes.
If you are serving this as an appetizer for a party, try finger foods like a veggie tray or fruit tray to go with the meatballs. It is the perfect recipe to try any day of the week with hardly any work at all.
Try these other ideas with bbq meatballs crockpot recipe:
Hawaiian meatballs with grape jelly (this is such a classic recipe and always a hit)
meatballs with pineapple preserves (pineapple meatballs are so yummy and the preserves really add a ton of flavor)
Add bell peppers to the recipe. (The peppers go great with the sweet and sour sauce.)
Top with green onions before serving
The sweet and savory sauce goes great with lots of different additions. Try several and see what your family likes best.
We like them all so I love to change things up every now and then. The kids think they are eating a new recipe when really it is the same one.
I have made Hawaiian meatballs with grape jelly for a wedding reception and everyone asked for the recipe. Meatballs are so versatile for any occasion and everyone always loves them.

Make sure you have a good slow cooker for BBQ Pineapple meatballs crockpot recipe.
If you are in the market for something new, I really love my Ninja cooker. The nice thing about this is you can brown the meat in the same slow cooker.
It is so handy to just have the one pan to clean. It has become of my favorite kitchen appliances.
I also really like this crockpot as well. I use this all the time and it's great.
My favorite feature is that you can lock the lid down. This is awesome for when you need to take the crockpot somewhere.
I often use the slow cooker to take dishes to potluck events and this feature is amazing! There are several others on sale here.
Another favorite is this programmable crock pot for when I am am not at home all day. I love coming home to a nice meal ready and waiting!
I also like to use crock pot liners to make clean up a breeze. These are worth every penny and save a ton of time.
Try Crock Pot Hawaiian BBQ Meatballs!
Your family will love this Hawaiian meatball recipe. No need to make homemade meatballs when this easy recipe with frozen meatballs tastes so amazing.
The recipe is so versatile and you can easily use what you have. Whether you use pineapple juice, crushed pineapple or pineapple chunks with the barbecue sauce, it will be amazing.
We have even added onion and bell peppers to the recipe and it was so delicious. I keep frozen onion and bell peppers on hand to easily add to recipes quickly.
One of my favorite tips is to use a small food chopper or food processor to quickly and easily chop onions and peppers. If you do not have one of these, I highly recommend them. They are such a time saver and you make cooking so fast and easy.
I usually just chop the entire vegetable and freeze what I don't need. It's so nice to be able to just take the diced onion out of the freezer for recipes.
This is how I meal prep. It's so quick and easy and helps get dinner on the table fast.
Learn and how to freeze onions and also how to freeze peppers to save so much time in the kitchen! Lots of the recipes we cook call for onions and peppers so this is such a great time tip that we use frequently.
You will love having peppers and onions all ready to go! It is quick and easy and goes great with these Hawaiian BBQ Meatballs.
Another tip for Slow Cooker Hawaiian Meatballs:
You can of course use store bought BBQ but we love to make our own Homemade BBQ sauce. It is an amazing base barbecue sauce recipe that can be easily adapted to your tastes.
It is so easy and absolutely amazing with these meatballs. Learn how to make Homemade Barbecue Sauce (with very little effort).
You can use your favorite bbq sauce if you would rather not make your own. Sweet baby ray is a one of our favorites.
This recipe is so easy to make your own by trying different types of BBQ sauce. Everyone has a brand they love so just use what you prefer.
You can also use turkey meatballs instead of beef for these crockpot meatballs.
I often just use what I have in the freezer or what is on sale at the grocery store. They are both delicious.
We love simple recipes like this and my family gets to enjoy a great meal. I keep recipes like this on the regular menu plan rotation because I know the entire family will enjoy these meals.
In fact, I cut our grocery bill by 50% off by following these 8 Tips for for Saving Money on Groceries by Menu Planning! Save that money for a family vacation or maybe just some wiggle room in the budget.
Easy recipes like this keep my family happy and my grocery budget in good shape. This is how I keep our grocery budget reasonable.
By shopping when things are on sale I save money on groceries and it really helps our budget. I learned early on that by shopping the sales and making a menu plan accordingly, we can save a ton of money!
Everyone gets to enjoy really great meals and without busting the budget. I just try to pick up things on sale and multiples if possible to put in the freezer.
When it is time to make my menu plan, I check the freezer to see what is already there and what is on sale that week at the grocery store. It is a win all around!
Print this Crock Pot BBQ Meatballs recipe below:
Crock Pot Hawaiian BBQ Meatballs
Try Crock Pot Hawaiian BBQ Meatballs for a really easy meal that everyone will love. With just a few ingredients, it's easy to make tangy Hawaiian meatballs
Ingredients
3

lbs

bag frozen meatballs

3

cups

bbq sauce

1

pineapple chunks can (2 oz.)

2

teaspoon

minced garlic
Instructions
Place everything in the crock pot.

Cook on low for 4 hours.

Serve over rice!
Nutrition Facts
Calories
844
kcal
,
Carbohydrates
58
g
,
Protein
39
g
,
Fat
49
g
,
Saturated Fat
18
g
,
Cholesterol
163
mg
,
Sodium
1596
mg
,
Potassium
983
mg
,
Fiber
1
g
,
Sugar
48
g
,
Vitamin A
335
IU
,
Vitamin C
2.5
mg
,
Calcium
79
mg
,
Iron
2.9
mg
Enjoy lots of buffalo flavor in this simple and easy Crock Pot Honey Buffalo Chicken Meatballs recipe.
Crock Pot Buffalo Chicken Meatballs Sliders recipe gives you lots of buffalo flavor in bite size sliders.
Try these other easy crockpot meatball recipes:
Check out these other easy Crock Pot Recipes: