Instant pot Steak and Potatoes Beef Stew recipe is the perfect weeknight meal. It's a fun twist on traditional beef stew, but still simple, easy and delicious.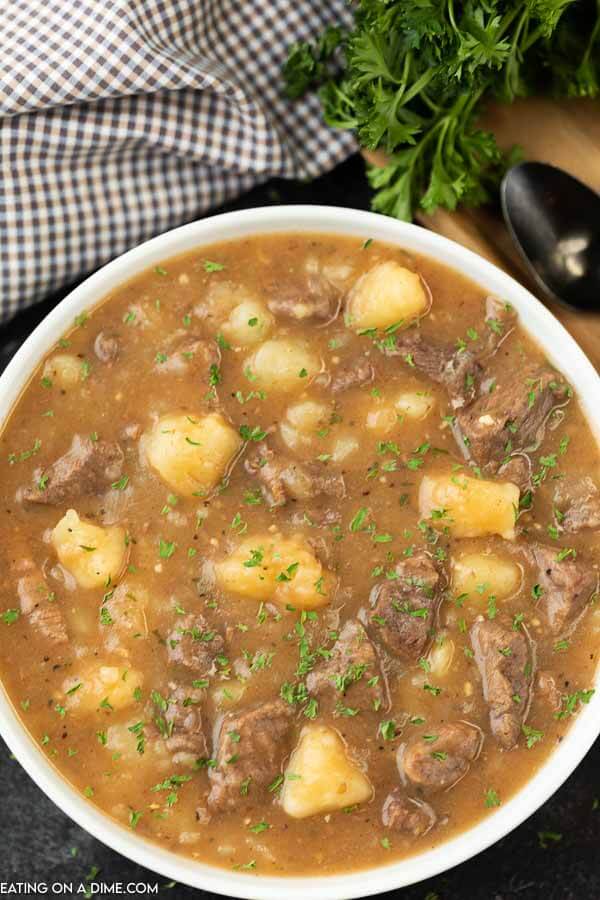 Instant pot Steak and Potatoes Beef Stew recipe
We all love beef stew and it is even better in the instant pot! It is truly comfort food at its best. The beef is so tender that you can cut it with a fork. The potatoes and carrots are packed with flavor.
It really does not get any better than this delicious instant pot beef stew. All the ingredients cook in the instant pot to make a hearty meal. The steak is tasty and the potatoes come out fork tender.
We all have crazy schedules and dinner time can be tricky. However, this recipe is so easy and requires such little time to prepare and cook. If you love cooking with stew meat, you have to try Beef Stew Meat Recipes.
Instant Pot Steak and Potatoes Stew:
I am using an 8 quart Instant pot but you can use a 6 quart if you prefer. We also used our instant pot to make another simple meal, Instant Pot Steak and Potatoes. I love having simple recipes I can throw together quickly.
It really helps on busy nights. Using the instant pot has been a game changer for my family. It is perfect to use when I didn't set anything out but I have a freezer meal prepare.
No worries if you do not have a an instant pot yet. You can try Crock Pot Steak and Potatoes Beef Stew Recipe.
What Kind of Meat do you use Beef Stew?
The nice thing about stew is you can use tougher more inexpensive cuts of meat. If you cannot find stew meat, you can use round steak and cut them into bite size pieces.
You can also use roast or even a bottom roast. It will all turn out great. Another idea is to make Ground Beef and Potato Stew. It will change the texture but might be a nice change.
We have even made Beef stew with red wine for a little bit different flavor. It is a lightly different but delicious flavor. No matter the meat you use, instant pot steak stew is a family favorite.
How do you make beef stew meat tender?
Just use the instant pot and you will have tender meat. It will be out of this world.
The beef stew meat will fall apart with just your fork thanks to the pressure cooker.
What kind of potatoes are best for beef stew?
We used russet potatoes, but Yukon gold or red potatoes will also work well.
Ingredients
Stew Meat
Red Onion
Potatoes
Minced Garlic
Steak Seasoning
A1 Steak Sauce (any brown steak sauce will do)
Beef Broth
Corn Starch
Water
You can also add in 2 bay leaves (optional)
How to make Instant Pot Steak Stew:
Chop up the red onion and the Yukon gold potatoes into bite size chunks. You want them bigger but you want to be able to eat them in one bite.
Place the vegetables in the Instant pot and add the beef.
Season with the minced garlic, steak seasoning.
Pour the A1 steak sauce and the beef broth over it.
Stir to combine then add the lid. Lock the lid and make sure the top is set to sealing.
Press the manual button and set the cooking time on high pressure for 10 minutes.
Once finished, allow it to release naturally for at least 10 or 15 minutes and then do the quick release to release pressure.
Combine the cornstarch and cold water together in a small bowl. Switch the instant pot to the sauté setting and stir the cornstarch mixture into the instant pot. Cook for 3-5 minutes until the sauce has thickened.
Remove the lid and serve. Season with salt and pepper to taste. Sometimes I add a little Worcestershire sauce.
Tips for the best Beef Stew
Use the Natural Release. I do not recommend doing a quick release to release the remaining pressure. You will want the natural release to help make the stew meat tender.
How to thicken the sauce. Use Cold Water for the cornstarch slurry to thicken the stew. This one extra step really makes the beef stew even better.
Cut Your potatoes bigger than you think. Since the potatoes will cook faster than the beef, you will want them quite large so they don't turn into mush in the Instant pot.
Can I Brown Stew Meat before adding to Instant Pot?
Yes, you can brown the meat on both sides before putting in the instant pot if you prefer. But I like to use the sauté function on the Instant Pot.
First drizzle in some olive oil to brown the beef first and then the brown bits just add extra flavor to the beef stew.
You add the onion when you are browning the beef for even more flavor. It's totally optional.
Variation Ideas:
Stove Top Option – You can make Beef and potato stew stove top version but just note it is usually not as tender. It is still yummy though.
Add in Vegetables – Add in some of your favorite vegetables. We recommend carrots, celery and frozen peas.
Use Different Meat – Instead of stew meat you can use a chuck roast.
What to serve with Beef Stew
Breadstick – My favorite thing is to dip bread sticks in the stew. It's the best and makes for such a hearty meal.
Make Dinner Rolls – Sometimes, I pick a loaf up at the bakery. If I have extra time, I sometimes make Easy Homemade Dinner Rolls.
Corn Bread – This recipe is also delicious with Homemade Cornbread.
The entire family will enjoy this Easy Beef and Potato Stew!
Pressure Cooker Beef Stew Recipe
Try Beef stew with potatoes for a quick meal that does not disappoint. You can have dinner on the table in about 30 minutes making this beef stew in the Instant Pot.
The steak sauce with the beef stock in this easy beef stew recipe is what makes this simple recipe completely packed with flavor! It has a delicious kick that keeps you comping back for more.
You may even want to make a double batch because it tastes amazing left over as well!
I love when we have leftovers. My kids like when I mash the leftover potatoes with the beef broth the next day.
Print this Pressure Cooker Steak and Potatoes Stew recipe below:
Try these other Pressure cooker recipes: