Air Fryer Tilapia Recipe is a healthy and delicious dinner option. It cooks in about 5 minutes for a quick meal any night of the week.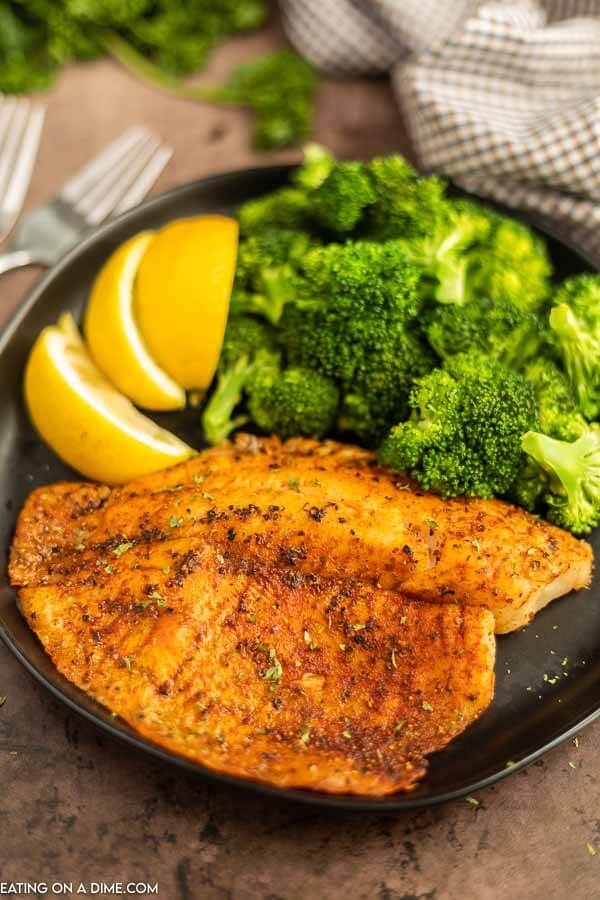 Air Fryer Tilapia Recipe
Tilapia fillets make such a tasty dinner in literally minutes. With just a few seasonings that you probably already have in the pantry, this meal is effortless.
Even my kiddos that aren't big fish eaters enjoy this recipe. Tilapia doesn't have a "fishy" taste so everyone loves this.
Since this meal goes from air fryer to table in about 5 minutes, it is literally faster than take out. I can't go to a drive thru in that amount of time and back home.
Plus, this recipe is healthy and budget friendly. Serve this meal to your family for an easy meal everyone will enjoy.
Ingredients
Tilapia Filets
Olive Oil
Paprika
Salt and pepper
Italian Seasoning
Lemon, juiced
How to cook tilapia in air fryer:
Dry each filet. Pat all the tilapia filets with a paper towel until they are dry.
Preheat the air fryer to 350 degrees F. If your air fryer does not have a preheat option, then run the air fryer at 350 degrees for 5 minutes.
Combine the seasonings. In a small bowl, stir together the paprika, Italian seasoning, salt and pepper. Brush both sides of the tilapia filets with the olive oil with a basting brush.
Coat the fish with the seasoning. Then sprinkle both sides of the filets with the seasoning mixture and use the basting brush to push the seasoning into the filets so that it stays on while it coats.
Put the fish in the air fryer. Place the tilapia in a single layer in the air fryer basket (do not overlap). Cook for 5-6 minutes at 350 degrees F until the filets are cooked through and golden brown.
Check the temperature. Make sure the tilapia reaches a safe internal temperature for 130-135 degrees F. Use an instant read meat thermometer to confirm this. If the tilapia hasn't reached this temperature yet, continue to air fry in 2 minutes intervals until it's reached.
Sprinkle lemon juice. Squeeze the fresh lemon juice on the tilapia when serving and then it's ready to enjoy!
What to serve with Tilapia:
Steamed Broccoli. This easy side dish is steamed in the microwave. It takes only 3 minutes to make and goes great with fish.
Parmesan Pasta. With only 4 ingredients, this pasta dish is so easy to serve with dinner. It is the best comfort food.
Corn on the Cob. Corn is so fast and easy. It is delicious with tilapia and makes for a quick and easy dinner.
See Best Sides for Tilapia for more ideas.
How to store leftovers
Leftover tilapia should be stored in the refrigerator in an air tight container for up to 3 to 4 days.
We like to go ahead an place into meal prep containers with a side of veggies, rice or anything we have on hand. This makes it so easy to grab for a quick lunch instead of getting fast food.
Can you cook frozen tilapia in air fryer?
Yes, you can. However, you will need to increase the cook time. Use a meat thermometer to ensure it is full cooked to 130-135 degrees internal temperature.
I would start by increasing the cook time by 2 to 3 minute intervals. You do not want to overcook the fish.
How long to cook tilapia in air fryer?
This fish cooks very quickly. It generally only takes 5 to 6 minutes for each fillet to cook.
I like to use a digital meat thermometer to make sure it is full cooked. It should read 130 to 135 degrees.
The fish should easily flake with a fork in the thickest section. It should also be opaque in color.
What type of fish is tilapia?
Tilapia is a mild tasting farm raised white fish. It is perfect for those that don't enjoy a strong fish flavor.
This type of fish is inexpensive and easily found in grocery stores and markets.
The neutral taste makes it easy to season with anything you prefer.
Variations:
Cajun Seasoning. Spice things up and substitute Cajun seasoning in this recipe.
Lemon Pepper. This is a delicious seasoning option for tilapia and the lemon really enhances the flavor.
Herbs and Lemon Juice. Don't underestimate the simplicity of fresh herbs and fresh squeezed lemon juice.
Taco seasoning. This is delicious if you want to make fish tacos with the tilapia.
Tips and tricks:
Make sure that the tilapia is completely defrosted before cooking in the air fryer if you use frozen tilapia filets.
Do not overcook the fish or it will be dry and tough.
Try to really rub the seasoning into each fillet so it is well coated.
Don't spray the air fryer basket with cooking spray from an aerosol can. If extra oil is needed, brush it on with a paper towel or pastry brush.
It is crucial that the fish do not overlap to ensure even cooking. They need to lay flat without overlapping any fillets. You may need to cook the fish in batches to ensure ample room.
Make this quick and easy meal.
The next time you need a fast meal, try making tilapia in the air fryer.
Print this recipe for air fryer tilapia below:
More Air fryer recipes:
More easy Tilapia recipes: