These delicious cold pasta salad recipes are easy to make and packed with flavor. Choose from tons of varieties that are perfect for any occasion.
Let's get started with these easy recipes for pasta salads. Each of these recipes are guaranteed to be a crowd pleaser.
The ideas are endless for pasta salad and it is frugal too. You can easily feed a crowd inexpensively. Pasta is very budget friendly and you don't have to use a ton of other ingredients to make it amazing.
Can you make pasta salad ahead of time?
Yes, you can. In fact, I think the flavor is better when it has a little bit of time to combine.
Pasta salad is delicious made the night before or several hours before you plan to serve it.
This is also a great way to save time if you are making it for parties or gatherings.
Now, if the recipe you are making has ingredients that need to stay crispy, this changes things. I would not add those particular ingredients if possible until ready to serve.
Otherwise, it will get soggy. So, just keep that in mind.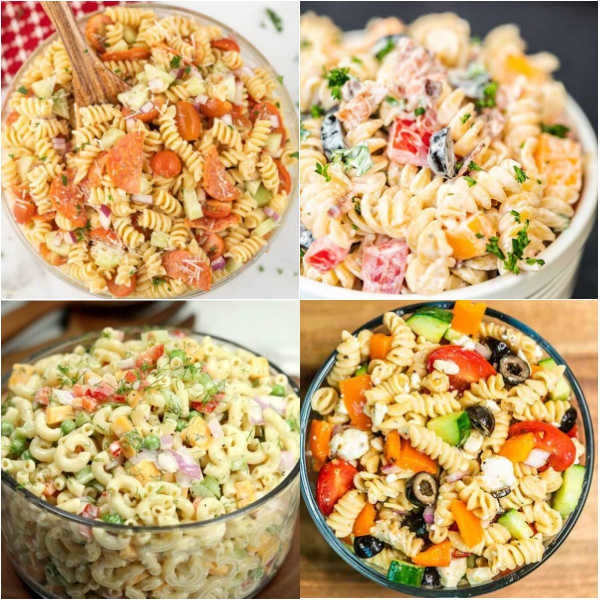 How long do pasta salads last?
It will stay fresh for about 4 to 5 days in the fridge. You might need to add more dressing to it and give it a good stir though. Sometimes, it can start to dry out.
Alternatively, it can also get soggy after an extended amount of time depending on the ingredients.
Pasta salad is definitely best eaten fresh.
How to store pasta?
Use an airtight container with lid to store the pasta in. Refrigerate until ready to enjoy.
The best Cold Pasta Salad recipes
Let's get started with these easy but flavor packed recipes. There are so many different options to try. You will love how easy each recipe is.
1. Easy Pasta Salad Recipe
This classic recipe is loaded with pepperoni, veggies and more. Everything is combined with Italian dressing for tons of flavor.
2. BLT Pasta Salad
Everything you love about a BLT is in this yummy pasta salad. The bacon and vegetables taste amazing with the creamy dressing.
3. Tuna Pasta Salad
Tuna is an easy way to add protein to pasta salad. It literally takes just minutes to make for a fantastic pasta salad.
4. Bacon Ranch Pasta Salad
Skip the box mixes and make this homemade Bacon Ranch salad. Not only is it bursting with vibrant colors but it tastes wonderful too.
5. Greek Pasta Salad Recipe
Light and refreshing and so easy to make, Greek Pasta salad is an easy recipe to try. It is a great way to use veggies and incorporate more into your meal.
6. Easy Macaroni Salad
Try this recipe for classic Macaroni Salad. It is creamy and delicious with bits of cheese and more. This is always a hit at cookouts and potlucks.
7. Classic Italian Pasta Salad
Tons of cheese, tomatoes, olives and more make this so yummy and filling. Anyone can make this easy pasta salad with a few simple ingredients.
8. Easy Ramen Noodle Salad Recipe
Turn ramen into a tasty salad. It is packed with crispy veggies and tons of Asian inspired flavor. The ramen noodles add a ton of crunch that makes his recipe even better.
9. Easy Antipasti Pasta Salad Recipe
Everything you love about an antipasti tray is in this pasta salad. Everything is coated in a delicious dressing that everyone will love.
10. Tuscan Tortellini Pasta Salad
Tuscany pasta salad is loaded with your favorite Italian ingredients and easy to make. Get this on the table in just minutes for a fresh and fabulous side dish.
11. Avocado Pasta Salad
Try this healthier pasta salad for a delicious recipe. You can sneak in spinach and more. The avocado is wonderful in this pasta salad.


12. Tri Color Pasta Salad
Tri color pasta always looks so bright and colorful. The ingredients are super easy and this pasta dish is so yummy.
13. Pizza Tortellini Pasta Salad
Enjoy all of your favorite pizza toppings in this tasty pasta salad. It is easy to customize for what you have on hand and like.
14. Chicken Pasta Salad
If you love chicken salad, you will enjoy this easy recipe for Chicken Pasta Salad. It is super easy and so creamy and filling.
15. Caprese Pasta Salad
All the flavors of Caprese salad taste delicious in this pasta salad. Plus, the dish looks so bright and pretty. It is the perfect Summer dish but also delicious year round.
16. Dill Pickle Pasta Salad
Anyone that loves pickles needs to try this tangy pasta salad. It is quick, easy and frugal. Each bite has dill pickles for the best recipe.
17. Caprese Pasta Salad
Inspired by a Caprese salad and vegetarian, this recipe will be a hit with everyone. The ingredients are so fresh and simple.
18. Mediterranean orzo salad
Orzo salad has tons of Greek flavor and fresh ingredients. It is so quick to make and goes with just about anything.
19. Steak pasta salad
Use leftover steak and make this hearty and tasty pasta salad. It will become a new favorite. Hearty eaters will love steak in this recipe.
20. Bacon Macaroni Salad
Make this flavorful twist on a classic pasta salad. The bacon and dressing make this so tasty. Salt and pepper to taste and you are set.
21. Grilled Vegetable Pasta Salad
So many fresh grilled veggies come together for a great pasta salad. This is the perfect recipe to use up leftover veggies.
22. Deviled Egg Macaroni Salad
If you love deviled eggs, then you are going to love this deviled egg macaroni salad.
23. Dill Pickle Pasta Salad
If you love dill pickles, you have to try this fun pasta salad recipe.
25. Tortellini pasta salad
Cold pasta salad recipes are delicious.
Pasta salad recipes are some of the easiest side dishes to prepare. You can usually make these in 30 minutes or less especially when cooked al dente. Remember to use salted water in a large pot to enhance the flavor of the pasta.
They are budget friendly and so easy to modify based on what you have on hand. Some of our favorite ingredients include: sun dried tomatoes or cherry tomatoes, parmesan cheese, red onion and bell peppers.
You can easily season pasta salad with just Italian seasoning and olive oil. Truly it is so simple to make pasta salad. If you like spicy, add red pepper to the recipes.
Rinse the pasta in cold water and toss everything together using a large bowl. Anyone can make these easy pasta salad recipes.
Let us know which recipe you plan to make first.
Ideas to serve with pasta salad: