Who here loves bacon? What kind of question is that? Doesn't everyone love bacon? 🙂  Today I wanted to show you how to make this delicious and easy bbq bacon chicken dinner.
My family definitely loves bacon and we really prefer Wright® Brand Bacon. It is considered the "best of the best" in our household. 
I picked up a packaged of Wright® Brand Bacon at our local Walmart and we got a very good value. Did you know that a normal package of bacon only 16 oz in it, where as Wright® Brand Bacon is 24 oz?
That means you get 50% more bacon in one package! That is an easy money saving tip.
I ran to Walmart to pick up Wright® Brand Bacon because I knew I would get a good value there. Our family was very excited to try one of the delicious varieties of Wright® Brand Bacon and  I decided to make Bacon BBQ Chicken for dinner and the kids were excited.  YUM!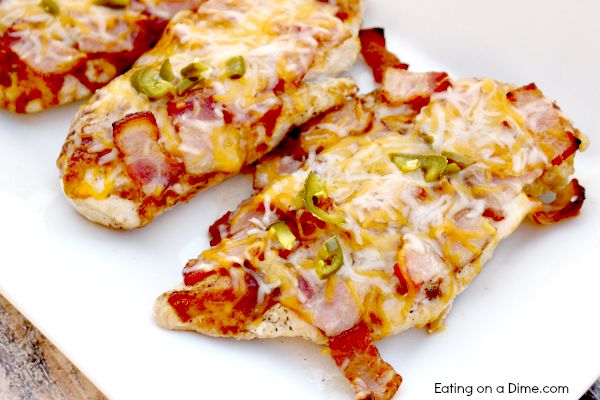 Bacon isn't always just for breakfast.
Here is how you can make this BBQ Bacon Chicken dinner:
1. First I browned my chicken in a skillet. This is optional, but I like it because it adds color to the chicken so it looks nice after you bake it.
2. Place in an oven safe baking dish. I really like to use my pyrex glassware. Make sure you spray it first.
3. Add about 1 tablespoon of your favorite BBQ sauce to each breast. Just eye ball it and spread it around. You don't have to be fancy here.
4. Chop up your bacon into pieces. This is completely optional, but I like it chopped because it makes it easier to eat when your chicken is done.
Now, get the kids involved during this part. Use your favorite kitchen scissors and let the kids cut the bacon. My boys loved helping me out.  You will want one piece of bacon per chicken breast.
5. Lay out the pieces of bacon out on the chicken breasts. Place as many as you want and feel free to overlap. Get the kids involved on here too.
6. Bake in 400 degree oven for 20-25 minutes until chicken is cooked through.
7. Top with Shredded cheese – I used colby-jack blend but any kind will be delicious. I also topped each breast with chopped jalapeños. Place  back int he oven for 5 minutes until cheese melts nicely.
This chicken is delicious and tastes amazing!
Make this bbq bacon chicken tonight.
Next time you want to jazz up your dinner, make sure you grab some Wright® Brand Bacon from Walmart and make this easy BBQ Bacon Chicken. I'm pretty sure your family will thank you.
Try our other frugal and easy chicken recipes:
This is a sponsored post on behalf of Wright® Brand® Bacon. All opinions are 100% my own.