This post may contain affiliate links. If you make a purchase through links on our site, we may earn a commission.
Bacon ranch chicken foil packet has everything you need for a great meal. From the juicy chicken to the flavor packed potatoes and green beans, this dinner is sure to impress.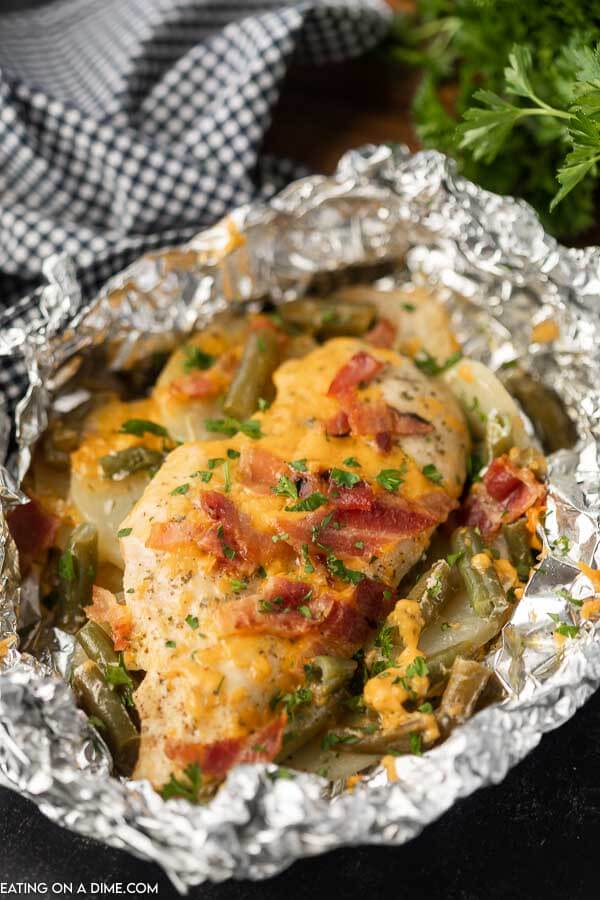 Bacon ranch chicken foil packet
I have been loving easy foil packet dinners lately and this simple Foil Packet Bacon Ranch Chicken recipe has become a family favorite. I know this recipe seems crazy easy but give it a try.
The chicken is super juicy and the juices from the chicken flavor the potatoes and green beans perfectly. It is a one stop and mess free dinner that the kids will love getting in the kitchen to make.
You can toss it on the grill, a campfire, or you can bake it in the oven. Either way, it is packed with flavor.
This recipe allows you to spend more time with your family and less time cleaning up. Since everything is wrapped in the foil, cleanup is easy.
Just toss the foil and go! No pots and pans to wash!
Sounds like my kind of dinner! It is perfect for crazy busy weeknights when you are running from place to place.
We have an amazing homemade ranch mix that we love. It is super easy and so delicious with this recipe.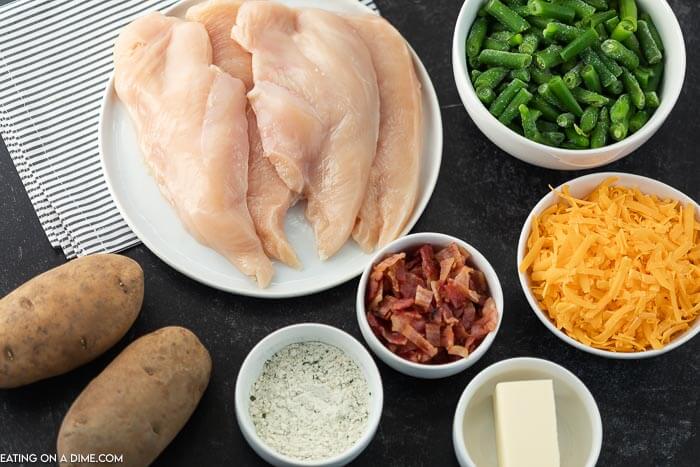 Ingredients for bacon ranch chicken:
potatoes
frozen (or canned) green beans
chicken breasts
Ranch mix (We love this easy homemade ranch mix.)
butter
shredded cheddar cheese
bacon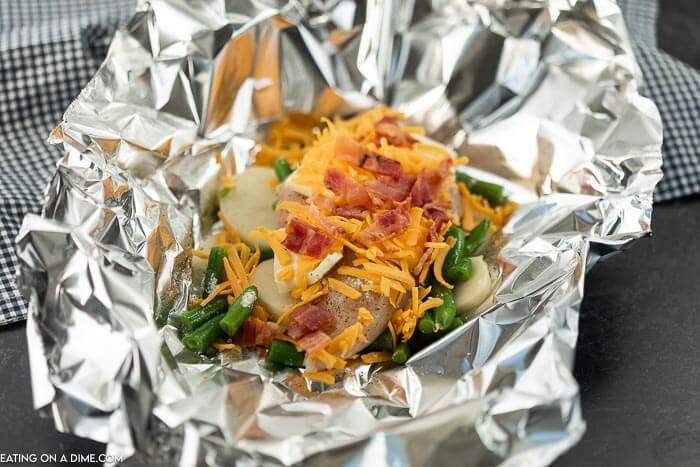 Products you need: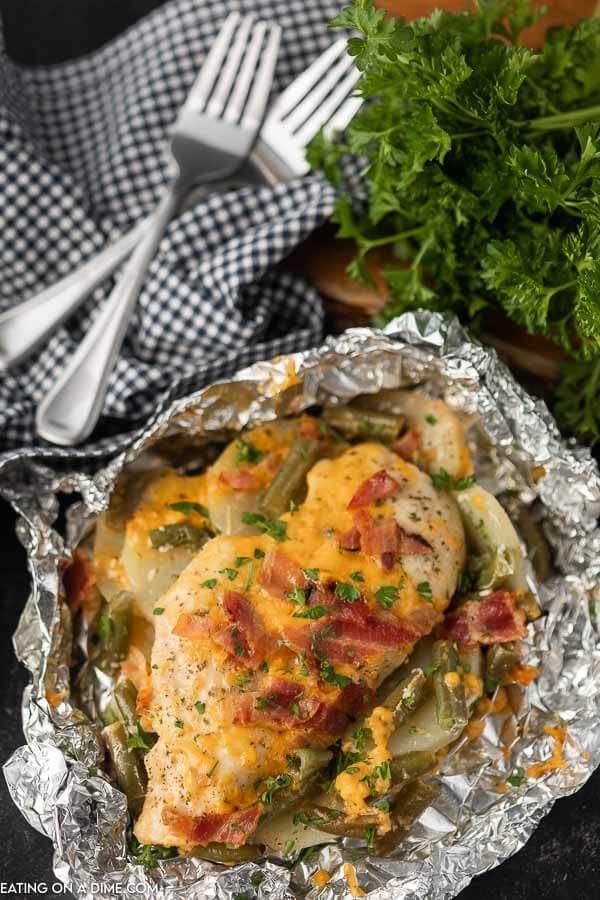 How to make bacon ranch chicken foil packet:
Just a tip- You will want to use heavy duty foil for a foil pack so it won't break when you are grilling. You can use regular foil but I recommend you double wrap it to avoid it breaking in the oven.
First, get 4 pieces of aluminum foil and spray them with non stick cooking spray. Another option is olive oil.
Second, place some of the potato slices on each piece of foil. I like to use a mandoline slicer to quickly slice my potatoes. I love it and it saves a ton of time.
Next, add the green beans on top of the potatoes and then the chicken breasts. Season with salt and pepper. Add the ranch mix and butter on top. Yum!
Top with shredded cheddar cheese and crumbled cooked bacon. This is going to taste amazing with the ranch dressing and it's so quick and easy.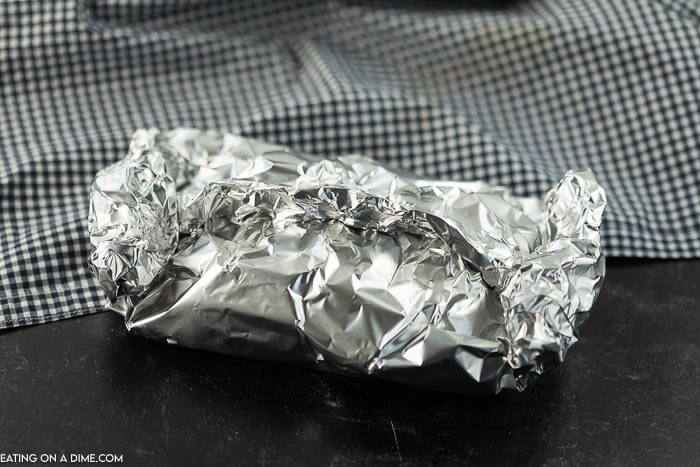 How do you fold a foil packet?
It is so easy! Just fold up each of the sides of the foil until everything is sealed. You now have a foil pack ready to go!
Finally, put the foil pack on the grill or a campfire. Just be careful when you open the packets.
Serve and enjoy!
How to bake in the oven:
Just make each foil pack as normal. However, instead of putting them on the grill, place them on a baking sheet.
Put in the oven and bake! The baking sheet will make it much easier to remove from the oven.
Carefully open and enjoy!
It goes great with grilled corn on the cob.
I love that you can cook this on the grill or the oven. It makes it super easy to enjoy this year round regardless of the weather.
It is such a delicious meal and sure to be a hit with the entire family.
Make this foil packet dinner tonight!
You are going to love having such an easy dinner without any clean up. It is so delicious!
Feel free to substitute chicken tenderloin or other cuts of chicken. Just use what you have or can get on sale!
We used potatoes and green beans but you can use any veggie combination you prefer. Corn is also delicious in this foil pack.
You can switch out the onions for red onions or anything you have.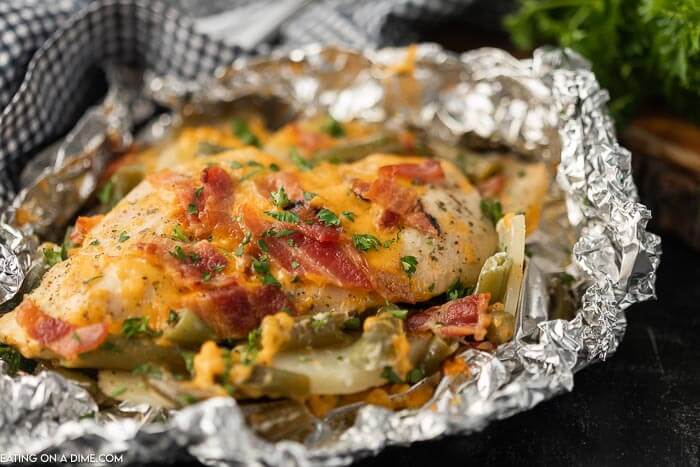 Print your chicken foil packet recipe below:
Foil Packet Bacon Ranch Chicken recipe
Easy Foil packet dinners are fun to make. They can be grilled or baked. Try this Foil Packet Bacon Ranch Chicken recipe today!
Instructions
Coat 4 large pieces of heavy duty foil with a non-stick cooking spray.

Place ½ a potato (peeled and sliced) in the middle of each foil.

Top with ½ cup of frozen green beans on top of the potatoes.

Place on chicken breast on top and season with the salt and pepper.

Sprinkle 1 teaspoon of Ranch Seasoning Mix and place one tablespoon of butter on top for each foil packet.

Add ¼ cup of shredded cheese and the crumbled bacon.

Fold up the sides of the foil. Then fold up the other sides to make a foil pack.

Place on the grill over medium high heat or an campfire.

Open the foil packets carefully and enjoy dinner!
Recipe Notes
You can also make these foil packets at 425 degrees F for approximately 45 minutes.  
Nutrition Facts
Calories
553
kcal
,
Carbohydrates
27
g
,
Protein
37
g
,
Fat
33
g
,
Saturated Fat
17
g
,
Trans Fat
1
g
,
Cholesterol
147
mg
,
Sodium
1301
mg
,
Potassium
1056
mg
,
Fiber
3
g
,
Sugar
3
g
,
Vitamin A
1057
IU
,
Vitamin C
14
mg
,
Calcium
249
mg
,
Iron
2
mg
More foil packet recipes:
More bacon ranch chicken recipes: