Get dinner on the table in just 30 minutes with this Instant Pot Chicken and Rice Recipe. Delicious chicken and cheesy rice combine for the the best meal with tons of flavor. You are going to love this one pot meal.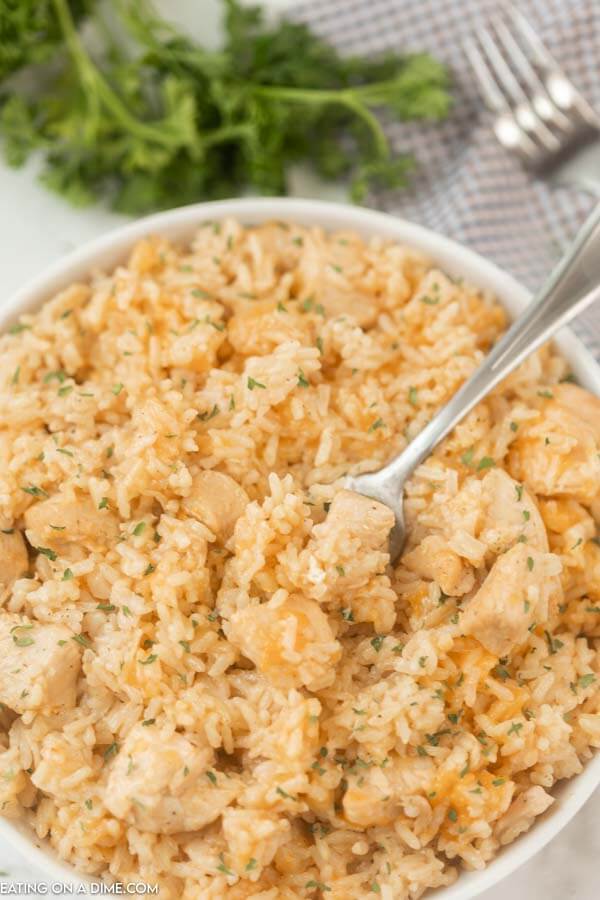 Instant Pot Chicken and Rice Recipe:
This is one of our favorite meals to serve on busy weeknights. The pressure cooker makes it all so easy and dinner can be ready in no time at all. In fact, it is so easy that you only need 30 minutes to have a wonderful dinner sure to impress.
My kids go crazy over this dish and they love when I make it. Since it is so simple, I don't mind making this meal frequently. It can be hard to find something we all enjoy and this meal was gobbled up by everyone.
Using the instant pot has been a game changer for my family. Even if my meal is frozen, I can have dinner on the table in less than 30 minutes by pressure cooking. You are going to love how simple this recipe is.
Instant Pot Frozen Chicken and Rice:
You can even make this chicken and rice with frozen chicken breast. I was glad when I discovered that it is possible to take frozen chicken from the freezer and have a complete meal. It is best to cook your frozen chicken for about 15 minutes first and then do a quick release.
Add in your rice and cook for 3 minutes. This frozen chicken and rice in instant pot is possible without much planning and your family will be happy. Plus it is so much better for you then going through the drive-thru.
Ingredients:
Chicken Breasts – You can use boneless chicken breast or thighs that are fresh or frozen

Olive Oil

Minced Garlic

Salt and Pepper

Onion or onion powder

Chicken Broth – We like using low sodium chicken broth or chicken stock. You can use a diluted cube in water

Cream of Chicken Soup – You can even use cream of mushroom soup.

White Rice – We usually use long grain white rice but you can also use long grain rice or brown rice

Shredded Cheddar Cheese
How to make Instant Pot Chicken and Rice:
Step 1 – Turn the instant pot to the sauté setting. Add the olive oil, diced chicken, onions and salt and pepper to the pot.
Step 2 – Cook for 5-7 minutes stirring occasionally until the onions are soft and the chicken is browned slightly. Add in the minced garlic and cook for 1-2 minutes on the sauté setting in the instant pot.
Step 3 – Next add in the chicken broth and rice. Stir to combine all the ingredients together. Make sure that the rice is fully covered with the liquid (add more if needed). Then pour the cream of chicken soup on top but do not mix it in with the other ingredients.
Step 4 – Seal the instant pot and cook on high pressure for 3 minutes. After the cook time, let the instant pot naturally release the pressure release by not moving the valve on the lid.
Step 5 – Once the pressure has been fully release, stir in the shredded cheese and serve warm. Enjoy!
Substitutions and Additions:
Try cream of mushroom in the casserole.
Make homemade cream of chicken soup.
Substitute chicken thighs.
Add frozen vegetables to the rice mixture. We like the frozen peas and carrots blend for an easy one pot dish.
Add another ½ cups shredded cheese to the rice when finished cooking.
Can I Make Chicken and Rice in the Crock Pot?
Yes, you can make chicken and rice in the slow cooker. It is easy to dump everything in the slow cooker and it cooks in less than 4 hours. Simple recipe makes for an easy weeknight meal.
What to Serve with Chicken and Rice:
We love that this meal is great served as it is, but I do like to add a side to it.
Broccoli – Roast or steam so broccoli for an easy side dish.
Side Salad – Make a large salad for an easy side dish. Add in delicious vegetables for a healthy side with this hearty meal.
Bread – We also like to serve this will a side of homemade rolls or garlic bread. It is filling and a must according to my kids with most of our recipes.
How to Store Leftovers:
Place the leftover chicken and rice in an air tight container once it has cooled to room temperature. Place in the fridge and it will last about 3 to 4 days.
Can you Freeze?
Yes, you can freeze chicken and rice. In fact it is the best way to store your leftover is you want it to last longer. Place in a freezer safe container and place in the freezer.
If stored properly your chicken and rice will last up to 3 months.
Tips for Instant Pot Chicken and Rice:
Sauté Chicken – Before adding in the other ingredients make sure to sauté the chicken, garlic, onions in the olive oil. It only takes a few minutes but this is to ensure the chicken is cooked.
Adding in Rice – Pour the rice in the instant pot and the chicken broth. Make sure the broth is covering the rice. You may need to add more if needed.
Cream of Chicken Soup – When adding in the chicken soup, there is no need to combine with the other ingredients. It will combine as it cooks.
Natural Release – Allow the instant pot to naturally release after the cooking time is up.
Stir in cheese – After taking cooking, take off the lid and stir in the cheese.
Easy Instant Pot Chicken and Rice Recipe:
You only need 2 chicken breasts for this recipe so it is very frugal friendly. The rice and cheese really stretch the meat and make it easy to feed a big family. This is my go-to recipe when I only have a few chicken breast left.
I love meals that are easy on my grocery budget, taste amazing and only take a few minutes to prepare. Life is so busy and most of us are running from work and school to activities and more. Take out is so tempting on those crazy busy days.
Now, you can just toss everything in the instant pot in less than 15 minutes you can make this amazing recipe. Skip the drive-thru and make this delicious recipe.
Creamy and delicious chicken and rice is a staple weekly meal idea. We love that it is easy to make and mad with simple ingredients. The best budget friendly meal.
Print Chicken and Rice Instant Pot Recipe below:
Find more Instant Pot Chicken Recipes: