This post may contain affiliate links. If you make a purchase through links on our site, we may earn a commission.
There is nothing better on a cold day than comfort food. Our go to comfort food is this Quick & Easy Crock pot Beef Stew Recipe and its one of my favorite slow cooker recipes.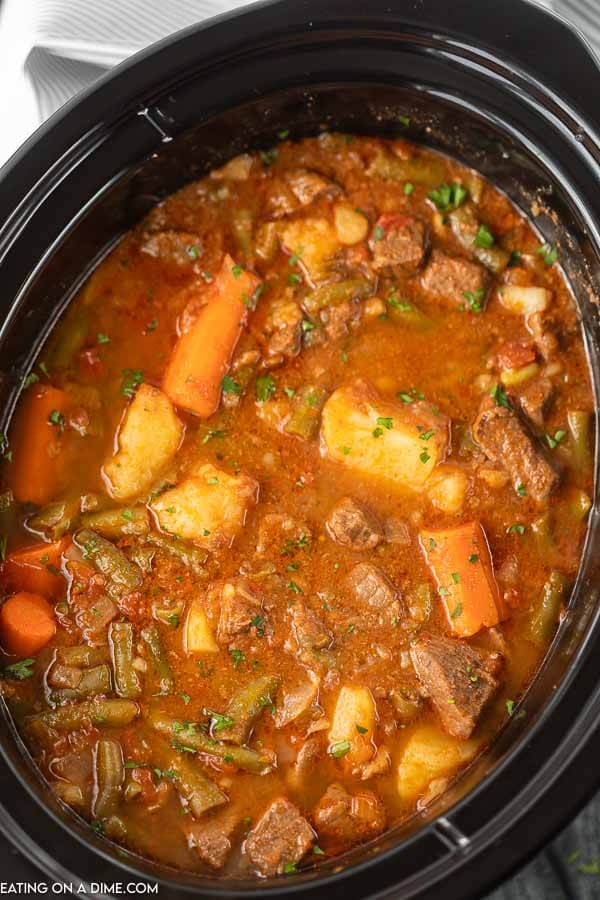 Crock pot Stew Recipe:
I love making stews in the Fall and Winter time but they can be a lot of work to make on the stove top. Making a beef stew in the crock pot is simple and easy to do and the flavor is even better!
It is a simple beef stew that can be thrown in the crock pot and slow cooked all day. You come home to a house smelling of this amazing crock pot recipe. It is the perfect meal on a cold and chilly day. My family loves this recipe.
Easy beef stew:
Making easy beef stew recipe in the crock pot is one my favorite meals. It is so filling that you really don't have to plan on sides when you make this meal. The stew is filled with stew meat, potatoes, carrots and green beans. It is the best comfort food on a cold, fall day.
The best part is that the crock pot does all the work for you. This easy beef stew in the slow cooker is on my meal rotation in the fall. Try one of our other Beef Stew Meat Recipes.
Slow Cooker Beef Stew Ingredients:
Ingredients for this beef stew are hearty and filling.
Stew Meat – The best meat for this stew is chuck steak. I like finding the stew meat that is already cut up, and it will specifically say on the package stew meat.
Frozen Green Beans – You can also use frozen peas.
Whole Carrots – Chopped in bite size pieces. You can also use the baby carrots.
Russet Potatoes – Cut in small pieces. You can also use red potatoes or yukon gold potatoes.
Onion, chopped – You can chop these onions in smaller pieces or larger slices. It is up to you. My kids prefer that they are cut in smaller pieces.
Bay Leaves
Salt
Pepper
Crushed Tomatoes – You can also stew tomatoes as well. Use what you have.
Water
Worcestershire Sauce – This adds a some extra flavor. You can always omit this ingredient if you don't have any.
That is all you need to make this delicious and easy crock pot beef stew.
How to make crock pot beef stew:
First in a 6 quart crock pot, place the stew meat and the potatoes on the bottom. Then place the green beans, onions, and carrots on top.
Pour the crushed tomatoes, Worcestershire sauce and the water on top. Next season all the ingredients with the salt and pepper.
Cover and cook on low for 6-8 hours or on high for 3-4 hours. Each crock pot cooks differently so watch it closely toward the end of the cover cooking time. You'll know it's ready when the beef is tender and the potatoes are soft.
Allow the beef stew to sit in the crock pot for a few minutes before serving.
Serve warm and enjoy. That's all that is needed to make this quick and easy beef stew recipe.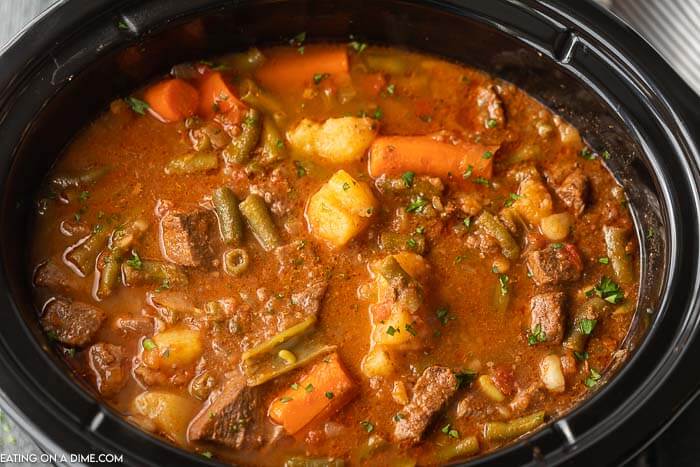 Do you have to brown stew meat before putting it in the crock pot?
The meat does not need to be browned before it's added to the slow cooker. Some people think that coating the stew meat in a flour mixture and browning it (and deglazing the pan) before adding it to the crock pot adds a flavor to the stew and the flour thickens the sauce.
I have tried it both ways and I don't think it's worth the time and dishes that it takes to brown the meat before adding it to the crock pot, so I skip this step.
If you have a multi-cooker slow cooker that works as a stove top and crock pot than it would be easy to brown the meat on the sauté setting, then add in the other ingredients after you have browned the beef and switch it to the slow cooker setting.
I have a few of these multi-cookers and I love them.
How much water do you put in a slow cooker for stew?
I use 2 cups of water in the slow cooker for this easy beef stew recipe. I don't like my stews to be soupy but I do want some liquid in the meal so through trial and error I have found that this is the just the right amount of liquid for the stews I've made.
This recipe is packed with flavor so I generally just use water for this recipe. However, its a great idea to add in beef broth, beef bouillon, or red wine to add more flavor to this stew recipe.
How to cook stew meat in the crockpot?
You can definitely cook them stew meat in the crock pot. The longer you cook stew meat in the crock pot the more tender the meat will be become. If the stew meat is too tough, it needs to be cooked longer in the crock pot.
I have tried to make a beef stew on the stovetop in under 30 minutes on low medium heat and the meat was too tough. Using the crockpot it needs to cook on low for about 8 hours to get tender and the slow cooker is the best way to do that.
The meat comes up so tender, it just melts in your mouth.
However, with this recipe, you want to cook the stew long enough for the meat to be tender but you also want the vegetables to not turn to mush.
The potatoes and carrots will get very soft as they cook, cut them into large pieces so that they can cook longer to allow the meat to become tender but the vegetables to not get too soft.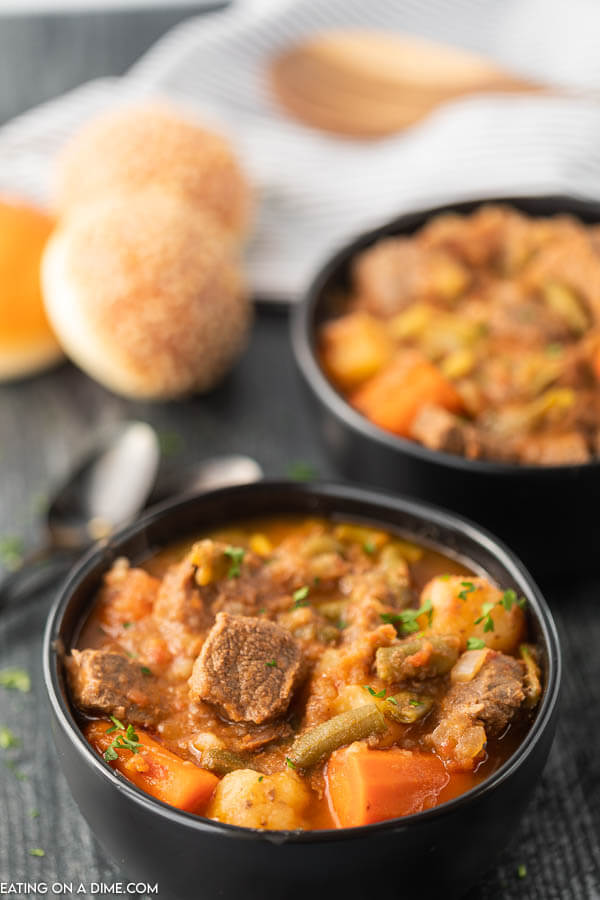 How to reheat stew?
We like to reheat the stew on the stovetop if I am reheating a large quantity. You will simmer in a saucepan over medium heat until it is heat thoroughly.
If I am heating a bowl for myself, I will just reheat in the microwave. It takes about 2 minutes and I can enjoy a warm beef stew.
Tips and Tricks:
I usually use stew meat for this recipe, but you can also use chuck roast diced into 1 inch pieces if you your grocery store is out of stew meat.
Also, use whatever veggies you love and have on hand. I love using carrots, potatoes and green beans. But this recipe would also be delicious with sweet potatoes or peas instead.
Note: If you use peas, put them in the crock pot just for the last 30 minutes of the cook time so that they don't turn to mush.
You can cook this stew recipe on high heat in the crock pot but I prefer to cook it on low. The meat becomes more tender when its cooked on low for a long length of time.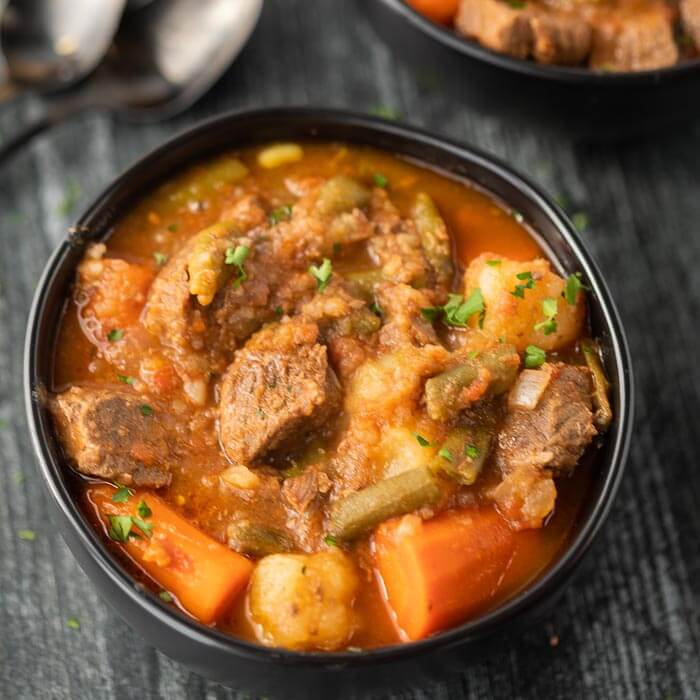 How to thicken crock pot beef stew recipe
Once the stew is done, if it's too watery, add a cornstarch slurry to the crock pot to thicken beef stew. To make the corn starch slurry, I combine approximately ¼ cup of cold water with 1 tablespoon of cornstarch.
Then stir this mixture into the beef stew, cover and cook on high for 30 minutes to thicken the stew. Then serve the thickened beef stew over your favorite corn bread and enjoy!
Also, this recipe can be made in an electric pressure cooker, Instant Pot Beef Stew Recipe is perfect for when you forget to throw the ingredients in the crock pot that morning.
What to serve with Beef Stew:
I love serving this delicious and easy beef stew recipe with my easy cornbread recipe. This recipe is simple to throw together in no time at all. There is nothing better than serving a perfect beef stew over a piece of cornbread.
I love cornbread so I have more than just one recipe.
Here are some other delicious and easy cornbread recipes that you can make to go with this stew recipe.
However, if you're not a fan of cornbread, this would also be delicious served with homemade dinner rolls or these delicious Kings Hawaiian Rolls.
Leftover Crockpot Beef Stew:
We love leftover beef stew. I think all the flavors really marinate well together making the next day beef stew even better. The beef stew will last about 3-4 days in the refrigerator in a airtight container.
You can also freeze your leftovers. I try to plan for extras as the beef stew makes for a great lunch for my husband. It will last about 4 months in the freezer so I know that I can plan on him having a great lunch.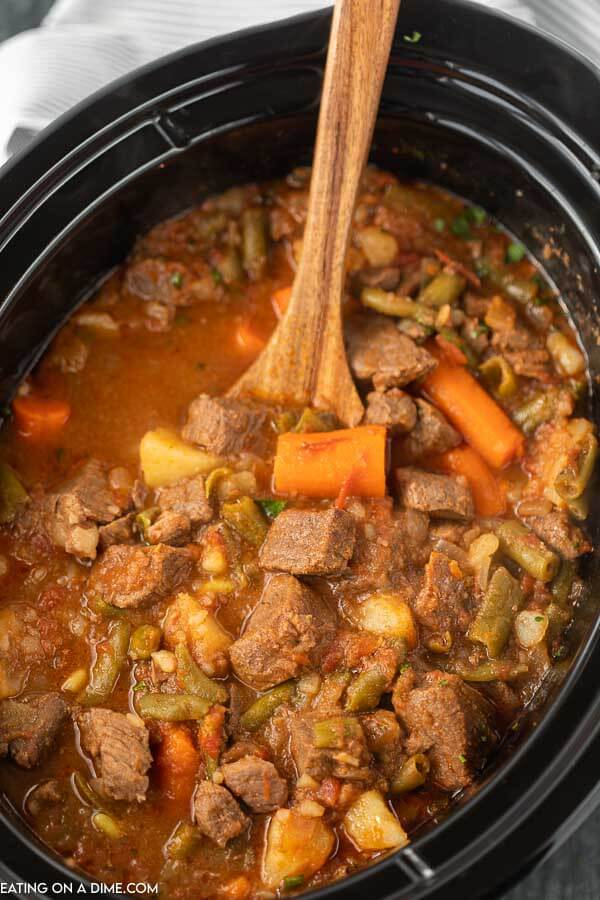 Print this easy beef stew recipe:
Quick and Easy Crock pot Beef Stew Recipe
Quick & Easy Crock pot Beef Stew Recipe – A Simple beef stew recipe that is packed with flavor. Try this easy beef stew crock pot recipe.
Ingredients
2.5

lbs

stew meat

(1) 16

oz

frozen green beans

3

whole carrots

(peeled and sliced)

3

russet potatoes peeled and diced

(peeled and diced into large pieces)

1/2

onion

(chopped)

(1) 14

oz

can of crushed tomatoes

1/4

cup

Worcestershire sauce

2

cups

water

1/2

tsp

Salt

1

tsp

Pepper
Instructions
In a 6 quart crock pot, place the stew meat and the potatoes on the bottom.

Place the green beans, onions, and carrots on top.

Pour the crushed tomatoes, Worcestershire sauce and the water on top. Season with the salt and pepper.

Cover and cook on low for 7-8 hours, or high for 3.5-4 hours.

Allow it to sit for a few minutes before serving.
Recipe Video
Recipe Notes
To make it even better, serve it along side some delicious homemade cornbread.
Nutrition Facts
Calories
422
kcal
,
Carbohydrates
36
g
,
Protein
47
g
,
Fat
10
g
,
Saturated Fat
3
g
,
Cholesterol
117
mg
,
Sodium
541
mg
,
Potassium
1673
mg
,
Fiber
6
g
,
Sugar
9
g
,
Vitamin A
5816
IU
,
Vitamin C
26
mg
,
Calcium
132
mg
,
Iron
7
mg
More stew meat crock pot recipes: