This post may contain affiliate links. If you make a purchase through links on our site, we may earn a commission.
Air fryers are extremely popular, and the best cheap air fryers deliver excellent value by providing the convenience and efficiency of more expensive models at budget-friendly prices. I'm a big fan of cooking with an air fryer because it takes less time than an oven and results in delicious meals that have the crispiness of fried food without all the oil. In fact, I now have two of them!
Cooking healthy, delicious meals doesn't have to take a ton of time or a lot of money! You can even find both small and large-capacity air fryers for under $100, so I put together this list of the best cheap air fryers for everyone from solo home chefs to busy families.
After researching multiple popular brands and models, I narrowed down my selections to include a variety of affordable air fryers that will get meals on the table in no time. Below, you'll find more details on the best cheap air fryers and qualities to look for while shopping for one, plus some of my best air fryer recipes!
My Top Picks:
Reviews of The Best Cheap Air Fryers
When it comes to cooking for a family, the Proctor Silex 5.8-quart is my top pick among affordable air fryers because it's the same size as the one I use at home (which I've had for a few years now but is no longer available) and the two simple knobs make it just as easy to use. All you have to do is set the temperature and time and let it do its thing while you go about preparing other parts of the meal.
The larger cooking capacity of the Proctor air fryer makes it perfect for meals like crispy chicken wings, ribs, pork chops, or even a whole chicken, and the cooking drawer and tray can be removed and run through the dishwasher. Although this is the best air fryer for a family of 4 or more, if you're only cooking for one or two people you might want something that doesn't take up as much counter space. That said, we love our large air fryer! It takes less time to cook items, we don't have to turn the oven on, and the whole house won't smell like grease.
The Specs:
Weight: 14.97 pounds
Dimensions: 14 x 14 x 15 inches
Max Temp: 400°F
Capacity: 5.8 quarts
Output: 1700 watts
Control Type: Manual
The Pros:
Easy to use
Easy to clean
Good capacity for larger meals
The Cons:
Bulky
Heavy
Timer knob only turns one direction, so time cannot be reduced once set
Buy the Proctor Silex 5.8-Quart Air Fryer Oven:
When you need the flexibility to do more with your air fryer, the Instant Vortex Plus from Instant Pot is a workhorse. I have this one in my kitchen and love that it does a little of everything! In addition to air frying, it can broil, bake, roast, dehydrate, reheat, and cook rotisserie-style chickens. Although this is a little more expensive than other air fryers on this list, it's the best air fryer toaster oven combo because it offers a ton of value.
The Vortex comes with useful accessories like a non-stick drip pan, 2 perforated cooking trays, and a stainless-steel rotisserie basket (which makes perfectly crisp fries as nicely as it cooks a whole chicken). The Instant Vortex Plus features an oven door that removes easily for cleaning with a soapy cloth. Its 10-quart capacity makes it a great air fryer for a large family size.
The Specs:
Weight: 19 pounds
Dimensions: 13.23 x 13.23 x 14.37 inches
Max Temp: 400°F
Capacity: 10 quarts
Output: 1500 watts
Control Type: Digital
The Pros:
Easy to clean
Versatile accessories
Alerts when it's time to flip food
The Cons:
Expensive
Heavy
Some users reported a chemical smell during use
What Others Are Saying:
Food & Wine named the 6-quart version of the Instant Pot Instant Vortex Plus best overall in their review of the best air fryers. It has a rating of 4.6 stars out of 5 on Amazon from more than 60,000 reviews.
Buy the Instant Pot Instant Vortex Plus:
Ninja is well known for their high-quality countertop kitchen appliances, and this medium-sized air fryer is a great bang for the buck. It features a family-sized 4-quart drawer (large enough for 2 pounds of French fries) and a programmable control panel with 4-in-1 functionality, so in addition to air frying, it can also reheat meals, dehydrate, and roast food items.
Plus, the drawer and crisper plate are ceramic coated for non-stick easiness and both are dishwasher safe. Although the listed price for this Ninja is a little over $100, I've found that it's often on sale, so prices usually hover between $80 to $100, earning it a spot on this list of the best cheap air fryers.
The Specs:
Weight: 10.58 pounds
Dimensions: 8.5 x 12.1 x 11 inches
Max Temp: 400°F
Capacity: 4 quarts
Output: 1550 watts
Control Type: Digital
The Pros:
Small and lightweight
Well-known brand
1-year warranty
The Cons:
Only medium-sized capacity
Requires preheating
What Others Are Saying:
The Ninja 4-Quart Air Fryer has 4.8 out of 5 stars and more than 44,000 ratings on Amazon.
Buy the Ninja 4-Quart Programmable Air Fryer:
When you only need to cook for 1 to 2 people, the GoWISE Mini is the best small air fryer for a low price. Use it to air fry chicken tenders, toast sourdough bread or crisp up a big serving of tater tots. You can even use it to roast frozen broccoli or corn to get a nice, flavorful char around the edges (I find vegetables come out tasting amazing in an air fryer).
It has a digital display but is very straightforward and easy to use, and the drawer is dishwasher safe. Plus, it comes in different colors to match the kitchen decor.
The Specs:
Weight: 7.88 pounds
Dimensions: 16.5 x 8 x 11 inches
Max Temp: 400°F
Capacity: 2 quarts
Output: 1000 watts
Control Type: Digital
The Pros:
Compact and lightweight
Easy to use
Easy to clean
The Cons:
Can't adjust time or temperature once set
No flip alarm
Too small for some meals
Buy the GoWISE USA Electric Mini Air Fryer:
The Bella 2.9-Quart Manual Air Fryer is one of the best budget air fryers for first-time users who are cooking for less than 4 people. It's ideal if you're making smaller meals and appetizers that need to be air fried, broiled, baked, roasted, or reheated during nights when you need a meal extra quick. It uses a simplistic manual dial to adjust the thermostat and also has an automatic shut-off feature after 60 minutes.
The PFOA-free, non-stick cooking pan, and crisping tray means you can skip the cooking spray, and both pieces are removable and dishwasher safe. When you need more counter space, it's easy to tuck the Bella air fryer in a cabinet or pantry. Although listed rates for this air fryer are slightly over $50, I've found that it's often on sale for much less.
The Specs:
Weight: 9.53 pounds
Dimensions: 15.11 x 15.11 x 14.68 inches
Max Temp: 400°F
Capacity: 2.9 quarts
Output: 1400 watts
Control Type: Manual
The Pros:
Compact and lightweight
Easy to use
Easy to clean
The Cons:
Different prices for each color
Some users report the handle can come loose/detach
Buy the Bella 2.9-Quart Manual Air Fryer:
Other Cheap Air Fryers We Researched
Chefman Extra Large Multifunctional Digital Air Fryer
Boasting a 10-liter (9.5 quart)capacity, the Chefman Multifunctional Digital Air Fryer is great for a family of 4 or more. It's priced a little higher than others we researched, but it's super versatile thanks to all of the presets and included accessories. Despite its large capacity, the Chefman air fryer has a relatively small footprint on your counter. The Chefman Multifunctional Digital Air Fryer is available on Amazon for $119.
Cosori Air Fryer Pro LE 5-Quart
This air fryer features a digital display that comes with a cookbook of recipes and access to another 100+ recipes on the free app. It can easily feed up to 4 people and heats up to 450°F, but if you don't plan on using all the extra technology, a basic option could be more cost-effective. The Cosori Air Fryer Pro LE 5-Qt is available on Amazon for $79.78.
The Ultrean air fryer is a good option for families with curious little ones because it features cool-touch housing to protect small hands. Manual controls for time and temperature make it easy to use and the drawer is dishwasher safe. However, pay attention to the exchange/return policy. The Ultrean 4.5 Quart Air Fryer is available on Amazon for $79.99.
Instant Pot Vortex Mini Air Fryer
Instant Pot is a well-established and respected kitchen appliance brand, so the price of this appliance feels like a steal. The cooking drawer's 2-quart capacity might be too small for a family but it's one of the best air fryers for 2 people. It's also great as a second air fryer for appetizers and sides. It's on par with the GoWISE Mini Air Fryer but has a combination of digital and manual controls that can be confusing to learn. The Instant Pot Vortex Mini Air Fryer is available on Amazon for $39.99.
NuWave Brio 7.25-Quart Air Fryer
Ideal for families of 4 or more, the NuWave Brio features a 7.25-quart cooking drawer and is an affordable large air fryer. While the digital display isn't too difficult to use, 100 pre-programmed menu presets and an additional 50 memory slots (that allow you to save and recall your own favorite recipes) can be a lot to navigate. The NuWave Brio 7.25 Quart Air Fryer is available on Amazon for $86.99.
Why You Can Trust Us
I am Carrie, founder of Eating on a Dime and the Lazy Day Cooking Club. As a busy mom of 8, I learned ways to create delicious and easy family meals without blowing my budget. I started this blog to share my recipes with friends. Today, I'm proud to have my recipes shared on BuzzFeed, Huffington Post, Business Insider, and Parade!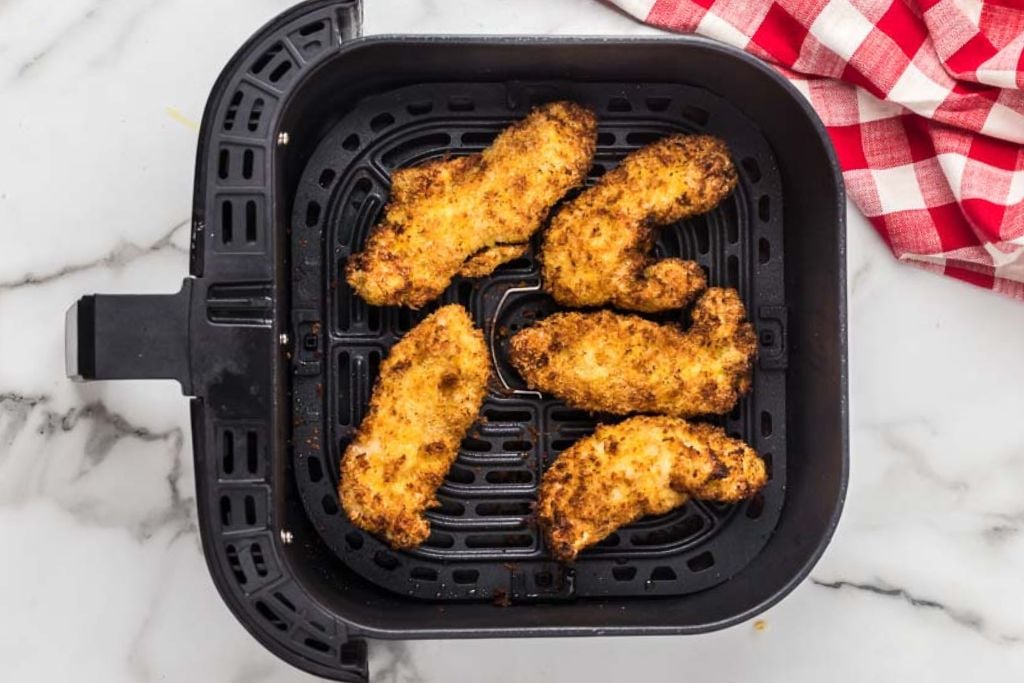 I've been cooking with air fryers for around three years and have dozens of air fryer recipes. My only regret is that I didn't purchase one sooner! I find that air fryers with fewer features are easier to use. I have two air fryers: One is more like a toaster oven with a door and the other has the standard pull-out drawer. I like the pull-out drawer-style air fryers because they are so easy to clean.
When creating this list of the best cheap air fryers, I considered things like size, features, ease of use, quality, efficiency, and value.
What to Know About Cheap Air Fryers
What to Consider Before Buying a Cheap Air Fryer
There's a few things you want to think about when shopping for the best cheap air fryers on the market.
Type: There are many different types of air fryers, including single-drawer, dual-drawer, toaster oven, and microwave combos. The most affordable air fryers feature a single drawer.
Material: The inner components of air fryers are usually designed to prevent food from sticking and may incorporate ceramic, titanium or other non-stick surfaces. Some cooking baskets and trays are made with stainless steel which requires a little extra elbow grease during cleaning. The outer housing of the air fryer might be made of plastic or stainless steel. If you're averse to fingerprints, we recommend avoiding air fryers with stainless steel or digital controls.
Size: Capacity makes a big difference. A smaller air fryer is ideal for 1 to 2 people but may leave families wishing for more space, whereas a large air fryer might be too much for the solo home chef. I recommend starting with a larger air fryer. I know several people that started out with a smaller size and wished they had bought the larger one first.
Features: Accessories like trays, rotisseries, grabbing tools and more might come with the air fryer you're considering or could be an additional purchase. Think about the type of cooking you're planning to do with your air fryer and be sure to pick a model that has the ability to do what you'd like to achieve.
How Much Does an Air Fryer Cost?
The price range for air fryers varies depending on the size and style of the appliance. For example, a small, single-drawer air fryer costs less than its larger counterpart, a dual-drawer air fryer, air fryer toaster oven, or air fryer microwave combo. The larger and combination models can even run into the $500 range.
The brand name also affects price, with well-known brands having the weight of their name behind their products. When shopping for the best cheap air fryer, keep in mind that some budget options may not be as durable or efficient as more reputable kitchen brands. Almost all the air fryers we chose are under $100, but even those that are more than $100 are often on sale.
How Does an Air Fryer Work?
Air fryers are designed to move hot air quickly around food, cooking it at a rapid speed and crisping the outsides and edges in a way that is similar to frying without all of the oil. These devices are similar to convection ovens, but they heat up and cook faster. They use perforated baskets and trays to ensure foods get access to hot air on the bottom, but air fryers feature an alarm to remind you to flip the food for even cooking. Meats come out flavorful and juicy and veggies are crisp and delicious.
A variety of oven-proof things, including silicone and aluminum foil, can go in an air fryer. This can even make it easier to clean the air fryer after use.
How to Clean an Air Fryer
Air fryers are simple to clean. Be sure to unplug your air fryer before cleaning it. The outside of an air fryer can be wiped down with a damp cloth. Toaster-oven air fryers sometimes feature doors that are easy to remove for cleaning with a soapy cloth. Air fryers with a pull-out drawer might be dishwasher safe, but when in doubt, hand washing is always okay. Never submerge the entire air fryer in water.
Is Using an Air Fryer Cheaper than the Oven?
Generally, using an air fryer can be cheaper than cooking with an oven because it uses less energy. Also, it's worth noting that cooking with an air fryer avoids heating up your kitchen in the warmer months, so your air conditioning won't have to work as hard, effectively cutting down on costly energy use.
Do You Need an Air Fryer?
Although air fryers aren't necessary, they're an extremely useful kitchen appliance that you'll get a lot of use out of. I'll admit that I was hesitant to try them at first, but now I use them to cook everything from snack foods like pizza and onion rings to proteins like salmon and steak.
If you love the crunchiness of fried foods but want (or need) to reduce fatty oils in your diet, air fryers are a healthy alternative to traditional frying. Or, when you need to make dinner quickly and don't have time to wait for the oven to preheat, an air fryer can get dinner done in minutes. Everything, from toast to vegetables and sides to proteins, comes out tasting great!
Our Best Air Fryer Recipes
We have dozens of delicious and easy air fryer recipes, including air fryer chicken or some quick-and-easy side dishes. These are a few of our best air fryer recipes to get dinner on the table quickly and tasting great!
Prices were accurate at time of publication. Also see The Best Microwave Air Fryer Combos.