This post may contain affiliate links. If you make a purchase through links on our site, we may earn a commission.
My family really loves queso and our new favorite is this Crock pot white queso dip. It is super easy and the slow cooker does all of the work.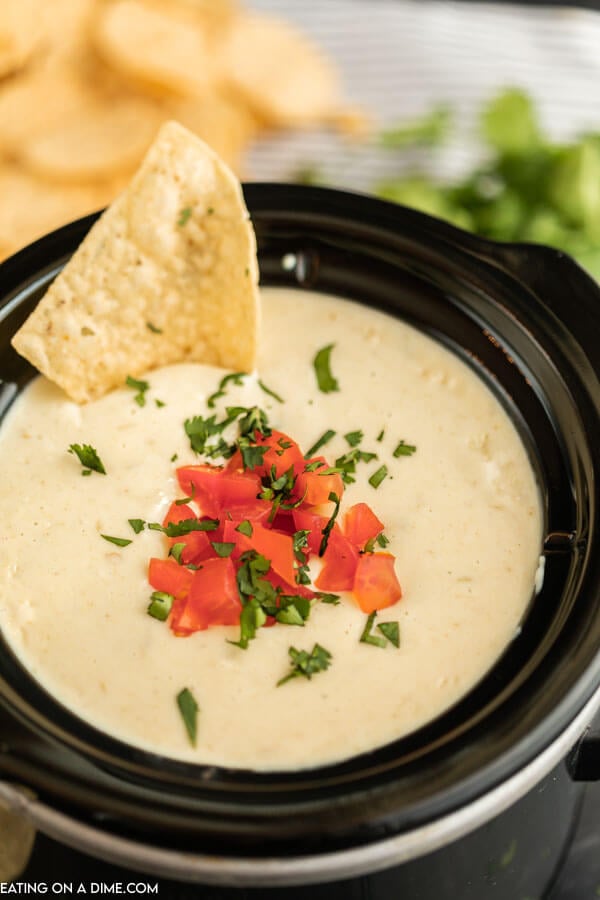 Crock pot white queso dip is an authentic queso dip!
This is a very authentic queso dip and we don't use any processed Velveeta. This recipe uses just good old fashion white American cheese.
It tastes just like the restaurant style white queso and I think your family will become a huge fan as well. This dip is definitely different than a Velveeta queso but just as easy to make in the crock pot as well.
This white queso dip recipe is perfect for your Taco Tuesday recipes or for your next party. My family just loves it and I think you will too. We love to serve it with tortilla chips or Homemade Air Fryer Tortilla Chips.
You only need a few ingredients to make this delicious and authentic easy slow cooker queso dip recipe. It doesn't take much to prepare this queso recipe and it tastes better than anything made from processed cheese.
Make sure to check out another easy appetizer – Beanie Weenies.
If you don't want to wait on the crock pot you need to try my The Best Mexican White Cheese Dip – Queso Blanco that you can make on the stove! Also, check out 26 Easy Mexican Side Dishes.
Ingredients:
Crock Pot (I like to use the 1.5 quart crock pot )
White American Cheese – chopped up
Chili Powder
Cumin
Garlic Salt
Milk
How to make crock pot white cheese dip:
You are not going to believe how easy this recipe is to make. Thanks to the crock pot, you really just need to throw all the ingredients in and the slow cooker does all the hard work!
First tear or cut your cheese into ½ inch cubes or pieces. Then in your 1.5 quart crock pot , add the chopped White American Cheese cut into ½ inch pieces.
Tip: I find my White American cheese in the deli section at my grocery store. You will ask them to slice it, just like you would if you wanted them to slice fresh turkey or ham.
I have used Monterey jack cheese before when I couldn't find the white American at my local grocery store but I do prefer the white American cheese so definitely get that if they have it available.
Then add green chilies, milk, and seasonings.
Tip: You can use ¼ tsp garlic powder and ¾ tsp salt instead of garlic salt.
Finally, stir the mixture then cover and cook on low until melted – stirring occasionally until the cheese is completely melted.
Tip: Generally, I monitor the consistency of the dip recipe. If it's not as creamy as you would like, then add 1 tablespoon of milk at a time to the crock pot until the dip is the consistency that you prefer.
When the cheese is melted and heated through, it is ready to serve.
Slow cooker queso blanco dip is so easy!
The recipe is that simple. See, I told you it would be easy.
If I can do it, I know you can too. It doesn't take much work to prepare this recipe and everyone will be impressed with this best crock pot queso at your next party or family get together.
Variation ideas
You can use salsa or a can of rotel instead of the green chilies.
Meat would be a great addition to this white cheese dip. I would use either ground beef or sausage and brown the meat choice and drain it prior to adding it to the crock pot with the other ingredients.
Cream cheese can be added with the cheese for a different flavor. I would use about ½ a block and adjust the milk as needed to get the right consistency.
What to serve with crock pot white cheese dip?
Generally, I serve this dip recipe with tortilla chips. However, this recipe can also be served with veggie strips or your favorite type of tortillas.
More Ways to Use White queso:
Also, think outside of the box for this recipe.
This white cheese dip can be used to be served with nachos, burritos or tacos.
It is delicious on Spanish rice as well.
Your family will really enjoy this easy queso blanco.
This crock pot cheese dip is irresistible, you'll want to serve it with everything!
Copycat Velveeta Queso Blanco Recipe
This recipe is so simple, but gives you the same flavor of the very popular Velveeta Queso blanco. Enjoy a White cheese dip without actually paying the price for Velveeta.
You will need a good crock pot :
I make it in our small 1.5 quart crock pot when I make it for just my family, because it is the perfect size.
However, if you are making it for a crowd, you will want to use a 3 quart crock pot or larger.
Make Crock pot White queso recipe dip!
I love making crock pot cheese dip recipes for my family at dinner time. They are so easy to make and the entire family loves them!
Crock Pot White Queso is the best!
Print crock pot white queso dip recipe:
The Best Crock pot White Cheese Dip Recipe
This crock pot Mexican white cheese dip recipe is easy to make and everyone loves it. A restaurant quality white queso dip recipe that you can make at home.
Instructions
In a 1.5 quart crock pot, add the chopped White American Cheese.

Then add in the green chilies, milk, and seasonings.

Stir. Cover and cook on low until melted stirring occasionally.

You can add more milk when ready to serve if you want the cheese sauce to be thinner.
Recipe Notes
White American Cheese can generally be found in the deli aisle in most grocery stores. 
You can substitute the cheese for Queso Blanco Velveeta cheese if you cannot find the white American cheese in your area. 
You can add ½ tsp of chili powder to this dip as well to add a small kick and smokey flavor! 
Refrigerate the leftovers in an air tight container for up to 5 days.  When reheating the cheese, add more milk to get the cheese to the proper consistency.  
Nutrition Facts
Calories
358
kcal
,
Carbohydrates
6
g
,
Protein
17
g
,
Fat
30
g
,
Saturated Fat
17
g
,
Trans Fat
1
g
,
Cholesterol
93
mg
,
Sodium
1762
mg
,
Potassium
214
mg
,
Fiber
1
g
,
Sugar
4
g
,
Vitamin A
936
IU
,
Vitamin C
3
mg
,
Calcium
987
mg
,
Iron
1
mg
More easy cheese dip recipes
Make sure you check out these other Taco Tuesday ideas: