This post may contain affiliate links. If you make a purchase through links on our site, we may earn a commission.
Can you freeze mashed potatoes? The answer is yes and it is so simple. Whether you need to cook in advance or don't want to waste leftovers, try these easy tips.
Can you freeze mashed potatoes?
Yes, you can and it is not hard at all. They taste delicious and no one will even notice they were ever frozen.
I love to freezer cook but never thought much about mashed potatoes. Once I realized just how simple this is, I was hooked. It is super easy.
How to freeze mashed potatoes?
Just place the mashed potatoes inside a freezer safe container. You can also use a freezer bag but make sure all of the air is out. We have used a casserole dish as well with a lid and it did fine. It just needs to have an airtight lid.
Freeze and reheat when ready to enjoy.
How long do mashed potatoes last in the freezer?
Typically the suggested time frame is up to one month. Any longer and they could get freezer burn due to the amount of liquid in the potatoes.
They have the best flavor when eaten within a month. I would stick to this time frame to ensure the best potatoes.
Make sure to mark your container with the contents and date. This will help make sure you do not forget what it is and how long it has been in the freezer.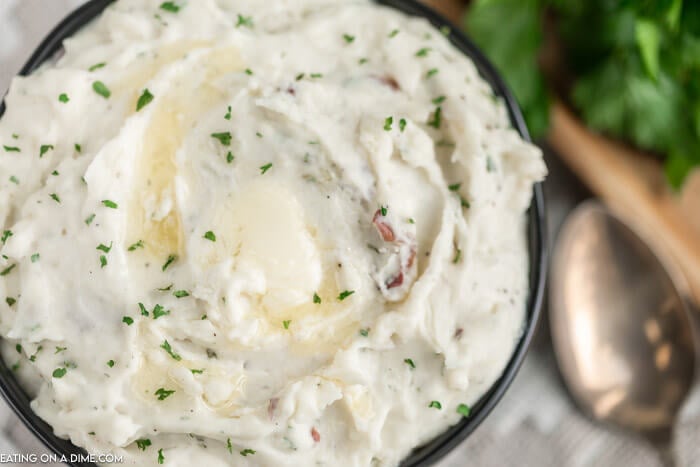 How do you thaw and reheat mashed potatoes?
There are several different options and all of them are very simple. You do not typically need to thaw before reheating. It does not take long to reheat frozen mashed potatoes.
Once the potatoes have been heated, I like to add a little extra milk and butter. Stir it all together and enjoy.
Other tasty ideas include a little bit of sour cream or cream cheese to the mashed potatoes. Salt and pepper to taste.
You can use anything you prefer to jazz up the potatoes when reheating. It is also a great time to try new flavors. We like garlic mashed potatoes and you can add any flavor you prefer.
How to reheat in a slow cooker
Put the frozen mashed potatoes into the slow cooker. Use the low setting for 2 hours. You will need to stir them to make sure they are smooth and creamy. Sometimes they will still have lumps so make sure to give it a good stir to get the desired consistency.
How to reheat in the microwave
Reheat the mashed potatoes in a microwave safe bowl. Heat for 2 to 3 minutes stirring occasionally. Keep heating in 1 minute intervals until they are heated through. Heating in intervals will ensure that it does not burn or get too dry.
Reheating on the stove top
Place the mashed potatoes into a pan on the stove top. Warm them on low heat as the potatoes thaw. Stir until they are smooth and heated.
Reheating in the oven
Earlier I mentioned using a casserole dish to freeze the mashed potatoes. If you did this, allow the baking dish to thaw for a few hours and then place in the oven. Bake covered at 350 degrees for 30 minutes or until they are warm.
Tips and tricks:
While containers or bags can be used, containers freeze the best. Plastic bags can make the potatoes watery when frozen and can be hard to remove all the air.
Make sure the mashed potatoes are completely cool before putting in the containers and freezing.
If the potatoes seem dry when reheating, add a little milk initially. You don't have to wait until they are heated through to add this.
Don't use high heat to warm the potatoes. Low heat is best.
Freeze in smaller portions. I like to freeze some of the mashed potatoes in individual portion sizes. This makes it convenient for a quick side dish when the entire family is not eating.
Make double and freeze. I intentionally make extra mashed potatoes to freeze. It does not take any extra time and you have a delicious side dish for later.
Freezing mashed potatoes is easy.
Once you see how simple it is, I bet you will start freezing mashed potatoes all the time. It is perfect for holidays or just busy days when you need to make this in advance.
It is also great for utilizing leftovers so nothing is wasted. Regardless of the reason you are freezing this, it is such a time saver.
Give it a try. I think you will agree how easy it is.
The Best Mashed Potato Recipes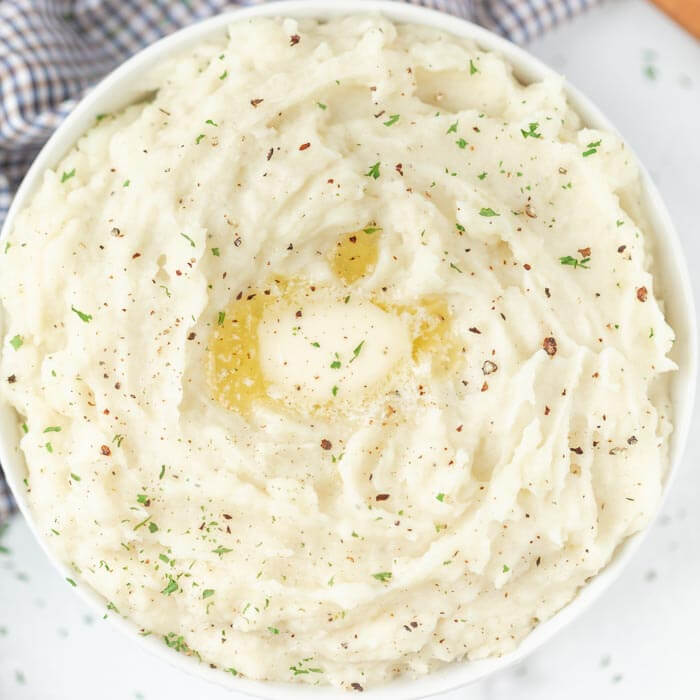 Homemade Mashed Potatoes
These homemade mashed potatoes are creamy and delicious. With just a few easy steps, your family can enjoy mashed potatoes from scratch.
See the Recipe
Garlic mashed potatoes
Garlic mashed potatoes are creamy and delicious. Jazz up plain potatoes with garlic for the best side dish.
See the Recipe
Cheesy Mashed Potatoes
Cheesy mashed potatoes are loaded with cream cheese and cheddar cheese for a great side dish. They are baked to perfection.
See the Recipe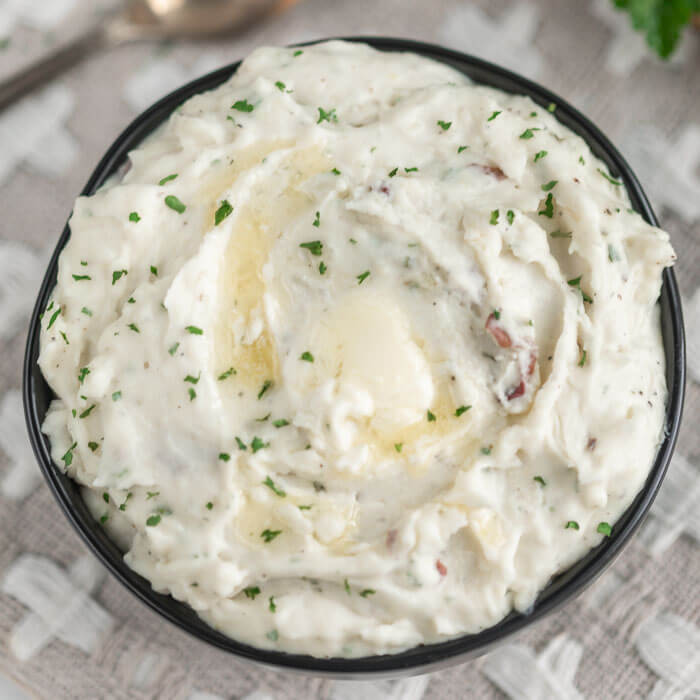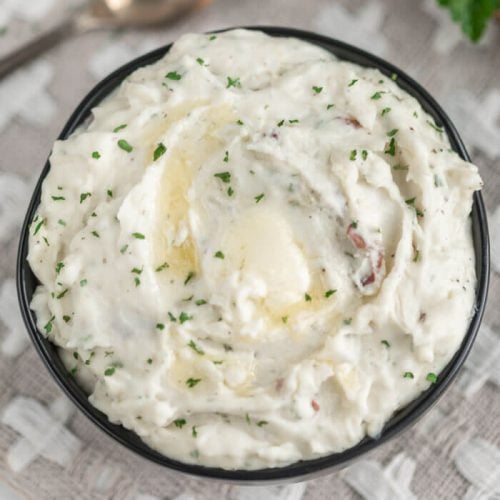 Ranch Mashed Potatoes
These delicious Ranch Mashed Potatoes are perfect for any homemade meal! These potatoes are creamy and packed with tons of flavor.
See the Recipe
Crock Pot Mashed Potatoes Recipe
Make Crock Pot Mashed Potatoes Recipe to feed a crowd. This easy way to make mashed potatoes is perfect for holiday cooking and so delicious and creamy.
See the Recipe
Instant pot Mashed Potatoes
Looking for electric pressure cooker recipes? This instant pot mashed potatoes recipe is the best. Pressure cooker mashed potatoes is the only way to go.
See the Recipe
Instant Pot Twice Baked Potatoes Casserole Recipe
This Instant Pot Twice Baked Potatoes Casserole Recipe is amazing! It is one of our new favorite pressure cooker recipes because it saves so much time!
See the Recipe
More Freezer tips: