Crock Pot Apricot Chicken Recipe is sweet and savory for a meal that your family will absolutely love. The apricot preserves combine with the soy sauce and ginger for flavorful chicken you won't be able to resist.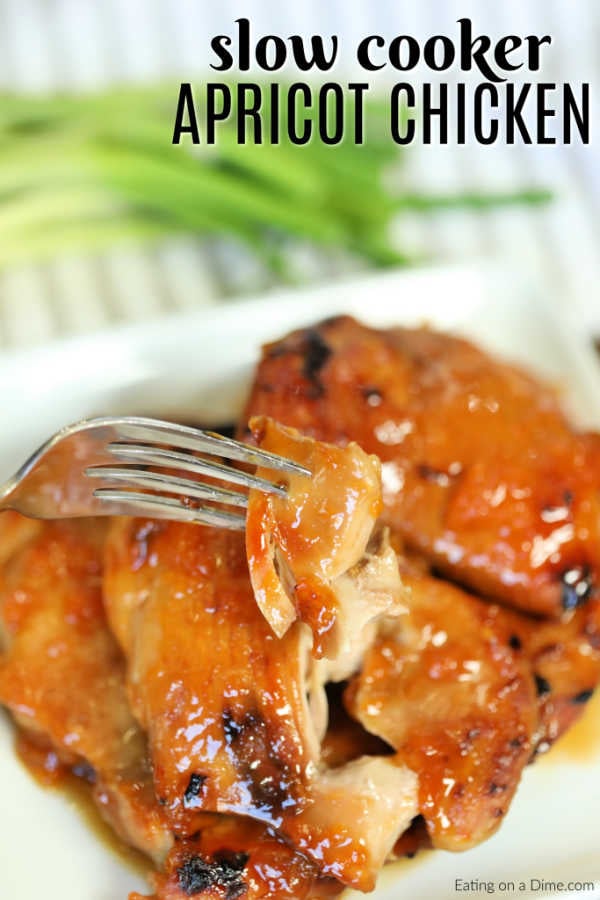 Crock Pot Apricot Chicken Recipe
Not only is this meal so simple to put together but the results are delicious. The chicken just falls apart it is so tender and the flavor can't be beat.
This easy recipe reminds me a little of sweet and sour chicken but with a slightly different flavor. The apricot preserves really take this recipe up a notch and combine perfectly with the dijon mustard and soy sauce. Yum!
It is such a relief to come home and have this wonderful meal waiting for our family to enjoy. We all just love this dish and it can't get any easier!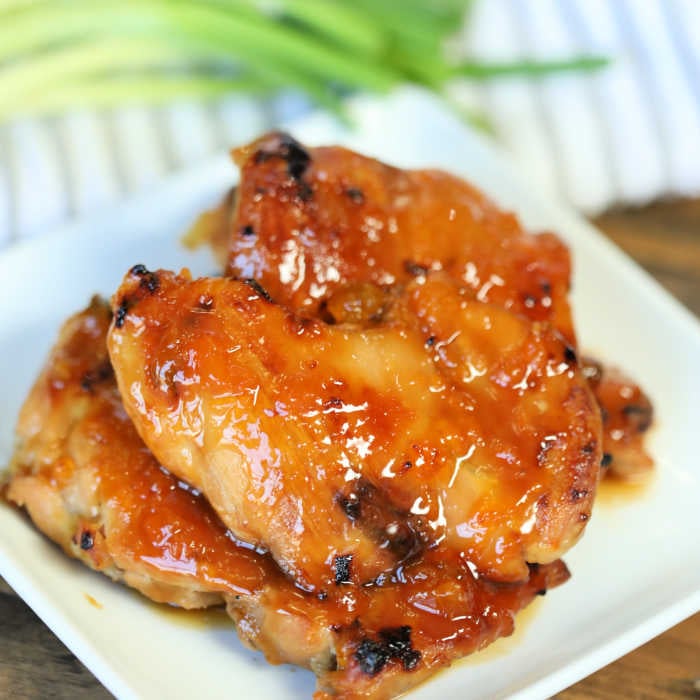 What do you serve with slow cooker apricot chicken?
Our favorite side dish is rice. The apricot sauce is so delicious spooned over the rice. Oh my!
Plus, it is so easy once I learned how to freeze rice. I love to grab the rice from the freezer in the morning and when we come home it is all ready to reheat and serve.
We do this for lots of meals and it helps on busy weeknights. This chicken is also delicious with brown rice.
This meal is also good with asparagus. This oven roasted asparagus is a family favorite and it is very simple and quick to make.
What all do you need to make Crock Pot Apricot Glazed Chicken?
boneless chicken thighs
salt and pepper
onion diced
apricot preserves
soy sauce
dijon mustard
ground ginger
You will need a crock pot for this Apricot Chicken recipe.
If you are in the market for something new, I really love my Ninja cooker. The nice thing about this is you can brown the meat in the same slow cooker for recipes that call for that.
It is so handy to just have the one pan to clean. It has become of my favorite kitchen appliances.
I also really like this crockpot as well. I use this all the time and it's great.
My favorite feature is that you can lock the lid down. This is awesome for when you need to take the crockpot somewhere.
I often use the slow cooker to take dishes to potluck events and this feature is amazing! There are several others on sale here.
Another favorite is this programmable crock pot for when I am am not at home all day. I love coming home to a nice meal ready and waiting!
I also like to use crock pot liners to make clean up a breeze. These are worth every penny and save a ton of time.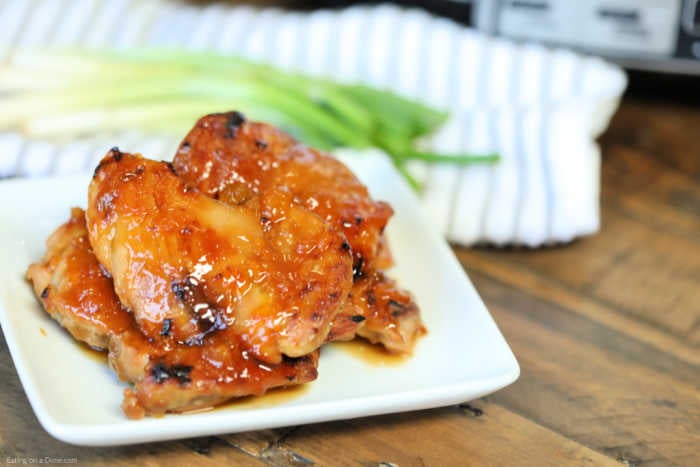 How do you make Catalina Apricot Chicken slow cooker recipe?
This is one of the easiest recipes ever! Just put the chicken thighs on the bottom of the crock pot.
Lay the onions on top of the chicken. This gives it such great flavor!
Whisk together the sauce and pour all over the chicken and onions.
In about 6-8 hours, you will have the most tender and flavorful chicken.
I like to put the chicken on a cookie sheet lined with foil and broil for a few minutes. The chicken gets nice and brown. So good!
Serve and enjoy!
Tip for making apricot chicken recipes:
Another time saving tip is to use a small food chopper or food processor to quickly and easily chop onions. If you do not have one of these, I highly recommend them. They are such a time saver and you make cooking so fast and easy.
I usually just chop the entire vegetable and freeze what I don't need. It's so nice to be able to just take the diced onion out of the freezer for recipes.
This is how I meal prep. It's so quick and easy and helps get dinner on the table fast.
Learn and how to freeze onions and also how to freeze peppers to save so much time in the kitchen! Lots of the recipes we cook call for onions and peppers so this is such a great time tip that we use frequently.
You will love having peppers and onions all ready to go! It is quick and easy.
This is the best apricot chicken recipe!
Not only is this recipe easy and delicious but it is versatile too. We love this apricot chicken slow cooker no french onion soup recipe.
You can easily make fresh apricot chicken or even dried apricot recipes chicken instead of the apricot preserves.
We have even used chicken breasts or drumsticks instead of the chicken thighs. I bet this would even be good on pork!
How do you make Apricot Chicken instant pot recipe?
If you want to use your pressure cooker, just make sure to add a cup of water and cook for 20 minutes. Easy!
Give this Crock Pot apricot chicken recipe a try!
This slow cooker apricot chicken is one of our favorite recipes. The chicken over rice is so easy in the crock pot and absolutely delicious.
You can try adding french dressing to switch up the flavor. It is one of the best slow cooker recipes with apricot jam.
Our entire family loves the flavor in this chicken. We make this when we want take out and this saves a lot of time and money.
You are going to love it!
Print this Slow Cooker Apricot Chicken Thighs recipe below:
Crock Pot Apricot Chicken Recipe
Crock Pot Apricot Chicken Recipe is sweet and savory. Apricot preserves combine with soy sauce and ginger for chicken you can't resist. Try this easy meal.
Ingredients
12

boneless chicken thighs

1/2

teaspoon

salt

1/2

teaspoon

pepper

1/2

onion diced

2

cups

apricot preserves

4

tablespoons

soy sauce

2

tablespoons

dijon mustard

2

teaspoon

ground ginger
Instructions
Place chicken thighs in the bottom of a slow cooker. I used 6 quart slow cooker.

Whisk together the apricot preserves, soy sauce, dijon, salt, pepper and the ground ginger.

Pour over the top.

Cook on low for 6-8 hours.

When finished, remove chicken and place on a cookie sheet lined with foil.

Spoon the mixture over the chicken. Broil for 5-10 minutes or until the chicken begins to brown.

Serve immediately.
Nutrition Facts
Calories
523
kcal
,
Carbohydrates
5
g
,
Protein
38
g
,
Fat
37
g
,
Saturated Fat
10
g
,
Cholesterol
221
mg
,
Sodium
1097
mg
,
Potassium
517
mg
,
Sugar
2
g
,
Vitamin A
185
IU
,
Vitamin C
1.1
mg
,
Calcium
25
mg
,
Iron
2
mg
Try Crock Pot Beef Gyros Recipe to make dinner time a breeze. The tender beef paired with the delicious tzatziki sauce makes this a meal your family will go crazy over.
Crock Pot Cajun Chicken Pasta Recipe is creamy and delicious with a little bit of heat for another great dish to try.
Try these slow cooker recipes: