This post may contain affiliate links. If you make a purchase through links on our site, we may earn a commission.
Learn How to make a veggie tray for the perfect appetizer for parties, Game Day and more. Add your favorite dip and enjoy!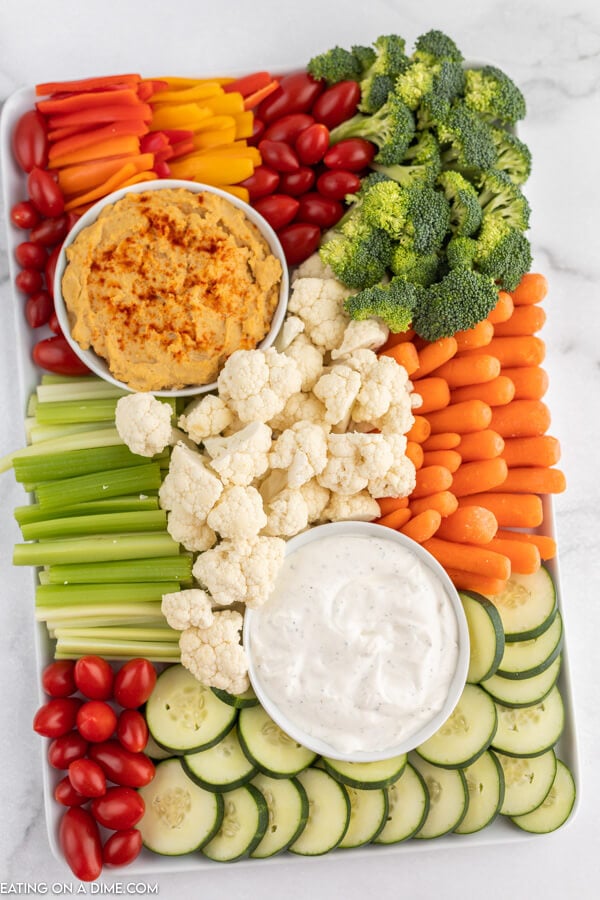 How to make a veggie tray
I have never been a fan of grocery store veggie trays and always make my own. It is super easy, much cheaper and fresher than any of those you can buy. I even make a Pumpkin Veggie tray for Fall.
The few times I have purchased one, I was always disappointed. Either it wasn't cut into small enough pieces or the quality just wasn't anything I would serve.
I ended up tossing half and cutting the rest. That defeats the purpose of saving time with store bought. That is why I always make a homemade veggie tray now. Oh and the dip is much better than store bought too.
The entire tray is so easy to put together that you will wonder why you ever used to buy these! Let's get started and you will see how easy this really is.
How to make the best fresh vegetable tray:
The best veggie tray includes an assortment of vegetables such as carrots, celery, cherry tomatoes, bell peppers, broccoli and more. You want to always include a dip to complete the tray.
Ranch dip is always a crowd pleaser and a popular choice to include.
Veggie Tray Ideas:
Baby Carrots
Celery Stalks
Cucumbers
Cherry Tomatoes
Broccoli
Cauliflower
Bell Peppers -You can use any color. I think it is pretty to use an assortment.
Assorted Dips
How to assemble a veggie tray:
Pick your favorite platter – First, you need a platter. I usually get a platter that is specific to the party I am having. I think it makes it more festive.
Cut and Prepare your Vegetables – Get all of your veggies sliced, cute or peeled depending on what type of vegetables you decide to use. Make sure to wash in salted water or iced water.
Place on Tray – Next, start adding the veggies to the tray and grouping in sections.
Make your Dip – The last step is to put small bowls of dip on the platter for dipping.
Serve and enjoy – If you are not eating right away, make sure to cover the tray and place in the fridge.
Veggie Tray Dips to include:
Homemade Ranch Dip – Ranch is the typical dip of choice for vegetable trays. Plus, this homemade recipe is much better than anything you can buy and super easy to make. Make it ahead and store in a mason jar.
Ranch Dressing– Prefer a thinner dip? Try using dressing instead.
Bean Dip- A great option for a heartier dip.
Hummus- roasted red pepper and garlic hummus make great dipping options.
Cottage Cheese Dip – a fun dip packed with protein
Tips and tricks to making your own veggie platter:
Get a large platter – Platter- Make sure your platter is large enough to hold all of the vegetables. I have a big glass platter I use for holidays but prefer to use a plastic one with lid for when I am transporting the tray.
Keep Vegetables Fresh – Don't make the tray too far in advance. You want the veggies to be fresh. It is fine to make it the night before you plan to use it.
Bite Size Vegetables – Cut vegetables into small bites. This makes it easy for you and your guest to grab from the vegetable tray.
Have Variety – Assortment- Try to have an assortment of vegetables so everyone will have something they like. Think outside the box of "normal" vegetables and include things like green beans or snap peas.
Get creative with your display – I like to alternate vegetables so that I have a colorful veggie display. For example, I don't put all the green vegetables together. I try to alternate.
Fresh Herbs – You can also place some fresh herbs for a filler on the vegetable tray.
How long will a Veggie Tray stay fresh?
A assembled vegetable tray will stay a room temperature for about 2 hours. I will prepare the vegetable tray and bring it out as my guest start arriving. Then once dinner is over, I will place back in the refrigerator.
This way, the vegetable stay fresh and my family can snack on the leftovers through out the week.
Can you make a Veggie Tray in advance?
When I know that I am serving a veggie tray, I will usually prepare it the night before. You can make it up to two days in advance, but after that the vegetables start to dry out.
Make a veggie tray today!
This is such an easy appetizer and very inexpensive to make. Try making these for parties or holidays. I like to put out a vegetable platter and a crudite platter for guests to snack on while they wait for dinner. It keeps hunger at bay and looks pretty sitting on the table.
Actually, I do this at home too. The kids will eat veggies if they are cut up and ready to go. I think you will be pleasantly surprised how easy it is to make a homemade veggie tray.
We think you will find that making a veggie tray is fun and it is a great way to get the kids involved. Plus it makes the perfect side dish.
Print the recipe for easy vegetable tray below:
How to make a Veggie Tray
Learn How to make a veggie tray for the perfect appetizer for parties, Game Day and more. Add your favorite dip and enjoy!
Ingredients
1

cup

baby carrots

1

cup

celery stalks

1

cup

cucumbers

sliced

1

cup

cherry tomatoes

1

cup

Broccoli

diced into small pieces

1

cup

Cauliflower

diced into small pieces

2

Bell Peppers

any color, sliced

2-3

Assorted Dips

ranch, hummus, etc
Instructions
Arrange the vegetables on a large platter or bowl of your choice.

Place the dips of your choice into small bowls and add the bowls to the platter.

Serve the veggie tray immediately or cover and refrigerate for up to 4 hours.
Nutrition Facts
Calories
98
kcal
,
Carbohydrates
7
g
,
Protein
1
g
,
Fat
8
g
,
Saturated Fat
1
g
,
Cholesterol
5
mg
,
Sodium
189
mg
,
Potassium
279
mg
,
Fiber
2
g
,
Sugar
4
g
,
Vitamin A
3374
IU
,
Vitamin C
60
mg
,
Calcium
29
mg
,
Iron
1
mg
More easy appetizer recipes: