Enjoy Crock Pot Turkey Bolognese with Zoodles without any guilt because this meal is healthy and delicious. Dinner is easy with this slow cooker meal and so tasty everyone will love it.
Crock Pot Turkey Bolognese with Zoodles
Some people get scared off from the word bolognese but it is actually quite simple to make this. It just sounds fancy. 🙂
Plus, the crock pot makes this such an effortless meal! Everything simmers together for such a flavorful pasta sauce.
Your house will smell amazing while this simmers all day. Yum!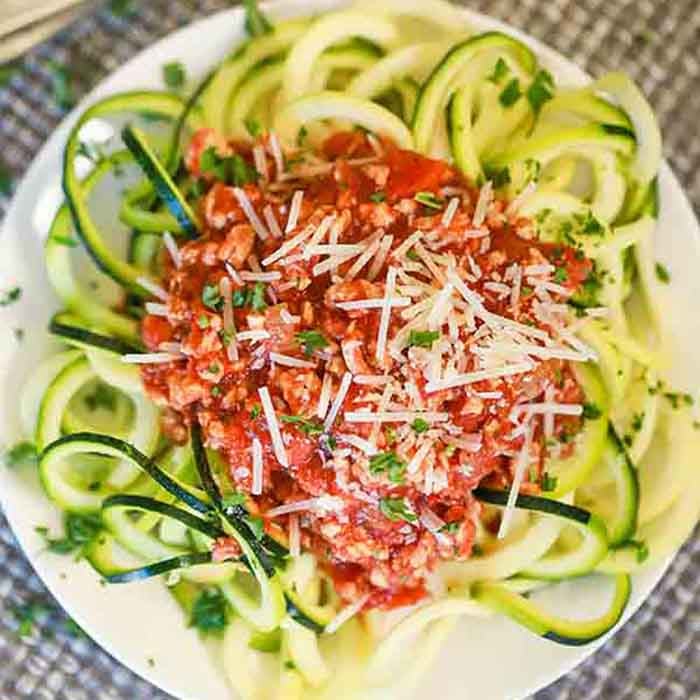 What to serve with crock pot turkey bolognese?
We are trying to eat healthier so we love to serve this with zoodles. In case you are wondering what in the world "zoodles" are, they are noodles made from zucchini.
This is a great way to reduce the carbs and still feel like you are eating pasta with a meal. Plus, zucchini is very inexpensive and budget friendly.
We have actually been making these for awhile and the entire family loves them. If you are looking for a healthy but delicious side dish, try this Zucchini Noodles Recipe.
Not only is this a tasty option but it is so easy to make. If you are eating low carb or keto, give this recipe a try.
Our family loves zucchini noodles and even the kids enjoy them. If you have kids resistant to zoodles, you can easily fix some traditional pasta for them to eat while still keeping this recipe simple.
You will need a spiralizer to make the zucchini noodles. I ordered my spiralizer from Amazon for a great deal.
It is so easy. You just place the zucchini in the spiralizer and cut the noodles. Simple!
You can also use a vegetable peeler if you do not have a spiralizer just yet.
Here is quick tip when making zucchini noodles. Zucchini continues cooking after you remove it from the heat.
Due to this, it can lead to soggy noodles if you over cook the zucchini. You don't want to overcook or you will get mush. It really only takes 3-5 minutes to cook the noodles.
Don't walk away or you will come back to noodles that are are mushy and blah. Just cook for a few minutes and they will be perfect!
Bread is really good with this meal if you are not eating low carb or want to make some for the kids. This meal is amazing with crusty bread so you can dip into the pasta sauce.
You can pick up a loaf of french bread from the bakery or make these easy homemade dinner rolls. Yum!
We also love this Garlic Bread Cheese Sticks Recipe with Minestrone soup. The kids really like these bread sticks.
Make sure you have a good crock pot to make this ground turkey bolognese recipe.
If you are in the market for something new, I really love my Ninja cooker. The nice thing about this is you can brown the meat in the same slow cooker which is so convenient.
It is so handy to just have the one pan to clean. It has become of my favorite kitchen appliances.
I also really like this crockpot as well. I use this all the time and it's great.
My favorite feature is that you can lock the lid down. This is awesome for when you need to take the crockpot somewhere.
I often use the slow cooker to take dishes to potluck events and this feature is amazing! There are several others on sale here.
Another favorite is this programmable crock pot for when I am am not at home all day. I love coming home to a nice meal ready and waiting!
I also like to use crock pot liners to make clean up a breeze. These are worth every penny and save a ton of time.
What ingredients do you need to make crock pot bolognese with ground turkey?
ground turkey
carrots
onion
minced garlic
Italian Seasoning
salt and pepper
crushed tomatoes
tomato sauce
zucchini
butter
Parmesan cheese
How do you make slow cooker turkey bolognese with zoodles?
First, place the ground turkey in the crock pot. You can put this in raw.
Next, add in the veggies and other ingredients.
Cook this on low for several hours. You will need to break apart the meat and cook for another 30 minutes.
During this last 30 minutes, I like to prepare the zoodles. Just saute them in the skillet for a few minutes.
Spoon the sauce over the zoodles just like traditional pasta and enjoy! We like to top with Parmesan cheese.
Keep reading for the full recipe.
I love recipes can be ready without much work and still be healthy. This recipe is a good example that it does not have to be complicated or expensive to be delicious and healthy.
How to freeze ground turkey bolognese:
We like to double the recipe so that we can freeze this sauce. Once cooled, place in a freezer bag and put in the freezer.
I like freezer bags because they lay flat and don't take up much space. When you are ready to serve this, just dump the frozen contents in the slow cooker and heat and enjoy.
This is a great way to take the stress out of dinner time. You can literally toss and go and come home to dinner waiting.
Find out how we made 10 freezer meals in 1 hour! Dinner time does not have to be stressful and everyone can enjoy a great meal.
Save even more time making turkey bolognese sauce with this tip:
This recipe like many calls for diced onions. Another time saving tip is to use a small food chopper or food processor to quickly and easily chop the onions.
If you do not have one of these, I highly recommend them. They are such a time saver and you can get the veggies really fine if you have children that are picky.
I usually just chop the entire vegetable and freeze what I don't need. It's so nice to be able to just take the diced onion out of the freezer for recipes.
This is how I meal prep. It's so quick and easy and helps get dinner on the table fast.
Learn and how to freeze onions and also how to freeze peppers to save so much time in the kitchen!
Zucchini bolognese crock pot recipe is frugal!
Ground turkey is inexpensive and the tomatoes help to stretch the meat even further. I think the tomatoes give the sauce just the best flavor.
You could even stretch the meat even further and add more tomatoes. This is a great tip for your budget.
You can truly make this recipe your own and customize it for your family. I often just use what I have in the freeze or what is on sale.
This is how I keep our grocery budget reasonable. By shopping when things are on sale I save money on groceries and it really helps our budget.
I keep recipes like this on the regular menu plan rotation because I know the entire family will enjoy and it is easy to use what I have.
In fact, I cut our grocery bill by 50% off by following these 8 Tips for for Saving Money on Groceries by Menu Planning! Save that money for a family vacation or maybe just some wiggle room in the budget.
Everyone will be well fed and your budget will be better as well. Give some of these tips a try!
We even love turkey mushroom bolognese instant pot recipe.
This recipe is really so easy and versatile. I have added mushrooms and made this in the pressure cooker before.
You can easily use your instant pot if you are short on time and don't want to slow cook this meal. Use what works best for your family!
Feel free to add, omit or substitute ingredients based on what your family likes best. We understand that families are different and kids can be picky.
Our recipes are always very simple and easy to modify for your family.
This is the best slow cooker turkey bolognese!
The ground turkey tastes amazing in this slow cooker turkey bolognese. Everyone loves the zoodles and that they are gluten free.
You can also use ground beef instead of the ground turkey if you prefer. The recipe is still yummy and the meat sauce is great either way.
I like to add a little extra red pepper flakes to jazz up the recipe. It gives it just enough heat but not so much that the kids can't enjoy it.
We have also used spaghetti squash instead of zucchini noodles. This Instant Pot Spaghetti Squash Recipe is so easy to prepare and goes great with the meat sauce.
Whether you make this recipe in the slow cooker, instant pot or on the stove top, it is a great recipe.
No need to spend a ton of money or time to eat healthy. This recipe takes very little work to prepare and tastes amazing.
Even better, the entire family will jump on board once they see how delicious the zucchini noodles taste. I love when I find something healthy, frugal, simple and delicious.
We are all about keeping things simple around here and zucchini noodles sure are easy. I try to eat healthy but also need to keep our grocery budget reasonable and under control.
This is easy when zucchini is inexpensive and readily available. Pick some up today and give this recipe a try.
Plus, the meat sauce is just out of this world! The flavor can't be beat from being slow cooked and it is sure to be a hit!
Eating healthy does not have to be bland or boring. Once you try crock pot turkey bolognese with zoodles, you will see!
My kids even gobble the noodles up because they are so tasty. Trust me, if the kids love them, they are good.
They are so good with this meat sauce and really the entire meal is amazing. It is so simple to spiralize the zucchini and cook zucchini pasta.
The sauce is so easy in the slow cooker. This recipe is all around simple and easy!
Not to mention delicious!
This is a great recipe that is quick and easy. If you are gluten free, you will love zucchini for a healthy alternative to pasta.
We all love it and that says a lot. Our family has some picky eaters.
Print this slow cooker turkey bolognese skinnytaste recipe below:
Crock Pot Turkey Bolognese with Zoodles
Enjoy Crock Pot Turkey Bolognese with Zoodles without any guilt because this meal is healthy and delicious.  Dinner is a breeze and so tasty!
Ingredients
2

pounds

ground turkey

2

carrots

peeled and diced

1/2

onion

diced

2

teaspoon

minced garlic

1

tablespoon

Italian Seasoning

1

teaspoon

salt

1

teaspoon

pepper

(2) 15

oz.

cans crushed tomatoes

(1) 15

oz.

can tomato sauce

3

large zucchini

spiralized

1

tablespoon

butter

1

cup

parmesan cheese
Instructions
Place ground turkey, raw, in the crock pot.

Add in carrots, onions, garlic, Italian seasoning, salt pepper, crushed tomatoes and tomato sauce.

Cook on low for 4 hours.

Break the meat apart and cook for 30 more minutes.

Meanwhile in a large skillet heat the butter and stir in the zucchini noodles. Cook for 3 minutes or until soft.

Spoon sauce over the zucchini noodles and then top with parmesan cheese.
Nutrition Facts
Calories
347
kcal
,
Carbohydrates
21
g
,
Protein
46
g
,
Fat
10
g
,
Saturated Fat
5
g
,
Cholesterol
100
mg
,
Sodium
1330
mg
,
Potassium
1456
mg
,
Fiber
6
g
,
Sugar
13
g
,
Vitamin A
4445
IU
,
Vitamin C
37.5
mg
,
Calcium
297
mg
,
Iron
4.6
mg
Try these other ground turkey recipes:
More Zucchini recipes