This post may contain affiliate links. If you make a purchase through links on our site, we may earn a commission.
Tender pork tenderloin and delicious honey lime drizzle make this recipe fabulous. The crock pot makes this easy enough for busy weeknights but it's special enough for company.
Honey Lime Crock Pot Pork Tenderloin Recipe
Pork tenderloin is a favorite around here and this Honey Lime Crock pot Pork Tenderloin Recipe is incredibly flavor packed. I can't wait for you to try the glaze on top of this pork tenderloin slow cooker recipe.
It is sweet with a hint of tang and gives the pork amazing flavor.
My family loved this Crock Pot Balsamic Vinegar Pork Tenderloin. You definitely want to add that to your meal plan too. Yum!
You are going to love this recipe. The pork tenderloin is easy to fix and always turns out delicious. You can turn leftovers into pulled pork sandwiches or make nachos with tortilla chips.
I like to squeeze extra lime juice over the pork and the extra citrus is so tasty. This is a must try recipe and one you will make again and again.
You will need a crock pot for this recipe:
You will need a good crock pot for this recipe. I am currently using this Instant Pot Aura Crock Pot and I'm loving it.
You can brown the pork in this crock pot before slowing cooking and it'll switch to keep warm after the cook time to keep it from over cooking.
I also love this programmable crock pot.
Let's get started!
This might look fancy but it is super easy and anyone can make this.
Ingredients:
How to make Honey lime pork tenderloin:
1. First, I like to use crock pot liners to make the clean up process easy. Go ahead and put one in your slow cooker.
2. Second, put the pork tenderloin in the bottom of the crock pot. Add the salt and pepper.
3. Next, make the delicious sauce for the tenderloin. Mix the honey, soy sauce, Worcestershire sauce, lime juice, garlic and ginger together in a small bowl. Pour this all over the tenderloin.
4. Finally, cover and slow cook on low for 4-6 hours or cook on high for 2-3 hours. It turns out absolutely tender. The cooking time will vary slightly based on the crock pot used.
Once the tenderloin is cooked, line a baking sheet with foil and put the pork on it. Broil for a few minutes until it is nicely browned on top.
5. One last step and it is totally worth it. Pour the remaining sauce from the crock pot into a saucepan. Add the cornstarch and stir until the sauce is desired thickness.
Make sure to watch this closely so the sauce doesn't get too thick or burn.
Pour all of this yummy glaze all over the pork tenderloin. I could eat this by the spoonful and always pour extra on my plate once I start serving. Add a little cilantro and fresh limes and you are set!
Tips for this Crock Pot Pork Tenderloin:
You can easily double or half the recipe to feed your family.
Make sure you are using a pork tenderloin instead of different cuts of meat. The cook time will change for different types of pork.
You can add potatoes or carrots to the crock pot to cook with the pork if you prefer. Make sure to cut the vegetables into large pieces so that they don't get over cooked.
What is the different between pork loin and pork tenderloin?
Pork Loin and Pork Tenderloin are 2 different types of cuts of pork. You can use a pork loin in this recipe instead of a pork tenderloin.
Since a pork loin is generally a large cut of pork, you will need to double the cook time for this recipe.
A pork loin is generally twice the size in diameter as a pork tenderloin so make sure you use a meat thermometer to check that is cooked all the way through.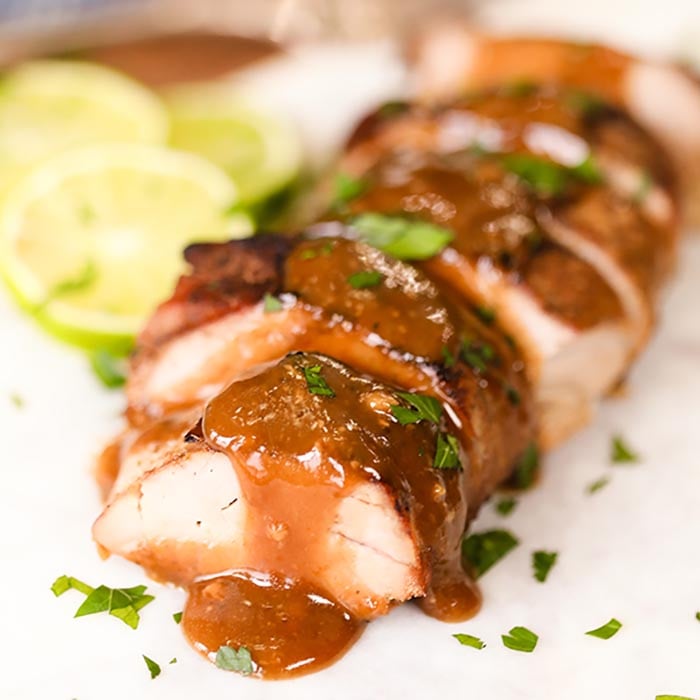 How do you keep pork loin from drying out?
No one wants tough pork. I suggest using a meat thermometer to make sure you don't overcook it. You can see the one we use and love here.
The internal temperature should be 145 degrees F. If you don't already have a thermometer, I definitely suggest ordering one. This is one kitchen gadget you will use a lot.
Can you overcook pork tenderloin in the slow cooker?
Yes, you can over cook this pork tenderloin in a crock pot just like you can in the oven but it does take more time to over cook it.
I recommend checking the temperature at the shorter end of the cook time and if the tenderloin is not to a safe temperature continue to check it every 15 minutes until it's done.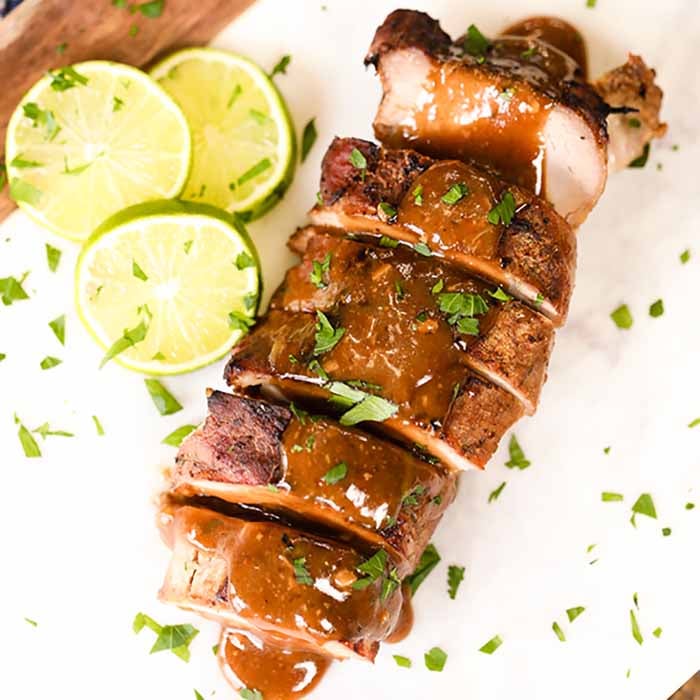 Can you sear the pork tenderloin before cooking?
Searing the pork tenderloin before slow cooking is definitely optional. I generally do not sear it with this recipe since the sauce adds a ton of flavor. Plus I like to brown the pork slightly once it's cooked.
I do prefer to sear a pork tenderloin if I'm cooking one by itself and there is not a sauce in the recipe.
If you decide to sear it, cook the pork in a large skillet over medium high heat with. a small amount of olive oil for 3-5 minutes per side until browned.
Slow cooker pork tenderloin serving ideas:
All of these make delicious options for a side dish. I spoon the tasty honey glaze over any vegetable, and it tastes amazing.
Variation Ideas:
Add a small amount of brown sugar to the sauce to add a little bit of sweetness to this recipe.
If you want more sauce, stir in ½ cup of chicken broth with the sauce ingredients before adding them to the crock pot.
Can this recipe be made in an Instant Pot?
Yes, this can easily be made in an Instant Pot as well. Add 1 cup of water or chicken broth to the instant pot.
Then add in the pork tenderloin and sauce ingredients.
Seal the instant pot and cook on high pressure for 15 minutes with a 5 minute natural release. Check the internal temperature and if the pork has not reached a safe temperature, cook it for 3-5 more minutes.
Then remove the pork and thicken the sauce in the instant pot on the sauté setting.
How to Store:
Refrigerate the leftovers in an air tight container for up to 5 days.
You can also freeze the leftovers in a freezer safe bag or container for up to 3 months.
Print this Honey Lime Crock pot Pork Tenderloin Recipe below:
Honey Lime Crock pot Pork Tenderloin
Honey lime crock pot pork tenderloin with delicious honey lime drizzle make this recipe fabulous. The crock pot makes this super easy.
Instructions
Place the pork tenderloin in a slow cooker. Season with salt and pepper.

In a small bowl, whisk together the honey, soy sauce, Worcestershire sauce, lime juice, garlic and ginger.

Pour over the tenderloin.

Cook on low 4-6 hours or until the tenderloin is tender.

When finished, place the tenderloin on a cookie sheet, lined with foil. Broil for 5-10 minutes or until it is browned.

Slice.

Meanwhile pour the juices from the crock pot into a saucepan. Stir in the cornstarch and heat (stirring occasionally) until thickened.

Drizzle the sauce over the tenderloin.

Serve with cilantro and fresh limes.
Recipe Notes
Refrigerate the leftovers in an air tight container for up to 5-6 days.  
Nutrition Facts
Calories
296
kcal
,
Carbohydrates
30
g
,
Protein
33
g
,
Fat
5
g
,
Saturated Fat
2
g
,
Trans Fat
1
g
,
Cholesterol
98
mg
,
Sodium
1036
mg
,
Potassium
688
mg
,
Fiber
1
g
,
Sugar
24
g
,
Vitamin A
18
IU
,
Vitamin C
7
mg
,
Calcium
27
mg
,
Iron
2
mg
More pork tenderloin recipes: