This post may contain affiliate links. If you make a purchase through links on our site, we may earn a commission.
You are going to love this easy Instant pot bbq pork chops recipe. It is ready in less than 10 minutes and the BBQ sauce is amazing with the tender pork.
Instant Pot BBQ Pork Chops Recipe
The pork chops are literally fork tender. Everyone will think that this meal was slow cooked all day. The barbecue sauce has the best flavor and I could spoon it on everything!
This is the perfect weeknight meal when you are busy but need a great meal in minutes. Skip takeout and make this instead.
It seriously takes less time and costs less too. We think it tastes better than anything you can buy. This meal is a win all around.
Let's get started!
Make sure you have a good instant pot and you will be ready to go.
Ingredients:
Pork chops
Olive Oil
Garlic Salt
Pepper
Barbecue Sauce
Water
Cornstarch
How to brown pork chops in the instant pot
It is really easy. Just place the pork chops in the pressure cooker with a tablespoon of oil. Use the sauté setting and brown the pork chops on both sides. Sprinkle with salt and pepper.
You want to make sure all of the pork chops are browned. If you do not want to brown the pork chops, it is optional. However, I think they look prettier and taste better if you brown them first.
Once you have browned the pork chops, stop the saute setting by hitting cancel.
How to make pressure cooker bbq pork chops recipe:
Now that your pork chops have been browned, pour the BBQ sauce all over the pork. Also, add the water.
Next, add the lid and set to sealing. Use the manual button and set it for 5 to 10 minutes depending on how thick the pork chops are.
Once finished, you can do a natural release for 5 minutes and then do a quick release to remove the rest of the pressure.
It is that easy!
Easy side dish Ideas
I'm a huge fan of mashed potatoes but the sauce is also really good on red potatoes too. Green beans are delicious too and I even pour some of the bbq sauce on them too!
It's also good with corn on the cob and a big pan of Sweet Honey Cornbread! Is it Dinner time yet because this is making me hungry?
You can even spoon the delicious BBQ sauce over the pork chops and over your veggies or even potatoes when serving. I could literally eat it on everything!
Why are my instant pot pork chops tough?
Overcooking the pork chops will result in meat that is tough. Don't cook them for longer than needed.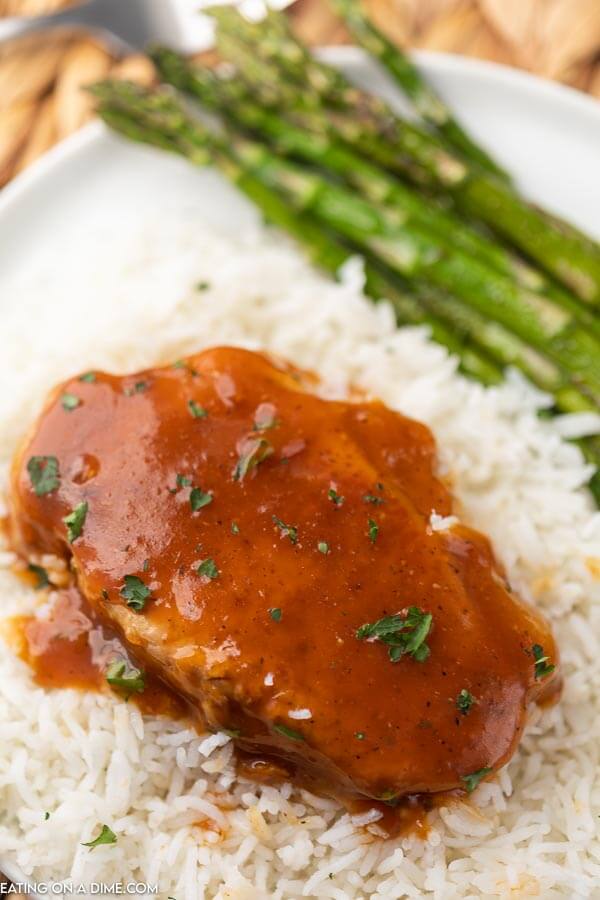 More ideas to try:
You can use bone-in pork chops for this recipe. This recipe is also great for pork chops with the bone in. I would just increase the pressure to 10 minutes. Only 5 more minutes you will have delicious bone in pork chops cooked perfectly in the Instant pot.
Add veggies and make it a one pot meal. You can add in any veggies to this recipe and you don't even have to increase the cooking time. I have thrown in frozen green beans, potatoes, and carrots in there and they all came out packed with flavor and perfectly soft. Now, I would put the pork chops on the bottom and then the veggies on top. I think some chopped red potatoes would be amazing with the delicious bbq!
I can't wait for you to try this Instant Pot BBQ Pork Chops Recipe!
Try it and come back and leave a comment and let us know what you loved. The possibilities are endless for side dishes and ways to mix this up!
The instant pot takes the work out of so many recipes and comes together so quickly. When I first bought my instant pot, I wondered how tender the meat would be. I was accustomed to using my slow cooker for everything.
I was pleasantly surprised at how tender and delicious everything turns out! Give it a try and I just know you will love it as much as we did.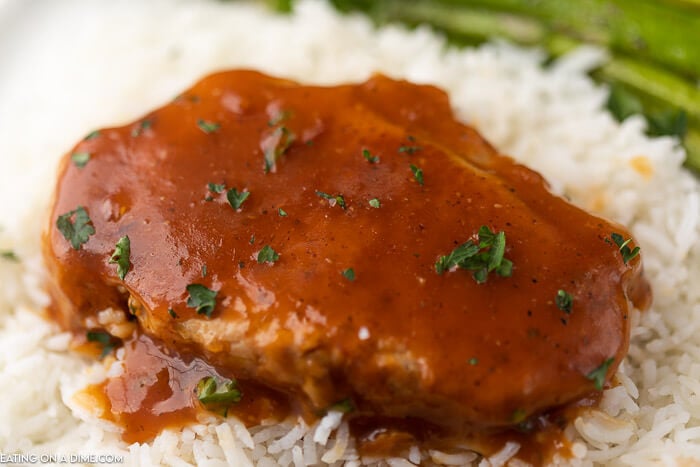 Print your Instant Pot BBQ Pork Chops Recipe:
Easy Instant Pot BBQ Pork Chops Recipe
Everyone will love this Instant Pot BBQ Pork Chops Recipe! BBQ Boneless Pork Chops Recipe is incredibly simple. Try BBQ Pork Chops Pressure Cooker Recipe today!

Instructions
Turn the instant pot on the sauté setting and add the olive oil to the instant pot for a few minutes to heat up the olive oil.

Place the pork chops in the instant pot, season with the garlic salt and pepper. Brown the pork chops on each side (3-4 minutes). You may have to work in batches if all the pork chops do not fit at one time. I did 3 at a time and move the pork chops to a separate plate while browning the second batch.

Turn the instant pot off the sauté setting by hitting the cancel button. Add the pork chops, 1 cup of the water and barbecue sauce to the instant pot.

Place the lid on and make sure the valve is set to sealing position.

Push the manual button and cook on high pressure for 5-10 minutes depending on the thickness of your pork chops (if you have thin 1/4" pork chops cook for 5 minutes and thicker 1" pork chops cook for 10 minutes).

Allow the pressure to naturally release for 5 minutes and then do a quick release to remove the rest of the pressure.

Remove the pork chops from the instant pot. Switch the instant pot back to the sauté setting. Stir the cornstarch into the remaining water (¼ cup) and then whisk this cornstarch slurry into the instant pot. Heat for 3-5 minutes until the sauce has thickened.

Serve the pork chops topped with the sauce from the instant pot and enjoy!
Recipe Notes
Use your favorite type of barbecue sauce to change up the flavor of this easy pork chop recipe.  
Nutrition Facts
Calories
321
kcal
,
Carbohydrates
22
g
,
Protein
29
g
,
Fat
12
g
,
Saturated Fat
4
g
,
Trans Fat
1
g
,
Cholesterol
90
mg
,
Sodium
944
mg
,
Potassium
613
mg
,
Fiber
1
g
,
Sugar
16
g
,
Vitamin A
113
IU
,
Vitamin C
1
mg
,
Calcium
28
mg
,
Iron
1
mg
More instant pot pork recipes