This post may contain affiliate links. If you make a purchase through links on our site, we may earn a commission.
Our family loves steak so I just had to share the best steak marinade around! It is a 3 ingredient steak marinade that will knock your socks off. You'll never make a steak without it again.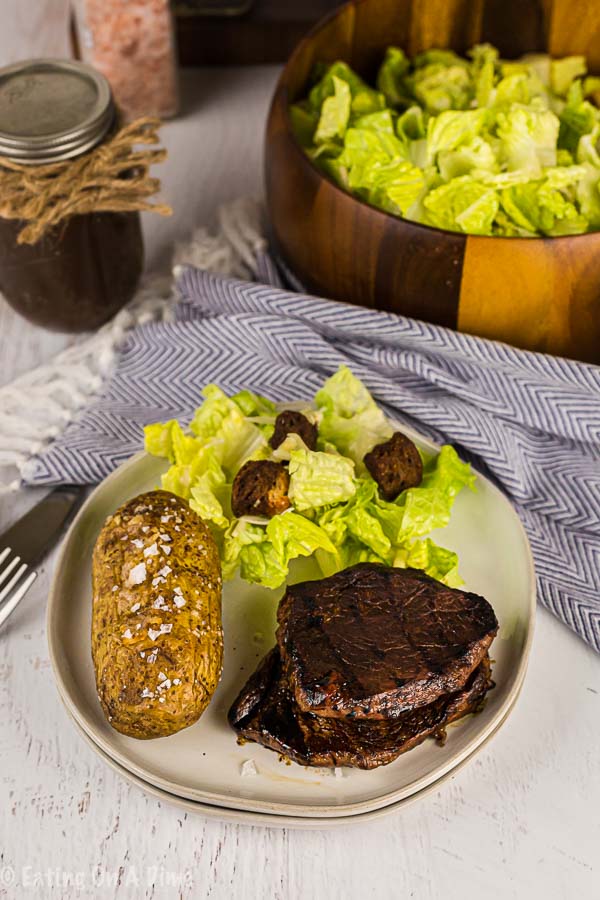 Easy Steak Marinade for Grilling
Cooking steak at home is an easy money saver. By not eating out you are saving a ton of money. While steak can be expensive, it is much cheaper to cook or grill steak at home.
You can cook steak at home several different ways! This is the best steak marinade for grilling. We love grilling steak, especially in the summer. But you can also cook steak by panfrying it in a cast iron skillet, baking it, cooking it in an air fryer and even cooking it in the crockpot.
No matter how you cook your steak or what kind of steak you buy, this steak marinade recipe will make them amazing.
What is the best way to tenderize a steak?
If you take a little extra time to tenderize your steak, you can really take a cheap cut of meat to the next level. Especially if you tenderize and marinate the steak!
The easiest and quickest way to tenderize your steak is to salt it. Yes, you read that right, just salt. A coarse salt, such as sea salt, is your best option here.
Simply lay your steaks out on a plate after you marinate them and cover in a layer of salt. Flip them over and repeat.
Let the steaks sit for 30 minutes to allow the salt to break down the muscle fibers and create a natural brine. This will also allow the steaks to come to room temperature which will help the steaks to cook more evenly.
Pat the steaks dry before you cook them to help get that picture-perfect, flavor-locking sear. After your steaks are cooked, allow them to rest 5 minutes before serving.
How long to Marinate Steak:
I am always asked, "how long should I marinate my steaks for". Typically I recommend that you marinate your steak, or chicken for that matter, anywhere from 4-24 hours for the best results.
If you're in a pinch you can marinate it for 60 minutes with good results.

I do not recommend marinating your steaks for any longer than 24 hours. The vinegar in this marinade recipe will begin to break down the meat and you'll end up with a mushy steak.
If you find yourself in a position where your plans have changed and you're unable to cook the marinated steaks within 24 hours, no worries because this is the best steak marinade for freezing. Just pop the bag with the steaks and marinade in the freezer.
When you're able to cook the steaks, simply remove from the freezer and let thaw before cooking. As the meat thaws the marinade will do its thing.
What type of steaks should I use?
Honestly, what type of steak you use is a personal preference. However, this steak marinade takes even the basic cut of steak to the next level.
You'll want to try this steak marinade on flank steak, filet mignon, sirloin, and strip steaks. I am so excited to share this recipe with you! I just know that your family will be amazed, especially when they realize it only has 3 ingredients!
How long do I cook steak on each side?
When we are grilling steaks at home, I usually grill over medium high heat, using a propane grill.
I allow the steaks to cook for 7 minutes on each side before flipping them over. I recommend only flipping them once. You will end up with the perfect medium-rare steak every time!
Adjust cooking time accordingly based on the doneness you prefer.
A digital meat thermometer is the best way to gauge doneness until you get the hang of it. Here is a basic guide, keep in mind that the higher the temperature you cook your steak to, the more likely they are to be tough and dry.
130 °F: Rare
135 °F: Medium Rare
145° F: Medium
150°F: Medium Well
160° F: Well Done
Learn how to grill steak perfectly every time to make sure that your steak is cooked to your preference.
Ingredients for the Best Steak Marinade: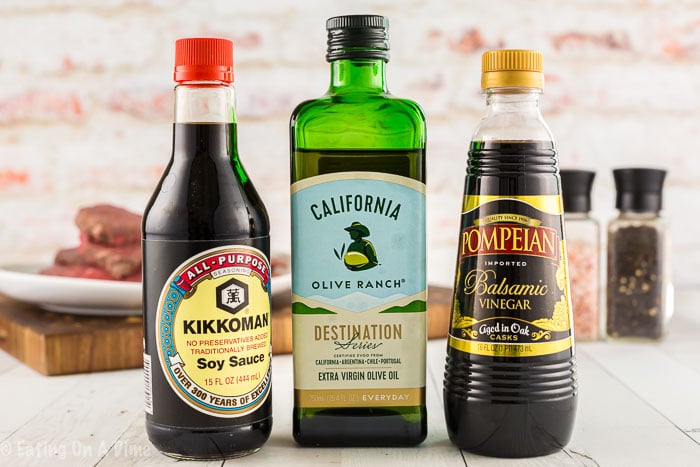 Olive Oil
Soy Sauce
Balsamic Vinegar
How to Make Steak Marinade:
Mix all the marinade ingredients (soy sauce, olive oil and balsamic vinegar) together in a bowl. Add the steaks of your choice in a sealable bag.
Then pour the marinade on top of the steaks in the bag.
Seal and toss about to make sure that the steak is completely covered in the marinade.
Place the bag in the refrigerator for 4-24 hours.
When you are ready to cook the steak, allow the steaks to come to room temperature.
Then cook the steak based on your preference. You can also baste the steaks with the excess marinade. Allow the steak to rest for 5 minutes before serving.
Best Steak Marinade Variations:
Use ½ cup apple cider instead of the balsamic vinegar.
Add ¼ cup Worcestershire Sauce to add a deeper flavor.
Mix in 2 Tablespoons lemon juice to act as another meat tenderizer.
Add in 2 teaspoons of Italian Seasoning to add in a slight herb flavor.
Mix in minced garlic or garlic powder to your steak marinade to add a slight garlic flavor.
Add 1-2 teaspoons of red pepper flakes to the marinade to add a spice to your steak.
Use our steak seasoning recipe in with the marinade
What to serve with Steak?
I love serving steak with a classic baked potato. Here are a few of my favorite ways to make baked potatoes:
It's also great with a healthy and delicious salad recipe. Here are a few that I love serving with steak.
Check out more of our Best Side Dishes for Steak.
How to Store and Reheat:
Store any leftover steak in an air tight container in the refrigerator for up to 3 days. You can also wrap each steak individually so that it will keep in as much juices as possible.
To reheat, I recommend reheating the steak in the air fryer, stove top or oven. Make sure to add in a little butter or oil when reheating to prevent the steak from drying out.
Many people will reheat leftover steak in the microwave so that it is reheated quickly. However, I find that this dries out the steak and I don't recommend it.
Can you freeze?
Yes, you can freeze leftover steak for up to 2-3 months for the best quality. To freeze leftover steak, wrap it tightly with foil or freezer paper and then store it in an air tight container or freezer bag.
Allow the steak to defrost in the refrigerator and then reheat it and enjoy. You will want to eat the steak the same day after defrosting it.
Print the Best Steak Marinade below:
The Best Steak Marinade – only 3 ingredients!
This is by far the best and easy Steak Marinade recipe. It has only three easy ingredients and is packed with flavor. You will love this marinade for steak!
Ingredients
For 2-3 pounds of steak:

1/4

cup

oil

(vegetable or olive oil will work)

1/4

cup

soy sauce

2/3

cup

Balsamic Vinegar
Instructions
Mix everything in a bowl.

Place steak in a ziplock baggie.

Pour marinade over the steaks. Seal, and toss steak around.

Place in the fridge overnight.

When you are ready to cook, season the steaks with salt and pepper before cooking.

Allow steaks to rest 5 minutes before serving.
Recipe Notes
No matter how you cook your steak or what kind of steak you buy, this marinade for steak will be amazing.
Nutrition Facts
Calories
109
kcal
,
Carbohydrates
5
g
,
Protein
1
g
,
Fat
9
g
,
Saturated Fat
7
g
,
Sodium
546
mg
,
Potassium
52
mg
,
Sugar
4
g
,
Calcium
10
mg
,
Iron
0.4
mg

Try these other steak recipes: