This post may contain affiliate links. If you make a purchase through links on our site, we may earn a commission.
You are going to love this Crockpot Korean BBQ recipe! Serve this slow cooker Korean bbq over rice and a side of veggies for a simple meal! It will be an instant hit with your family and so much better than takeout!
Easy Crockpot Korean BBQ Recipe:
This slow cooker Korean BBQ recipe is one of my family favorites recipes. We love how great this recipe is and how tasty and tender the steak comes out with the combination of soy sauce, sesame oil and brown sugar.
This Korean BBQ is perfect served over rice or to eat alone. It is so much better than getting takeout as I know exactly what all the ingredients are.
What is Korean BBQ?
Traditional Korean BBQ reminds me a lot of hibachi. There is a grill in the middle of the table and you fill it with various raw meats. Plus, you get to enjoy it with various different side dishes.
It is typically a very meat heavy meal and that can often get expensive! For this at-home slow cooker Korean beef version, you use a lot of the same Korean BBQ ingredients.
However, it is very budget friendly because you can take advantage of cheaper cuts of meat. This is because the crockpot is going to do all of the work and help tenderize it by slow cooking all day.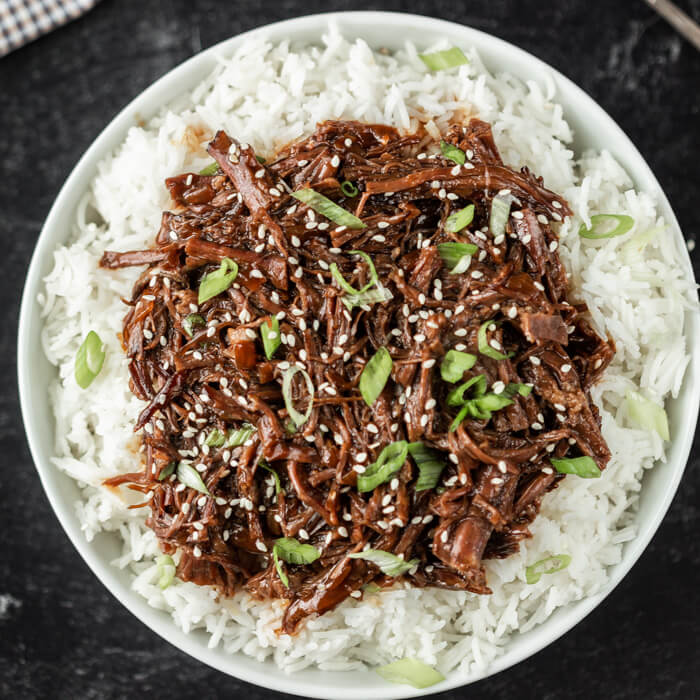 Let's make Crockpot Korean bbq recipe!
I am about to utter some words that I thought I never would. The entire family loves this recipe! We really enjoyed the flavor it has. It was a hit all around with everyone.
We had this for dinner the other night and I was pleasantly surprised at how many times they said that they love this recipe! It is just so flavorful and delicious!
I also love that it is easier than take out and cheaper too. We all think it tastes better than take out as well.
Ingredients:
Corn Starch
Sesame oil
Garlic powder
Soy Sauce or rice vinegar
Brown Sugar
Diced Onion
Red Pepper Flakes
Flank Steak (or you could use a cheaper steak, ground beef or chuck roast)
How to make Korean BBQ in the crockpot:
First, whisk together the cornstarch and soy sauce in a small bowl. I have even added in some beef broth before.
Second, put all of the ingredients into your crockpot. Let this cook on low for 6 to 8 hours or on high for 4 to 6 hours. It is so easy that even your kids make dinner for you.
After the meat has finished cooked, either thinly slice or shred the meat. If you prefer, you can do this before you cook it but I like doing it after.
It is just easier to cut or shred the meat after it has been cooked. Once it has been shredded, place back in the crockpot.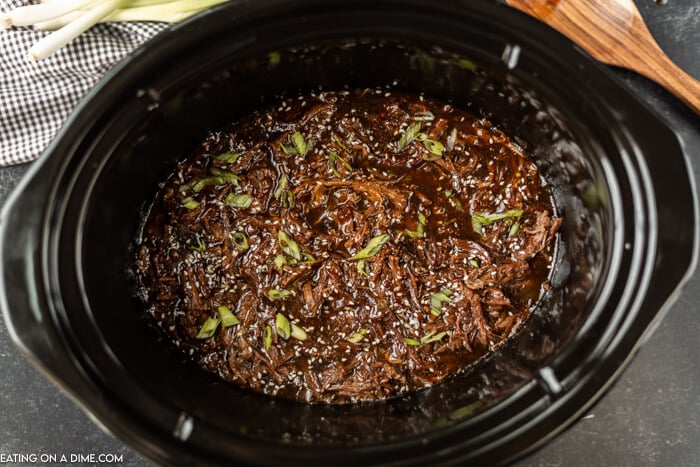 The results?
This Korean BBQ recipe was very good! I was surprised by the awesome flavor and how fast my family ate it up.
Next time I will have to make a bigger batch! Garnish with green onion and sesame seeds if you prefer.
What to Serve with Slow Cooker Korean Beef
Crockpot Rice – You can also freeze rice to make this recipe even easier. It is such a big help during busy weeks.
Fried Rice – This is super easy and even better made from leftover rice.
Kimchi is typically a must, which is basically a fermented cabbage dish. If you want to keep it simple, just use stir-fried vegetables.
This meal would also be perfect served over quinoa or noodles.
You could even serve over zucchini noodles if you are watching your carbs.
This Korean BBQ would be great over some short ribs. I would either cook the ribs in the oven or grill them, and the baste the Korean BBQ for that extra flavor.
It could even be served as a dipping sauce for grilled meats. I tend to do this when we have friends over and they are amazed at how much flavor that it gives the meat.
Using a Crockpot makes it easy:
Since you make this Korean BBQ recipe in the crockpot, you know it is going to be an easy one. Do you want to make this recipe even easier? Buy some crockpot liners to make cleanup a breeze.

Make sure you have a good crock pot. If you are looking for a good crockpot, I love my 6 quart crockpot. It is plain and simple and gets the job done.
You could also use your pressure cooker for this recipe.
Tips for the best Korean BBQ:
Flank steak is great for this, but I have done this recipe with a roast and with round steak. Use a cheaper cut of steak to save money. It will still taste amazing in the crock pot.
If I do decide to prepare this meal ahead of time, I like to cut the steak in strips. I can also prepare the sauce and have it all marinate overnight. Then I just put everything into the crock pot in the morning. You can also freeze this meal as well.
You can also try this meal with chicken. Chicken breast or chicken thighs would work best.
We usually use garlic powder, but you can use Fresh Garlic if your prefer. I will usually use the jar minced garlic to bring out the flavor. But use what you have.
You can also spice it up a bit but adding in some crushed peppers or sriracha sauce while it is cooking. My family likes to put some on top of the Korean BBQ once they have it on their plate.
Try also mixing in some vegetables. Carrots or broccoli would be delicious added towards the end of the cooking time.
How to store:
This recipe is perfect for meal prepping or making ahead of time for dinner. This is one of the meals I meal prep for mine and my husbands lunches for the week. This meal is very filling and I know that we are getting a complete meal for lunch.
If you want to make ahead or store you leftovers, just simply place in an airtight container for up to 3-5 days and then reheat.
Make slow cooker Korean BBQ!
Give this Korean barbecue recipe a try. I have a feeling that your entire family will love it.
I know that my family absolutely goes crazy over it. It is super easy and our family loves it.
Print Crock pot Korean bbq recipe:
Crock pot Korean BBQ Recipe
You are going to love this korean bbq recipe slow cooked in the crock pot all day. Serve this korean bbq recipe over rice and a side of veggies.
Ingredients
1.5

lbs

flank steak

1/4

cup

corn starch

2

tbsp

sesame oil

1/2

tsp

garlic powder

1/2

cup

soy sauce

3/4

cup

brown sugar

1

diced onion

1/4

tsp

red pepper flakes
Instructions
Place all the ingredients except for the steak into a mixing bowl and whisk until thoroughly combined. Place the meat in a crock pot, pour the sauce mixture over the steak. Cover and cook on low for 6-8 hours or on high for 3-4 hours.

Remove meat and cut into pieces or shred.

Return the meat to the crockpot.

Serve over rice and enjoy!
Recipe Notes
We love serving this topped with sliced green onions and sesame seeds.  
Refrigerate the leftovers in an air tight container for up to 5-7 days.  
Nutrition Facts
Calories
256
kcal
,
Carbohydrates
26
g
,
Protein
20
g
,
Fat
8
g
,
Saturated Fat
2
g
,
Cholesterol
51
mg
,
Sodium
863
mg
,
Potassium
372
mg
,
Fiber
1
g
,
Sugar
21
g
,
Vitamin A
19
IU
,
Vitamin C
1
mg
,
Calcium
41
mg
,
Iron
2
mg
More Crockpot BBQ Recipes: