This post may contain affiliate links. If you make a purchase through links on our site, we may earn a commission.
Take BBQ beef to the next level when you make this Crock Pot Chipotle BBQ Beef Sandwich. Each bite is packed with tender beef with amazing bbq and adobo sauce. Plus, the chipotle peppers really give it a little kick.
Crock Pot Chipotle BBQ Beef Sandwich
You are going to absolutely love this new recipe for crockpot BBQ beef sandwiches. We have been trying new recipes with chipotle flavor and everyone loves it.
The last few recipes we tried were for chicken so I thought it was time to try out a beef recipe. If you loved our Slow Cooker Chipotle Chicken Bowl Recipe and our Crock Pot Chipotle Chicken Tacos, you are going to absolutely love this new recipe with tons of chipotle flavor.
The beef is so tender and amazing with the best flavor. It has the perfect amount of heat from from the adobe sauce and chipotle peppers but not so much that the kids can't enjoy it.
It is the perfect meal for the entire family and easy enough for any day of the week. This is a must try!
Are Chipotles Spicy?
Chipotles are the perfect peppers for a slow cooker recipe. They are spicy and have a distinct smoky flavor. Because of their thick texture we usually use them for crock pot recipes with beef or chicken.
Ingredients
Rump Roast
BBQ Sauce (try our Homemade Barbecue Sauce)
Chipotle Peppers
Adobo Sauce (from the chipotle peppers can)
Buns
This recipe is so tasty and only requires a few ingredients.
How to Make Beef BBQ in the Crock Pot:
This recipe is one of the easiest recipes ever.
Step 1 – Place everything but the buns in the crock pot.
Step 2 – Cover and cook on low for 8-10 hours. The perfect recipe to cook all day. Cooking time may vary.
Step 3 – Shred the beef. You can shred the beef with two forks or use a hand mixer.
Step 4 – We love to serve the tender beef on rolls and drizzle the sauce over the top.
What to Serve with Chipotle BBQ Beef Sandwiches?
There are many options to serve with this recipe. I keep it simple so that we can easily enjoy this during busy weeknights.
Some of our favorites include:
Recipe Variations:
Serve on different types of bread – The shredded BBQ Beef is awesome on buns such as ciabatta, rolls, hamburger buns or anything you have.
Make Sliders – You can even make sliders with this shredded beef. This would be perfect for gathering at your house.
Serve over Rice – This shredded chipotle beef would delicious served over white rice, brown rice or even cauliflower rice.
Bake Potatoes – Top this shredded chipotle beef on a bake potato. Serving over bake potatoes or sweet potatoes is the perfect way to use up leftovers.
Make it Sweeter – We like serve sweeter slow cooker pulled beef brisket sandwiches. Add approximately ½ brown sugar to the crock pot prior to slow cooking the brisket.
Change the meat – You can make this recipe with pulled pork or chicken.
Slow Cooker BBQ Beef Sandwiches topping ideas:
Coleslaw. We love to top the BBQ sandwich with The Best Coleslaw Recipe for a really amazing meal.
Red Onion. I like to thinly slice these.
Barbecue Sauce. Top the sandwiches with even more delicious BBQ Sauce.
Pickles. Dill pickle chips taste great with the brisket.
We love to serve this for parties and set up a topping bar. Everyone loves it and can choose their favorite toppings.
What kind of cut of meat is used for Chipotle BBQ sandwiches?
We use a rump roast when cooking the Chipotle BBQ but you can also use a chuck roast or a brisket. I prefer the rump roast as it cooks perfectly in the slow cooker. I like that it is so tender and you can shred with a fork.
Can you make Chipotle BBQ Beef in advance?
Yes, you can prepare this ahead of time and freeze it or place in the refrigerator. This is a great way to save time if you plan to make this for a party. Just cook as normal and store in the fridge.
Make sure to use an airtight container and it will last up to 3 days
Chipotle BBQ Beef Sandwich Tips:
Barbecue Sauce – We recommend making homemade BBQ sauce. You can control the ingredients and just taste better.
Shred Beef – This beef is so tender that you can easily shred with forks. But we recommend using a hand held mixer or a stand up mixer to easily shred the beef.
Ingredients – If you prefer, you can reduce the amount of BBQ Sauce to ½ cup, Adobo Sauce and Chipotle peppers if it is to spicy.
Seasoning – Add seasoning such as liquid smoke, garlic powder, onion powder, Worcestershire sauce for added flavor.
Shredded Beef – After shredding the beef, make sure to mix back in with the BBQ sauce. I like to let it rest in the slow cooker for about 30 minutes to really lock in flavor
How to Store Crock Pot BBQ Beef Sandwich:
Storing the slow cooked BBQ Beef Sandwich is very simple to do. We recommend keeping the beef and the buns separate. Store the beef in an air tight container for up to 3 to 4 days.
We think the beef taste even better the next days as the beef has time to really marinade in the sauce.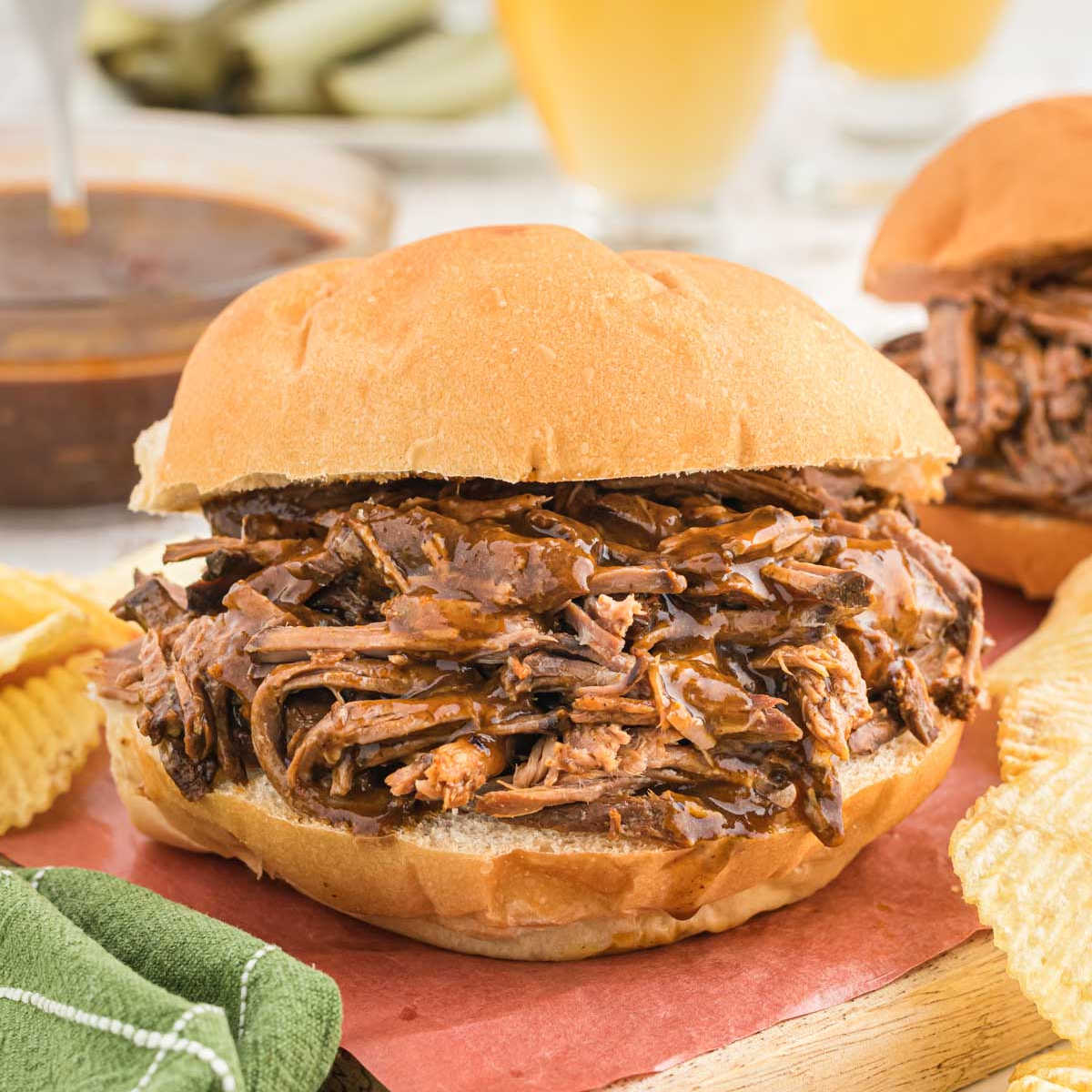 How to Freeze BBQ Beef:
You can freeze the barbecued beef up to 3 months using a freezer bag or container. If you do not have much space in your freezer, use bags.
They lay flat and can stack for extra room. The leftovers freeze really well and make a super easy meal for another night. You might just want to make extra to have to freeze.
When ready to serve, thaw in the fridge. Then reheat on the stove or in the microwave. It will still taste amazing.
Print this BBQ Beef Sandwich recipe below:
Crock Pot Chipotle BBQ Beef Sandwich – bbq beef slow cooker
Take BBQ beef to the next level when you make this Crock Pot Chipotle BBQ Beef Sandwich. Each bite is packed with beef with amazing bbq and adobo sauce.
Ingredients
3

pounds

rump roast

2

cups

bbq sauce

2

chipotle peppers

2

tablespoons

adobo sauce

from the chipotle peppers can

6

buns
Instructions
Place everything but the buns in the crock pot.

Cook on low for 8-10 hours.

Shred the beef.

Serve on rolls and drizzle the sauce over the top.
Nutrition Facts
Calories
679
kcal
,
Carbohydrates
74
g
,
Protein
57
g
,
Fat
15
g
,
Saturated Fat
4
g
,
Cholesterol
141
mg
,
Sodium
2430
mg
,
Potassium
1006
mg
,
Fiber
3
g
,
Sugar
37
g
,
Vitamin A
227
IU
,
Vitamin C
1
mg
,
Calcium
88
mg
,
Iron
16
mg
More Crock Pot Sandwich recipes: