This post may contain affiliate links. If you make a purchase through links on our site, we may earn a commission.
Crockpot Shredded Chicken Tacos recipe is so easy. It's very tasty and sure to make dinner a breeze. Crockpot Chicken tacos recipe has only 3 ingredients and will be a hit with the entire family.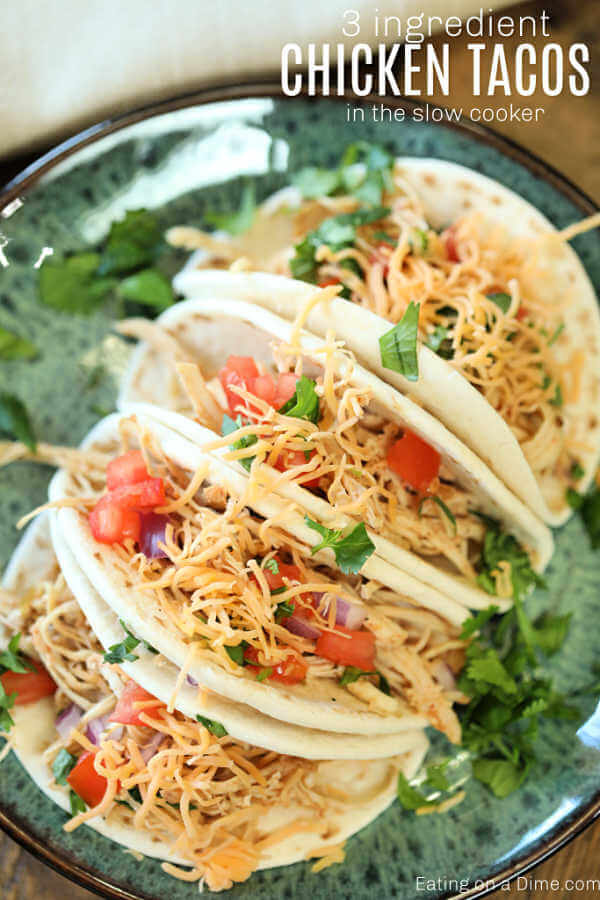 Crockpot Chicken Tacos Recipe:
These are the best chicken tacos and they are so easy to make. Perfect for a weeknight meal. This Shredded Chicken Tacos Crock Pot recipe is made with only 3 ingredients and is a crowd favorite.
The entire family will love these and you will love how simple they are. Once you make Slow Cooker Shredded Chicken Tacos, your family will ask for them all the time.
I'm so excited to share with you the BEST crockpot Chicken tacos recipe that you can possibly imagine.
We also love street tacos made with tender beef and lime or our chicken ranch tacos for another easy and delicious recipe.
Try any of our 53 Best Mexican Crock Pot Recipes.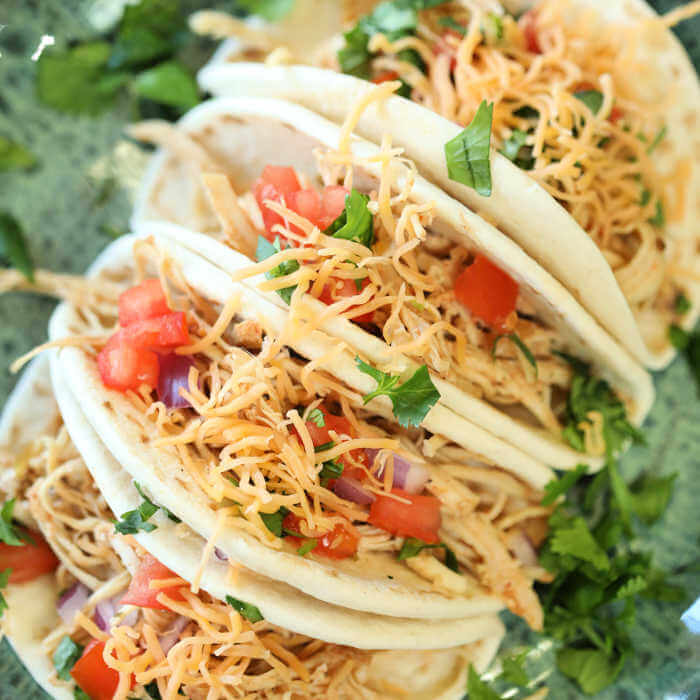 How to Make Shredded Chicken Tacos:
This is a simple recipe that will soon become a family favorite. It is tasty and delicious and so easy.
I use a hand mixer to shred the chicken faster. It is so easy and one of my best time saving kitchen tips.
If you are not shredding your chicken this way, you are missing out. It can be done in a fraction of the time by doing it by hand.
Plus, I love the texture of the chicken when you use the hand mixer. I have an entire post on how to shred with your mixer that you can check out.
If you don't have a mixer, shredding with two forks works as well. It's a great recipe.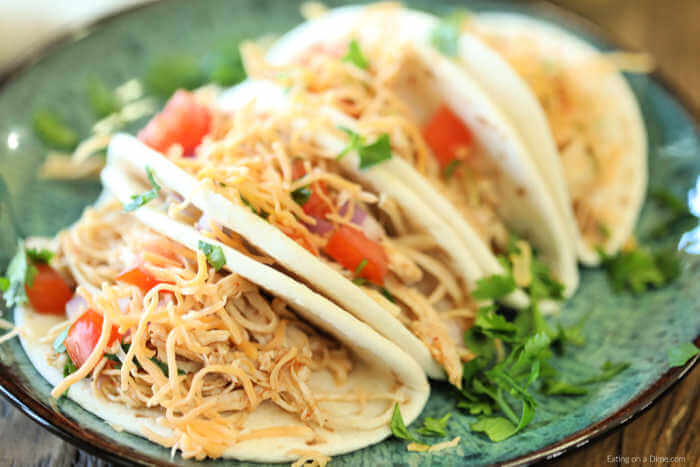 Can I use Homemade Taco Seasoning?
Yes, you can use Homemade Taco Seasoning. We prefer to use homemade taco seasoning instead of the packet as our homemade seasoning taste so much better.
There are no ingredients that we can't pronounce and we adjust the seasoning to what we like. Making homemade taco seasoning saves me time and money.
Slow Cooker Shredded Chicken Taco Ingredients:
Boneless Skinless Chicken Breasts
Salsa (we used picante but any will work great)
Taco Seasoning (we used homemade)
How to Make Crock Pot Shredded Chicken Tacos:
Step 1 – Add chicken in slow cooker – First, In a crockpot, place chicken breasts (frozen) in the bottom.
Step 3 – Add seasoning – Next, Sprinkle with the homemade taco seasoning mix.
Step 4 – Top with salsa – Then Top with the salsa
Step 5 – Cook chicken – Finally Cook on low for 6 hours, or cooking on 3 to 4 hours on high.
Step 6 – Shred Chicken – Shred the chicken and serve with your favorite taco toppings
Tips for Crock Pot Shredded Taco Chicken:
Chicken – We used frozen chicken breast but you can also use chicken thighs or chicken tender. This recipe will also work if your chicken is not frozen.
Seasoning – We like to use homemade taco seasoning but you can also use the packet taco seasoning.
Salsa – Use any salsa that you prefer. We like to use a chunky style salsa which adds flavor to the chicken.
Shredding the chicken – Shred the chicken with a hand mixer or stand mixer. You can also shred with chicken. Make sure to stir the shredded chicken back in to combine with the salsa and seasoning.
Add Seasoning – This 3 ingredients chicken taco recipe is delicious how it is, but you can easily add in other ingredients. We recommend chili powder, garlic powder or adding a lime juice.
How to Store Crockpot Taco Chicken leftovers:
Place the leftover chicken in an air tight container and place in the refrigerator. The leftover chicken will last about 4 days in store properly. Use the leftover chicken for many different recipes.
Topping Ideas for Shredded Chicken Tacos:
There are many different toppings that are delicious on these shredded chicken tacos. These are some of our favorite toppings.
Sour Cream
Shredded Cheese
Green Onion
Salsa
Cilantro
Guacamole
Pico de Gallo
How to Freeze Slow Cooker Shredded Taco Chicken:
Crock pot chicken taco meat can easily be prepared as a frozen meal. Place your frozen chicken in a zip lock bag and add your seasoning and salsa.
Add your frozen meal to the freeze and it will last about 3 month. You can also freeze the prepared shredded chicken tacos the same and place in the freezer.
We love to prepare freezer meals for a quick and easy dinner idea.
How to use Slow Cooker Chicken Taco Leftovers:
This is the perfect meal to cook one and eat twice. So many different options to use your leftover chicken. I love to double the recipe so I can use for another meal.
Flour or Corn Tortillas
Taco Shells
Taco Salad
Burritos
Nachos
Burrito Bowl
Chimichangas
Quesadillas
Soups
The options are endless.
This is the perfect recipe to meal prep with. You can easily make this recipe and eat it with different ingredients to enjoy all week. Store in a plastic container with your favorite sides for a quick lunch idea.
What to Serve with Shredded Chicken Tacos
Easy Shredded Chicken Taco Recipe:
My family is busy with work, school and sports. Slow Cooker meals have saved me so much time and money. Plus this recipes combines all my family favorites together in one pan.
Place the frozen chicken in the slow cooker and then add in the salsa and the taco seasoning. Cook on how on low or high for a delicious meal idea. Place in your favorite tortillas for a complete meal idea.
There are so many ways to enjoy this shredded taco meat. Make burritos, burrito bowels or quesadilla for other meal ideas.
Print this easy Crock Pot Chicken Tacos recipe below:
Crockpot Chicken Tacos recipe
Crock pot Chicken Tacos recipe is so good! Make slow cooker Shredded chicken tacos! Chicken tacos crock pot recipe is quick. Crock pot shredded chicken tacos
Ingredients
3-4

boneless skinless chicken breasts

1

cup

salsa

(we used picante)

1

Tablespoons

Taco Seasoning

(we used homemade)
Instructions
In a crockpot, place chicken breasts (frozen) in the bottom

Sprinkle with the seasoning.

Top with the salsa

Cook on low for 6 hours, or high for 3 hours.

Shred the chicken and serve with your favorite taco toppings
Recipe Notes
We use this shredded chicken taco recipe to make tacos, but you could eat it by itself, serve it over rice, use it to make quesadillas,  or even in wonton wrappers.
Nutrition Facts
Calories
116
kcal
,
Carbohydrates
4
g
,
Protein
18
g
,
Fat
2
g
,
Cholesterol
54
mg
,
Sodium
606
mg
,
Potassium
498
mg
,
Fiber
1
g
,
Sugar
2
g
,
Vitamin A
395
IU
,
Vitamin C
2.6
mg
,
Calcium
24
mg
,
Iron
0.6
mg
More Easy Taco Recipes:
Try our other delicious Crock Pot Recipes here.