If you are looking for the most creamy and delicious chicken, Crock Pot Creamy Ranch Chicken Recipe is a must try. Packed with lots of ranch flavor and hearty chicken and vegetables, it is the best comfort food.
Crock Pot Creamy Ranch Chicken Recipe
Our family loves chicken and I am always looking for ways to jazz up plain chicken. This recipe for Crockpot Chicken with ranch packet and cream cheese is so easy and out of this world amazing!
You are not going to believe how simple this recipe is. Literally everything gets tossed into the slow cooker and dinner will be waiting when you come home!
It is packed with flavor, delicious and cooked to perfection in your crock pot. The cream cheese blended with the ranch dressing mix create the best sauce and the chicken is so tender.
Toss in carrots and potatoes and you have a one pot meal that the entire family will go crazy for.
Everything you need for a delicious meal is in the crock pot. The only other thing I like to add are these Easy Homemade Dinner Rolls.
Trust me, you will want the rolls to dip into the yummy sauce and get every last bit in your bowl. It is that good!
The cream cheese just makes it so rich and delicious. It is comfort food at it's best.
Crockpot Ranch Chicken and Potatoes will be a new family favorite.
We love meal that can be made in the slow cooker. It is so nice coming home from a long day of work, school and other activities to a nice home cooked meal.
You will love that everything is in the crockpot including the sides! This is one of our favorite easy recipes!
The ranch dressing mix makes the best Crock Pot Creamy Ranch Chicken. It is a great recipe sure to be a hit with the entire family.
If you have guests coming over, try this recipe. I'm certain they will be impressed and wonder how you pulled off such a tasty dinner while you worked all day. 🙂
Ingredients for Ranch Chicken Recipe:
Chicken Breasts

Potatoes

Baby carrots

Dry ranch dressing mix
Cream of chicken soup
Milk
How to make Crockpot Chicken Ranch Dressing Mix:
In a small bowl, whisk together the cream of chicken soup, milk and ranch dressing mixing.
Place the chicken, potatoes and carrots in the crock pot. Pour the sauce over the top of these ingredients in the crock pot.
Cover and cook on low for 6-8 hours or on high for 3-4 hours.
If the sauce seems to separate when it is finished. Simply remove the chicken and vegetables from the crock pot and whisk the sauce together.
The sauce will be creamy and delicious and taste amazing!
It is that easy to make Crock Pot Creamy Ranch Chicken Recipe!
We love to make this meal for busy weeknights. It is so delicious and tastes like you spent all day in the kitchen but takes very little effort.
Our family loves Ranch Chicken Breast Recipes!
I love to come up with new ideas and ways to make this dish. Everyone thinks they are eating something new!
This reminds me of Pioneer Woman Crockpot Ranch Chicken. Yum!
What other variations can I try with this Ranch Chicken Recipe?
Try mixing it up with the vegetables. Green beans are yummy with the chicken.
Use chicken thighs instead of chicken breasts.
Try using red potatoes.
Add cream of chicken soup.
Try other seasonings like garlic powder or whatever your family likes.
Add chicken broth if you prefer a thinner sauce.
Omit the potatoes and serve this recipe over mashed potatoes or rice. Yum!
I have used chicken thighs or a mix of chicken thighs and chicken breasts and this recipe was still delicious! I often just use what I have in the freezer or what is on sale at the grocery store.
We love simple recipes like this and everyone looks forward to when this recipe is on the menu plan for that week. Plus, if you try some of these different ideas it is easy to make this recipe many different ways.
My family thinks I am coming up with lots of new recipes when really they are eating the same thing but with just a few differences. I love to do this with recipes they love and everyone enjoys.
This Crock Pot Creamy Ranch Chicken Recipe is frugal and easy on the budget.
By shopping when things are on sale I save money on groceries and it really helps our budget. Saving money and feeding a big family can be accomplished.
Everyone loves this delicious dish so it is on our permanent menu plan rotation.
In fact, I cut our grocery bill by 50% off by following these 8 Tips for for Saving Money on Groceries by Menu Planning! Save that money for a family vacation or maybe just some wiggle room in the budget.
Easy recipes like this keep my family happy and my grocery budget in good shape. This is how I keep our grocery budget reasonable.
Plus, being able to toss everything in the crockpot means dinner is waiting and we are not tempted to get take out! Trust me, this recipe is better than any store bought meal!
The ranch flavor is amazing in this Creamy Ranch Chicken Recipe. It is a delicious recipe that is slow cooked to perfection.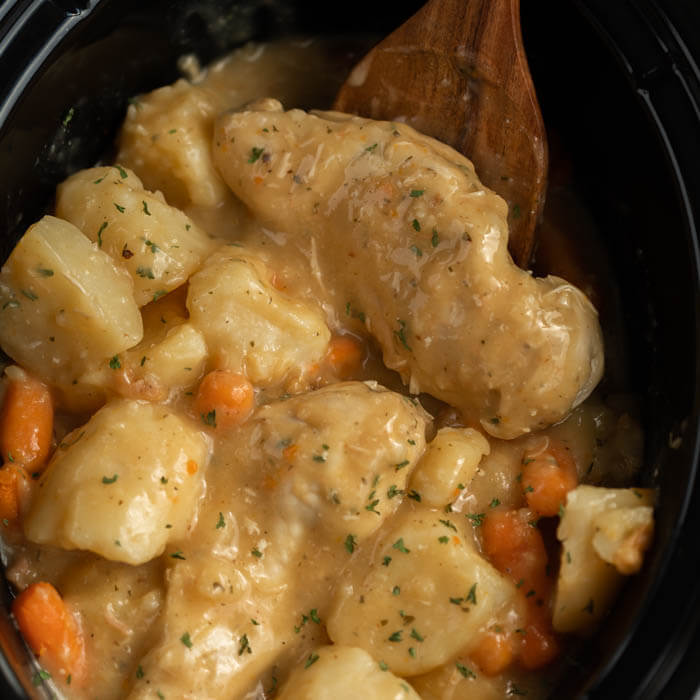 You will need a good slow cooker for this Crockpot Ranch Chicken and Potatoes.
There are some really good ones on sale right now. If you work all day, you may want to invest in a programmable crockpot.
They are awesome because you can set them to start later, or to stop and switch to warm once the dinners are ready. Amazon has some on sale right now too.
I also really like this crockpot. Now, it's not programmable but it's so handy!
It has the feature where you can lock the lid down.
That feature is so nice for when you take meals to potlucks or need to transport the meal somewhere.
Now if you want to save yourself even more time then I really recommend these Crockpot liners. They make clean up a breeze.
Instead of scrubbing and washing the pot, you can just toss the liner. It is practically no clean up.
If you do not use crockpot liners, make sure to spray your slow cooker with non stick cooking spray. You will thank me later!
Print this Dry Ranch Dressing Chicken Recipe below:
Check out these other easy Chicken Crock Pot Recipes:
Try these other slow cooker recipes: