If you are looking for the most creamy and delicious chicken, Crock Pot Creamy Ranch Chicken Recipe is a must try. Packed with lots of ranch flavor and hearty chicken and vegetables, it is the best comfort food.
Crock Pot Creamy Ranch Chicken
Our family loves chicken and I am always looking for ways to jazz up plain chicken. This recipe for Crockpot Chicken with ranch is so easy and out of this world amazing.
You are not going to believe how simple this recipe is. Literally everything gets tossed into the slow cooker and dinner will be waiting when you come home.
This crock pot recipe is packed with flavor and so delicious. The entire meal is cooked to perfection in your crock pot.
Ingredients for Ranch Chicken Recipe:
How to make Crockpot Chicken Ranch:
First, you need a small mixing bowl. Add the cream of chicken soup, milk and ranch dressing mix. Whisk all of this together.
Then, place the chicken, carrots and potatoes in the slow cooker. Add the sauce and pour it all over the top of these ingredients in the crock pot.
Finally, cover and cook on low for 6 to 8 hours on high. You can also cook on high for 3 to 4 hours if you need to reduce the cooking time.
If you like the chicken to be in smaller pieces, shred it and then place back into the crock pot.
Keep reading for full nutritional information.
Tips:
If the sauce seems to separate once chicken is cooked, just remove the chicken and vegetables from the crock pot. Whisk the sauce together and it should solve that problem.

You can then add the chicken back to the slow cooker.
What to serve with Creamy ranch chicken?
Steamed Broccoli. Only 3 minutes and you can have a great side dish. It is tasty and perfect for busy weeknights.
Garlic Bread Cheese Sticks -Garlic bread stuffed with cheese is the perfect bread to serve with this chicken. It is perfect for dipping and so delicious.
Variation ideas
Try mixing it up with the vegetables. Green beans are yummy with the chicken. This would also be a great way to make this a one pot meal.
Use chicken thighs instead of chicken breasts. You can even mix both together.
Try using red potatoes. These are delicious in this one pot meal.
Add a second can of cream of chicken soup. You can add an extra can if you like even more sauce.
Add chicken broth. The consistency can be thinned by adding chicken broth.
Use cauliflower instead of potatoes. If you are trying to reduce carbs, use cauliflower as a substitution for the potatoes. The rich gravy makes even cauliflower tasty.
Omit the potatoes. Skip the potatoes in the crock pot and serve this recipe over mashed potatoes, egg noodles or rice.
Cream Soup. More ideas include: cream of mushroom and cream of celery. Another idea is to mix two different types of soup in this recipe.
How to store
Put leftovers inside an airtight container. Place in the fridge up to 5 days.
How to reheat
You can reheat individual servings in the microwave for 60 seconds or until heated through. If the sauce separates, just whisk it until creamy.
This is great for lunch later in the week. We all fight over who gets the leftovers. It really is that delicious.
Make this a freezer meal.
You can make this ahead of time so all you have to do is toss and go in the crock pot.
Put the chicken in a freezer bag. Then mix together the sauce and pour in the bag over the chicken.
Freeze until ready to cook. Do not add the potatoes and carrots until you are ready to put in the slow cooker.
Cook as normal and enjoy. This is a great way to cut down on a portion of the prep time.
I like to cook one batch and freeze another. It really is not any more work since you have all of the ingredients out. Plus, you will have another easy meal for later.
Our family loves Ranch Chicken Breast Recipes.
We love meals that can be made in the slow cooker. It is so nice coming home from a long day of work and dinner is already cooked.
You will love that everything is in the crockpot. This is such a delicious recipe and requires very little effort.
The ranch dressing mix makes the best Crock Pot Creamy Ranch Chicken. It is a great recipe sure to be a hit with the entire family.
If you have guests coming over, try this easy recipe. I'm certain they will be impressed and wonder how you pulled off such a tasty dinner while you worked all day.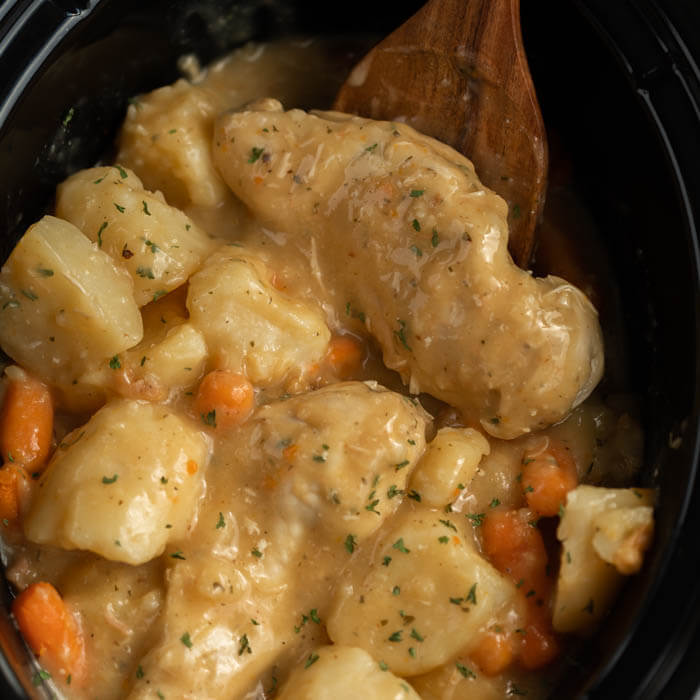 Print crock pot ranch chicken and potatoes recipe:
More crock pot chicken recipes: