This post may contain affiliate links. If you make a purchase through links on our site, we may earn a commission.
Air fryer asparagus is the perfect side dish in less than 5 minutes! Enjoy this healthy and delicious recipe with very little work.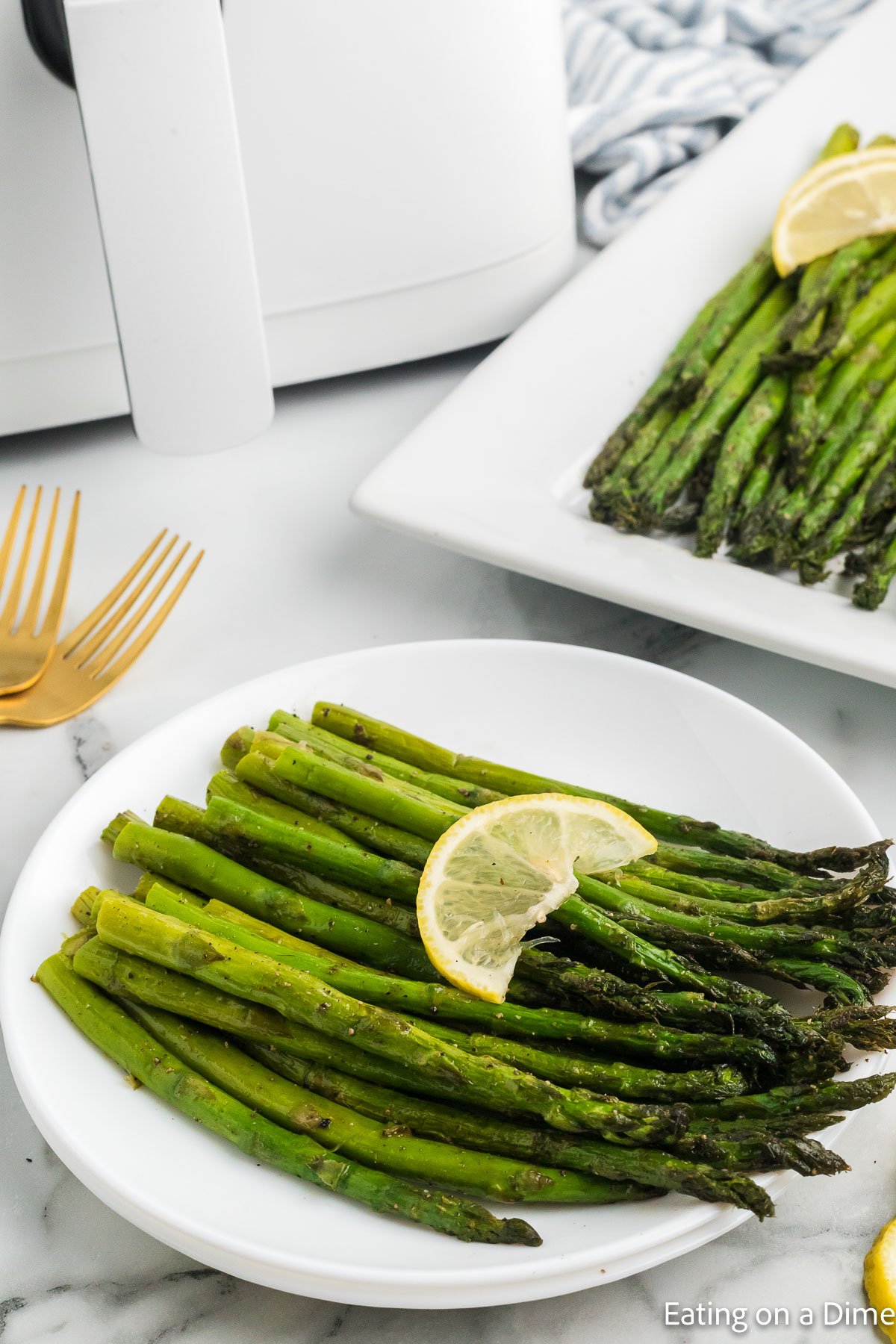 Air fryer asparagus
Asparagus is one of those veggies that once you know how to cook it, you will love it! The secret is making sure it is not overcooked.
No one likes soggy and limp asparagus. This really only takes a few minutes to make and the consistency is perfect. Totally perfect!
If you have tried asparagus in the past and didn't like it, try it again because cooked right it is amazing. 🙂
You might also want to learn how to store asparagus to keep it fresh longer. Did you know you can actually make asparagus last longer in the fridge? Great tips!
Make sure you have a good air fryer.
Have you tried using an air fryer yet? I was hesitate to try it as I thought surely it can't be as good as a traditional fryer but I think it might be even better! Now I love cooking in the air fryer.
Essentially, the air fryer moves air quickly over food similar to broiling it in an oven that it gives the food a similar tastes to food that has been fried in oil.
The air fryer doesn't require a large amount of oil like a traditional fryer requires so foods cooked in the air fryer generally have less calories and less fat than fried foods.
This air fryer is the one that I currently have and I really like it. I can easily fit everything I need for our meal in it. Plus, it is pretty easy to clean afterwards.
Find even more air fryer recipes to try.
Do you preheat an air fryer?
Not in this case. You do NOT want to preheat the air fryer when cooking asparagus because it can cause the veggie to be over cooked.
Let's make asparagus air fryer recipe!
Ingredients:
Asparagus
Olive Oil
Pepper
Salt
How to cook asparagus in air fryer:
First, make sure to wash the asparagus really good. You also want to trim the bottom edges off the asparagus.
Don't trim much. I normally cut about 1 inch off.
Second you brush olive oil all over the asparagus. Sprinkle the salt and pepper and that is it! I prefer ground black pepper.
Sometimes I add garlic powder and parmesan cheese too. There is no reason to be scared of asparagus because it is really that simple!
Next, it is time to put the asparagus in the basket of the air fryer. Try to put it in single layer if you can so that it cooks evenly.
Finally, cook the asparagus for only 3-5 minutes at 400 degrees F. Don't forget that you do NOT want to preheat the air fryer so the asparagus does not over cook.
If I am concerned about the time, I start with 3 minutes and then check the asparagus. If it is still not tender enough, cook it in increments of 1 minute until you get the desired tenderness.
This is a great way to make sure you do not get mushy asparagus. I promise it will turn out perfectly if you use these tips.
Lastly, just remove from the basket and enjoy. Yum!
What to serve with this?
Money Saving Tip for asparagus in air fryer:
Asparagus can be expensive if you are not shopping smart. Only make asparagus when it is on sale and in season. Normally you will get the best prices from August to November.
Make sure you download our What in Season? Printable – Free Calendar of Fruits and Vegetables in Season, so you will know when produce is in season and at its lowest price.
We love to save money and easy recipes like this really help to keep our grocery budget reasonable and our families happy. It is possible to save time and money while serving your family great meals.
By shopping when things are on sale I save money on groceries and it really helps our budget. Saving money and feeding a big family can be accomplished.
I cut our grocery bill by 50% off by following these 8 Tips for for Saving Money on Groceries by Menu Planning! Save that money for something else!
It is possible to feed your family healthy and delicious meals while also saving money. You will love this easy side dish and if you grab it on sale, it is very frugal.
Print this air fryer asparagus recipe below:
Air fryer asparagus
Air fryer asparagus is the perfect side dish in less than 5 minutes! Enjoy this healthy and delicious recipe with very little work. 
Instructions
Wash the asparagus and trim the bottom edges off the asparagus (approximately 1 inch).

Brush the olive oil onto the asparagus and season with the salt and pepper.

Place the asparagus in the air fryer basket.  Cook at 400 degrees F (do not preheat the air fryer as it may cause the asparagus to be over cooked).

Cook for 3-5 minutes depending on the thickness of your asparagus. Start with 3 minutes and then cook for an additional 1 minute at a time until the asparagus is the tenderness that you prefer.

Remove from the basket once done and enjoy!
Recipe Notes
Watch the asparagus closely as it's cook as it doesn't take long to overcook. This is also great topped with fresh lemon juice once it's done cooking! 
Nutrition Facts
Calories
26
kcal
,
Carbohydrates
3
g
,
Protein
2
g
,
Fat
1
g
,
Saturated Fat
1
g
,
Sodium
98
mg
,
Potassium
154
mg
,
Fiber
2
g
,
Sugar
1
g
,
Vitamin A
572
IU
,
Vitamin C
4
mg
,
Calcium
19
mg
,
Iron
2
mg
More easy asparagus recipes:
More air fryer recipes to try: