This post may contain affiliate links. If you make a purchase through links on our site, we may earn a commission.
Only 4 ingredients is needed to make these instant pot pork tacos. Dinner will be ready in just minutes and the meat is so tender and delicious.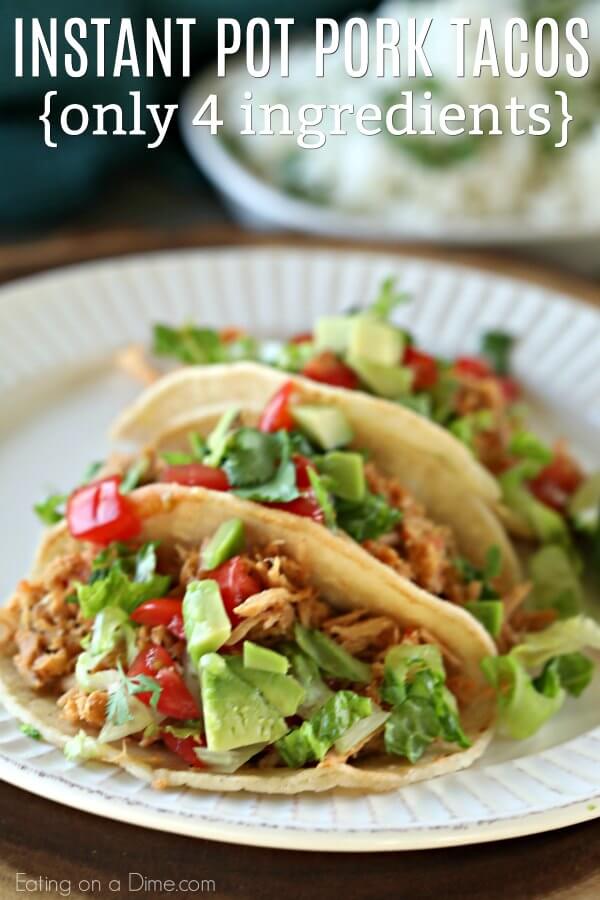 Instant pot pork tacos
We have such an easy instant pot recipe to share with you today. You truly only need 4 ingredients to make this amazing Instant Pot Pulled Pork Tacos Recipe.
We used a pork shoulder roast and it literally fell apart with a fork. The meat is that tender and yummy. These tacos are simply amazing.
Everyone will think you slow cooked this all day when it really took just a few minutes.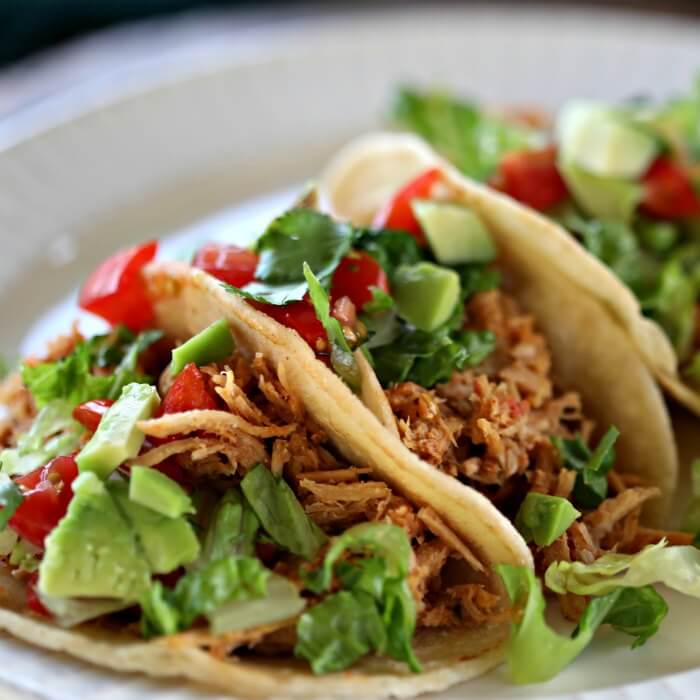 Ingredients for pork tacos
pork loin or pork roast. Whatever you have or can get on sale is fine.
salsa. We used picante but you can use any brand you prefer.
Fresh limes are optional. . This is optional but really enhances the flavor.
How to make pork tacos:
First, put the pork in the instant pot.
Next, add all of the seasonings to the meat. Then cover the pork with water, salsa, and taco seasoning.
Finally, add the lid and set to sealing.
Use the manual button and turn it to 45 minutes.
When it is finished cooking, do the quick pressure release to release the pressure. Take the pork from the cooking liquid and shred the pork. It will be so tender that you can shred it with a fork.
You can find the full recipe below with nutrition information.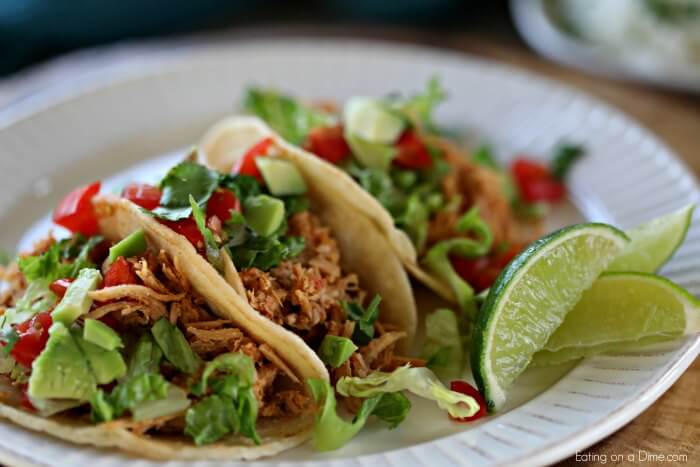 Tips for Instant pot Shredded pork tacos:
Fresh lime juice. This is optional but I like to take fresh limes and squeeze them over the shredded pork before serving. We have a lime squeezer that helps to get every last drop of juice.
Warm tortillas. I also use a griddle to quickly fry the flour or corn tortillas in butter for even more flavor. It really adds a lot to the recipe and totally worth the extra few minutes.
The fresh lime and the hot buttered tortillas really make this meal come together. It's all about the details.
While it is optional, I highly recommend heating the tortillas and squeezing a little bit of fresh lime over the tacos. The difference is amazing.
Topping Ideas
Pico de gallo. It is very easy to make this. Pico del gallo tastes amazing on these tacos.
Salsa Verde. This is always so delicious. You can make salsa verde or purchase it at the grocery store.
What to serve pork tacos with?
Instant Pot Refried Beans. Make refried beans in minutes in the pressure cooker for a great side dish.
All of these are excellent options for a quick and tasty dinner. Check out our What to Serve with Tacos for our best taco side dish recipes.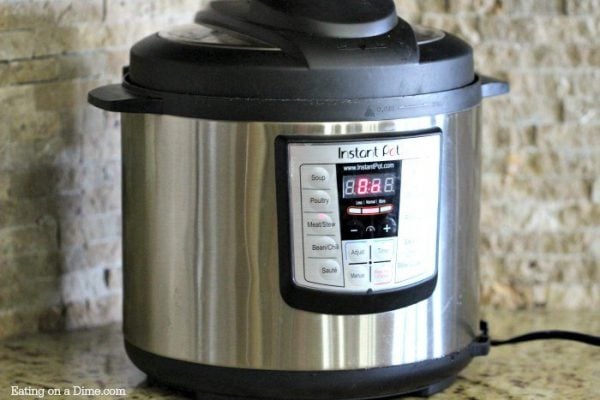 Our favorite electric pressure cooker.
Variations:
You can use different cuts of meat. Some options include pork butt or even pork chops.
Just use the piece of meat you prefer. I often get what is on sale and use that for Mexican pulled pork. I try to keep a few options in the freezer to make these tacos so I can make this meal in a pinch.
It's perfect for nights you don't know what is for dinner. It can be made quickly and the meat is so tender and tasty.
You will get all of the flavor of a carnitas recipe baked in the oven but in minutes thanks to instant pot carnitas. Serving carnitas is easy for weeknight meals. If you want the meat crispier, place on a baking sheet drizzled with olive oil. Bake at 400 degrees for a few minutes to crisp the edges.
Crock pot: You can use the slow cooker to make pulled pork. Use this easy crock pot pork recipe and omit the sauce. Serve on tacos instead of the rolls.
Tips:
If you are serious about your tacos like we are, you might want to get one of these handy taco stands. It's totally optional but makes tacos much easier to serve and enjoy.
It helps to keep them upright and all their toppings don't topple and fall out. We love ours and it's really great for the kids too. Toppings stay intact and it helps to prevent spills and messes.
In fact, we have really adorable dinosaur taco stands for the kids. These are so cute and everyone always goes crazy over them. Make sure you order several if you get these because all the kids will want one. The adults might too.
Leftovers:
Salad. Top your favorite salad greens with pulled pork for lunch or dinner the next day.
Enchiladas. Turn leftovers into enchiladas for another fabulous meal.
Quesadillas. This is such a quick idea and can be made in minutes with leftover shredded pork.
I love having leftover shredded pork because as you can see, it is so easy to use later. My family thinks they are eating a new meal and it is just leftover pork.
Give this recipe a try.
Instant pot pork shoulder is such a tender cut of meat. I could eat this delicious pork alone.
In fact, when I'm trying to watch my carbs I eat just the pork piled high with yummy toppings. You don't even miss the tortilla shell it is so yummy.
However, you eat these yummy tacos is sure to be a hit. Add some lettuce, tomatoes, avocado, sour cream and it is just so wonderful.
It literally goes from instant pot to table in minutes. This dish requires very little prep time or cooking time.
You can skip takeout and make this in less time and save money. Plus, you will enjoy a delicious meal with your family.
Print Instant pot pork tacos recipe below:
Instant Pot Pulled Pork Tacos Recipe
You only need 4 ingredients to make instant pot pulled pork tacos. Everyone will enjoy these pulled pork tacos.
Ingredients
2-3

pounds

of pork loin or pork roast

1

cup

of salsa

we used picante

2

Tablespoons

of Taco Seasoning

we use our Homemade Taco Seasoning

1

cup

of water

2

fresh limes

optional
Instructions
Place the pork in the instant pot.

Season pork and cover with water, salsa, and taco seasoning.

Place the lid on and make sure the nob is set to sealing.

Click the manual button and turn it to 45 minutes.

Do the quick pressure release to release the pressure.

Remove the pork from cooking liquid and shred the pork.

Stir to combine

I like to take fresh limes and squeeze them over the instant pot pork before serving. Enjoy!
Nutrition Facts
Serving
2
ounces
,
Calories
110
kcal
,
Carbohydrates
2
g
,
Protein
17
g
,
Fat
3
g
,
Cholesterol
47
mg
,
Sodium
223
mg
,
Potassium
355
mg
,
Sugar
1
g
,
Vitamin A
150
IU
,
Vitamin C
3.9
mg
,
Calcium
14
mg
,
Iron
0.6
mg
More Instant pot taco recipes