This post may contain affiliate links. If you make a purchase through links on our site, we may earn a commission.
Let your slow cooker do the work with this easy CrockPot Steak Bites Recipe. Everyone will enjoy these Keto Beef Tips Recipe packed with flavor and sure to be a hit with the entire family.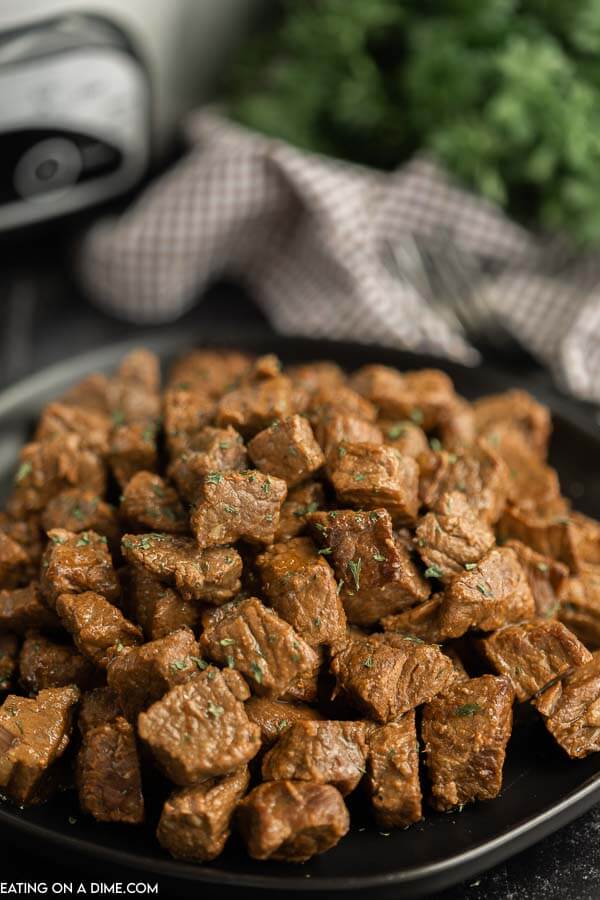 CrockPot Steak Bites Recipe
If you need a recipe that is incredibly simple but everyone will enjoy, you must try this Slow Cooker Steak Recipe. Toss everything into the crockpot and come home to dinner waiting.
It is the perfect meal when you feel like steak but don't have time to stand over the grill or stove. You can enjoy tender steak bites even on busy weeknights packed with activities. The recipe is that simple and a family favorite.
My family fell in love with these bite sized pieces of steak! Everyone loves this simple recipe.
Keto Steak Bites:
If you are eating low carb and need a delicious recipe, this is a must try. My kids love steak and I know they will eat these steak bites without any complaining. All my kids are athletes so they are always wanting to eat more protein.
I love when I can fix one meal and know that everyone will enjoy it. Plus they can grab a plate of steak bites or eat it over rice. There are multiple ways to serve these steak bites. Your family will love that you added this to the meal plan.
Can you put raw steak in a Crock Pot?
Yes. I was pleasantly surprised to find out steak is so delicious in the crock pot. The steak bites came out so flavorful. The best part is that cooking in the crock pot, I didn't have to worry about them burning.
Each steak bit is seasoned to perfection and so very tender. It is now my favorite way to enjoy steak!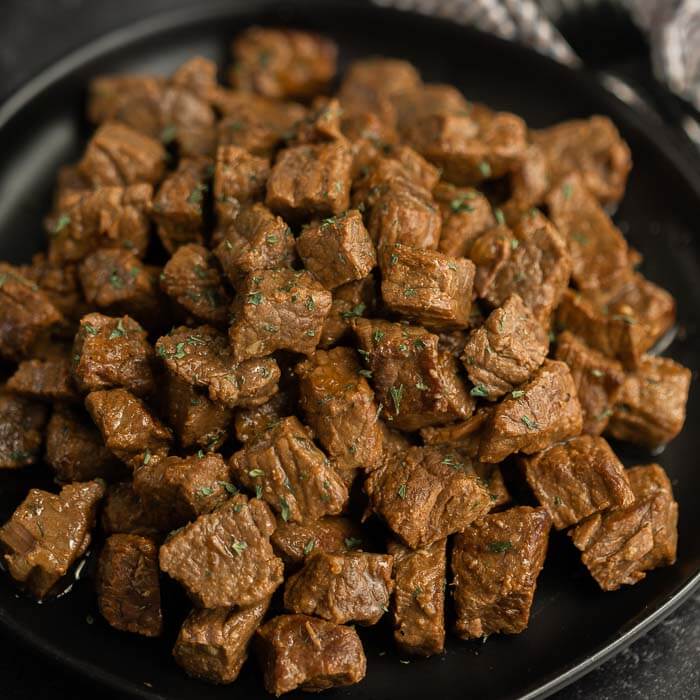 A good crock pot is a must:
We use our crock pot all the time. Rather we are preparing food for the week and making our favorite soup or chili, this is my number one used kitchen appliance.
I get asked all the time what my favorite crock pot and I love this Instant Pot Aura. It has multiple functions, so I can use this for browning meat to using it as a crock pot.
If you prefer to cook these steak bites in the instant pot, we have an Instant Pot Steak Bite recipe that I am sure you will love.
Crock Pot Steak Bite Tips:
They are perfect for parties and really frugal. It is a great recipe to try for any parties you are planning.
This recipe can easily be used as a base recipe and you can change things up with new flavors and seasonings.
Ingredients:
Round steak – We like to cut in bite size pieces before cooking.
Onion – You can easily chop onions with a food processor or a chopper.
Minced Garlic – You can mince your own, or by the jar minced garlic.
Salt
Pepper
Butter
Beef Broth – You can also use beef stock.
How to make Crock Pot Steak Tips:
Cut round steak in about one inch bite size pieces and place in slow cooker.
Then pour beef broth over meat.
Top with onion and garlic, salt and pepper.
Then top with butter
Place lid on crock pot to begin cooking.
How long does it take to cook steak in a slow cooker?
Cover and cook on low for 6-8 hours or high for 3-4, stirring occasionally.
Serve immediately and enjoy.
What to serve with Slow Cooker Beef Tips – Keto options:
If you are following the keto diet, try some of these easy ideas to serve with these tasty steak bites:
Other side options:
If you are not following the keto diet or maybe want something for your kids, make Crockpot Baked Potatoes. I like to take potatoes and wrap them in foil. Then lay them on top and have "baked" potatoes with these steak bites.
Serve with White Rice or Brown Rice
Frozen noodles or egg noodles are always a great option.
Mashed Potatoes is my kids favorite.
Tips for the best Steak Bites:
Beef Tips and Gravy – You can also make a gravy by stirring 1 tablespoon cornstarch in with ½ cup of water in a small bowl. Then whisk it in with the steak juices. Then pour into crock pot and turn temperature on high to allow so the juices will thicken.
Cream of Mushroom Soup – Mix in cream of mushroom soup is a great addition to these steak bites. My sister loves to mix in mushrooms and beef broth to make crockpot beef tips and noodles.
Add in potatoes – You can add diced potatoes or wrap potatoes to make everything right in the crock pot.
Stir in Red wine – You can also add in some cooking red wine for additional flavor to the steak bites.
Try adding in some Worcestershire sauce. I love cooking with Worcestershire sauce and they flavor it adds to my steak.
Does slow cooking steak make it tender?
Yes, we think it does. Cooking steak in the slow cooker makes the steak flavorful and tender each time. Slow cooking steak allows for the flavors to really saturate the steak and it results in the best tender meat.
Slow Cooking steak bites as become my new favorite way of eating steak.
Variations for Steak Bites:
We love recipes that we can change the ingredients or use what we have. I often time will stock up on meat if I find a good deal. Try these variations the next time you want to make this recipe:
Rather than cut up round steak, just buy stew meat. It is already pre-cut so it is perfect to toss in your crock pot.
Sirloin Steak – Sirloin steak is a great meat to use for this recipe. Plus you can always find a good deal on this cut of meat.
Garlic Butter Steak Bites – When my husband grills, I will have him put garlic butter before serving. It also works great with these steak bites.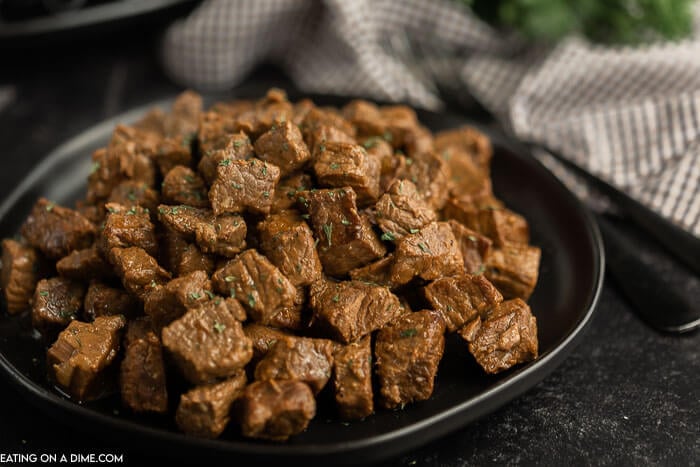 Print this Crock Pot Steak Bites Recipe below:
Crock Pot Steak Bites Recipe
Dinner is a breeze when you make this easy Crock Pot Steak Bites Recipe. The entire family will love keto steak bites. Each bite is tender and delicious!
Instructions
Place all the ingredients in the crock pot.

Cover and cook on low for 6-8 hours or high for 3-4, stirring occasionally.

Serve immediately and enjoy!
Recipe Video
Recipe Notes
You can also use stew meat or sirloin steak for Crock Pot Steak Tips! You can also brown the cuts of beef for 2-4 minutes before placing it in the crock pot to give the beef more color prior to cooking it. 
Refrigerate the leftovers in an air tight container for up to 5-7 days.  
Nutrition Facts
Calories
392
kcal
,
Carbohydrates
1
g
,
Protein
52
g
,
Fat
18
g
,
Saturated Fat
8
g
,
Cholesterol
162
mg
,
Sodium
733
mg
,
Potassium
833
mg
,
Vitamin A
235
IU
,
Vitamin C
0.7
mg
,
Calcium
52
mg
,
Iron
4.9
mg
Find more Keto recipes: