This post may contain affiliate links. If you make a purchase through links on our site, we may earn a commission.
This easy crock pot chili recipe is easy to throw together and the slow cooker does all the hard work! There is nothing better than delicious chili in the Fall and Winter months.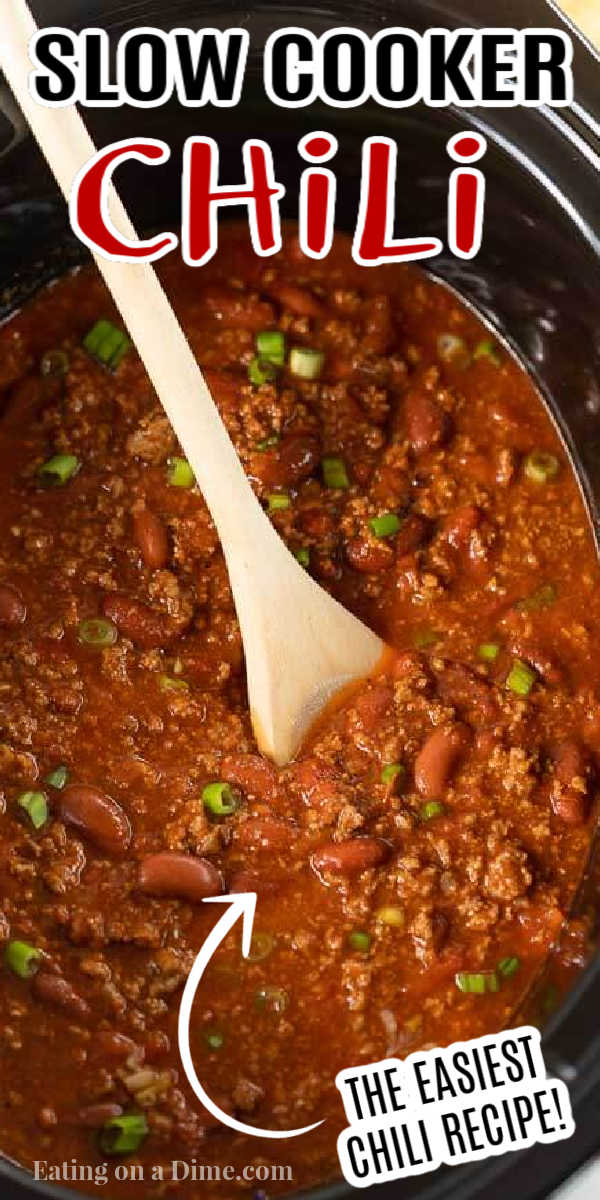 Chili is something my family looks forward to and this classic slow cooker chili recipe is exactly what they want.
Now that I brown my ground beef or turkey before I freeze it, making it in the crockpot is a breeze. I know your family is going to love it too. This really is a great recipe. Also check out Slow Cooker Brisket Chili.
When I have people over for the big game, this is my go-to chili recipe. Everyone loves this recipe and always comes back for more. My favorite thing to do is have a chili bar. I make several pots of chili and have my guest bring over their favorite topping.
The kids love it and the adults do too! Everyone tries different toppings and really brings everyone together and that is my favorite part.
Ingredients for easy crockpot chili:
Ground beef – You can use ground turkey or ground chicken
Diced tomatoes – Crushed tomatoes work great or you can use a can of each.
Tomato sauce
Chili seasoning – Try making your own. We love using my homemade chili seasoning
Garlic salt
Onion – chopped
Kidney beans – I use mine from the freezer
Shredded cheese or Sour Cream to serve
How to make crock pot chili
This recipe is easy to make. I love slow cooking because it requires little prep work and the crock pot does all the hard work! Woohoo!
First you need to brown your beef or turkey in a large skillet over medium heat. Since I brown mine before I freeze it I just tossed the beef mixture in the crockpot frozen.
Next toss everything on top in the crockpot (except for the cheese and sour cream).
How to make chili in a crockpot
After you brown the ground beef, all you have to do is dump everything in the slow cooker. I cook this easy chili recipe on low for 6-8 hours or cook high for 3-4 hours.
This chili recipe is pretty thick as I love a thick chili in the winter time. Once it has cooked, if you would like it to be thinner, I recommend adding 1 cup of beef broth to the crock pot for approximately 30 minutes.
Stir occasionally until the chili is the consistency that you would prefer.
After this cooking time, top this chili with cheese, sour cream, and even some chopped green onion. Yummy!
Can I make this chili in the Instant Pot?
Yes you can! We love using out instant pot any chance we can. It has been a game changer for my family. You can easily brown your meat, saute your onions and vegetables and then add the rest of your ingredients.
Cover and set your pressure to about 20 minutes. Once it is done cooking set your pressure to release naturally before opening the lid.
Your chili is done quick and everyone has a warm bowl of chili to end their day.
Can you make your own chili seasoning mixture?
The short answer on this one is YES, definitely! I love making my own chili seasoning mixture. It not only saves money but I love knowing exactly what's in my food.
Do you need to drain canned beans for this chili recipe?
For this recipe, I generally do not drain the kidney beans that are used in this easy crock pot chili as I find that it does not change the recipe or flavor if they are drained or not.
However, if you are going to use black beans instead of kidney beans (which would taste great too), I recommend that you drain and rinse the black beans prior to adding them to your slow cooker.
How to freeze Crock Pot Chili
We love to freeze chili. It freezes great and reheats really well. We think it actually taste better the next day.
I like to freeze small batches for quick lunches or for the kids to grab for an after school dinner. Chili is the perfect meal to make a double batch so you can freeze for dinner the next week.
Check out Can You Freeze Chili for more tips and tricks.
Ways to use leftover Chili:
There are so many different ways to use leftover chili. Here are some of our favorites:
Top a Bake Potato
Chili Mac and Cheese
Chili Cheese Fries
A frito Chili Cheese Wrap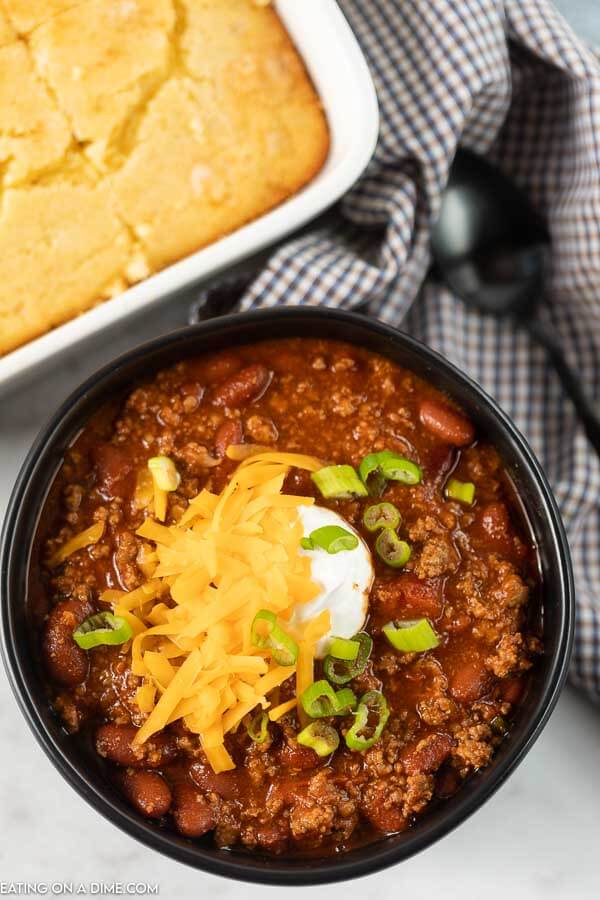 Sides to go with Chili:
I love serving this easy crockpot recipe with some homemade cornbread. Here are a few delicious side dish options that you can choose from.
Did you know that I also make my own homemade cornbread mix to make preparing cornbread even easier? I love having these cornbread mixes on hand so I can whip up some delicious cornbread in no time at all!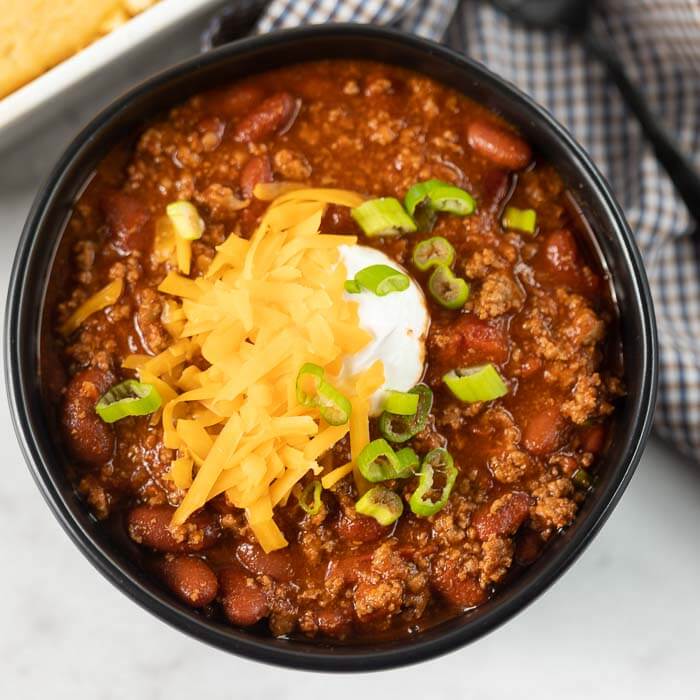 Tip for the best Chili:
We like to saute onions prior to putting them in the crock pot. But it isn't necessary. You can also add in the spices to really enhance the flavors.
Cooking the chili on low in the crock pot helps the flavors to blend well together.
You can cook this chili on the stove top as well. We cook it on low and if the sauce gets to thick, we add in a little water.
Have you tried adding in some pepperoncini juice? It adds really good flavor and can be your secret ingredient.
Adding in a chili more chili powder or slice jalapenos really adds an additional kick to the chili.
Add in Bell Peppers or Red Peppers for some textures. The peppers are healthy and the kids won't know they are eating them.
I usually have a variety of beans in my pantry. So I tend to mix and match the beans and use what I have.
How to add in vegetables:
One of my favorite things about crock pot recipes is that they can easily be alter to fit the needs of your family and this best crockpot chili recipe winner for dinner is no different!
If you like spicy chili, I would recommend adding approximately ¼ cup of green chilis to this recipe or you can add your favorite hot sauce to add a delicious kick to this already easy and yummy recipe.
If you are needing more vegetables for your family and you, adding them to this easy crock pot chili is easy and simple. I have often added green peppers or carrots if I have them on hand to add even more nutrients to this already healthy recipe.
The Best Chili Toppings
Chili is delicious but the chili toppings is what really makes chili go from good to delicious! Here are a few of the best chili toppings.
Sour Cream
Cheddar cheese (or any kind of shredded cheese. Pepper Jack is delicious too)
Saltines or Ritz Crackers
Fritos or any kind of chips – Some like to use tortilla chips or Doritos
Diced onion – Green onion or red onion is a personal favorite
Hot Sauce – a quick splash will spice it up.
Cornbread – crumbling cornbread on top of a hot bowl of chili is also delicious.
Lime Juice – My friend loves topping her chili with this.
Check out What to Serve with Chili for more ideas.
Print this easy crock pot chili recipe below:
Crockpot Chili
Quick and easy Crockpot Chili Recipe – Try this easy slow cooker chili recipe that the entire family will love. Easy Crock pot recipes.
Ingredients
2

pounds

ground beef

28

oz.

cans of crushed tomatoes

14

oz

can of tomato sauce

1/4

cup

chili seasoning

1

teaspoon

garlic salt

1/2

onion

chopped

2

cans

kidney beans

(drained and rinsed)

1

cup

cheddar cheese

(shredded)

1/2

cup

sour cream
Instructions
Brown the ground beef and drain off any excess grease. Put the browned meat in the crock pot.

Toss everything else in the crock pot and stir together (except for the cheese and sour cream).

Cook on low for 6-8 hours or high for 3-4 hours.

Serve with topped with cheese, sour cream, and even more chopped onions if you would like.
Recipe Notes
Refrigerate the leftovers in an air tight container for up to 5-7 days.  
Nutrition Facts
Calories
555
kcal
,
Carbohydrates
13
g
,
Protein
34
g
,
Fat
41
g
,
Saturated Fat
18
g
,
Polyunsaturated Fat
2
g
,
Monounsaturated Fat
16
g
,
Trans Fat
2
g
,
Cholesterol
137
mg
,
Sodium
1096
mg
,
Potassium
1027
mg
,
Fiber
4
g
,
Sugar
8
g
,
Vitamin A
2994
IU
,
Vitamin C
13
mg
,
Calcium
232
mg
,
Iron
6
mg
Try these other chili recipes: