This post may contain affiliate links. If you make a purchase through links on our site, we may earn a commission.
Everyone will absolutely love these delicious Thanksgiving dessert recipes. From cake and cookies to pie and other sweet treats, these easy thanksgiving desserts will be the star of the show.
Easy Thanksgiving Dessert Recipes
What's even better than the turkey? The pumpkin pies, Thanksgiving Cheesecakes, Thanksgiving Cookies, and the sweet treats of course! Everyone always looks forward to dessert.
All of these desserts are so delicious that I bet you have to make several! The hardest part will be choosing which dessert to try first.
Add a little variety to your dessert menu and give one of these Thanksgiving dessert recipes a try!
And not to worry if you need some inspiration for Thanksgiving leftovers! Check out more than 50 Easy Recipes for Thanksgiving leftovers.
Let's get started planning our Thanksgiving Dessert recipes!
Whether you are looking for traditional desserts, fun thanksgiving desserts or just something different, these are sure to please!
Easy pecan recipes
Pecan pie brownies recipe
Everything you love about brownies and pecan pie comes together in this decadent brownie. Moist brownies with swirls of decadent pecan pie make this luscious dessert irresistible.
Pecan Pie Bars
Anyone that loves pecan pie will love this recipe for Pecan pie bars. They are easy to enjoy for a snack but decadent enough for dessert. This is the perfect treat.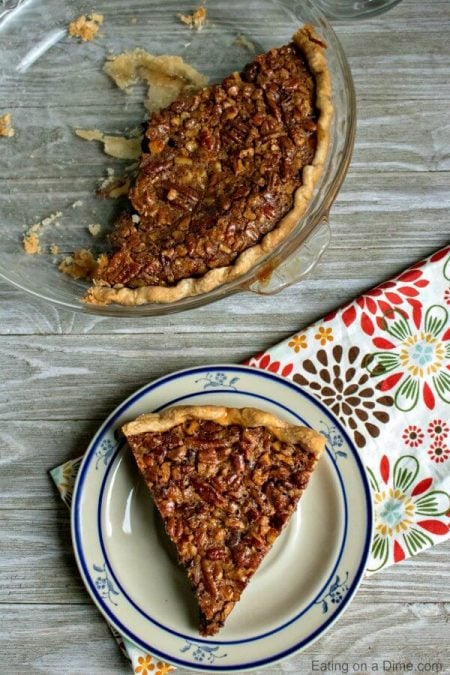 Chocolate Pecan Pie
Everyone will love this twist on the classic Southern dessert. It is full of luscious chocolate and pecan for the perfect finish to any meal.
Easy apple recipes
Apple crostata recipe
This copycat recipe tastes just like Olive Garden's crostata with flaky layers of crust, apples and luscious topping. Serve warm and add vanilla ice cream and caramel drizzle for a decadent treat.
Apple dumpling recipe
Apple Dumplings are flaky and so amazing with a scoop of vanilla ice cream. You will not believe how quick and easy this recipe is using crescent rolls.
Caramel apple dump cake
With only 4 simple ingredients. the recipe is a super easy dessert any night of the week. Delicious caramel and apples melt in your mouth for the best Caramel Apple Dump Cake recipe.
Crockpot Apple Pie Dump Cake Recipe
The slow cooker does all the work and you can enjoy warm apple cake topped with ice cream. Try the perfect Fall dessert .
Caramel apple dip
Each bite is smooth and creamy with a decadent heath topping. Serve with apple slices, graham crackers, pretzels and more for the best apple snack.
Easy pumpkin recipes
Pumpkin Cheesecake
Pumpkin pie meets cheesecake in this delicious dessert. The flavors come together to turn it into something totally different and amazing!
Crock Pot Pumpkin Butter Recipe
This is simple enough to serve any day of the week but so delicious. Pumpkin butter is so yummy and makes biscuits, french toast, pancakes and more absolutely amazing!
Pumpkin Banana Bread
This pumpkin bread recipe combines the amazing flavors of pumpkin and banana and is great to be enjoyed through the holidays or any time of the year! It is easy too.
Pumpkin dump cake recipe
The secret is a cake mix and the ingredients come together for one amazing pumpkin dessert . Make this for Thanksgiving, family dinner or anytime you want a delicious pumpkin pie dump cake.
Easy pumpkin bars
These bars have so much pumpkin flavor and the best cream cheese icing. Each bite is so decadent and delicious for an amazing fall treat.
Pumpkin chocolate chip cookies
Chocolate chip cookies get even better with the addition of pumpkin. They are so easy and each bite is packed with pumpkin flavor and lots of chocolate chips.
Pumpkin rice krispie treats
Make these adorable pumpkin shaped treats for your next party. These are perfect for Fall or Halloween. Everyone will love these little pumpkin treats.
Pumpkin pie cake
If you are looking for a delicious treat, this recipe is so easy to make and it all starts with a cake mix. If you are a pumpkin fan, you will love this decadent cake with chopped pecans, pumpkin and more!
Easy pumpkin pie recipe
Skip the store bought pies and make this creamy and delicious pumpkin pie. Just a few ingredients and this pie comes together for a great dessert.
Pumpkin pie rice krispie treats
Turn classic rice krispie treats into this easy recipe that everyone will love. Enjoy a slice of pumpkin pie for dessert with this fun and whimsical treat.
Pumpkin rice krispie treats
Take the classic rice kripsies to the next level! They will please all of your fall pumpkin cravings and even have a white chocolate glaze on top.
Best Pumpkin Bread Recipe
Try this bread recipe and see why everyone loves it. Each bite is so moist and delicious with tons of pumpkin flavor.
Pumpkin cupcakes
This recipe is so easy to make and the cream cheese frosting is heavenly. The entire pumpkin recipe is sure to impress.
Pumpkin roll recipe
You will be shocked at just how easy it is to make this amazing pumpkin roll. Everyone loves digging into a pumpkin roll with cream cheese filling.
Easy Pumpkin Cake
With only 3 ingredients, this recipe is sure to be a hit with everyone. Satisfy your pumpkin craving with this easy cake recipe.
Easy pumpkin cookies
Not only are the cookies so simple but they are soft and delicious and just packed with pumpkin flavor! Give them a try!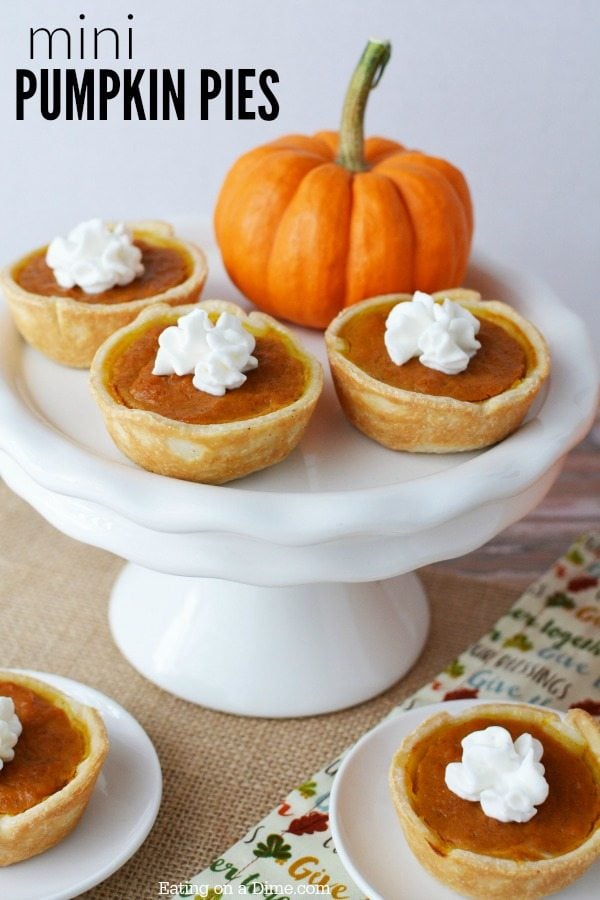 Mini Pumpkin Pies Recipe
What could be better than pumpkin pie? These adorable little pies are the perfect size for parties and also taste amazing. Everyone will love the bite size treats.
Easy thanksgiving desserts

Chocolate Chip Cookie Cheesecake Bars
Chocolate chips and layer of cheesecake combine for a decadent dessert. Kids and adults alike will love this recipe. You might want to make double!
Pineapple Angel Food Cake
Layers of light and fluffy angel food cake and pineapple make this easy dessert absolutely heavenly. Whipped topping makes it even better.
Chocolate Covered Peanut Butter Balls
These easy peanut butter balls will quickly become a yearly tradition. They are so rich and creamy and covered in milk chocolate. So yummy!
Peanut Butter Kiss Cookies
Peanut Butter cookies are extra special topped with a Hershey Kiss! The recipe is always a kid favorite treat!
Give these desserts a try!
You might want to just bake several recipes! They all sound so good.
Try these other Easy Thanksgiving Recipes: