No need to search endlessly for traditional Thanksgiving dinner ideas. We have compiled these Easy Thanksgiving dinner recipes sure to please a crowd.
Easy Thanksgiving dinner recipes
Whether you are all about the turkey or come for the side dishes and dessert, we have the best menu ideas. This is our go to list of tried and true favorites guaranteed to make everyone happy.
We all have dishes that we expect to see on the Thanksgiving table. For me, it just isn't Thanksgiving unless we have stuffing and cranberry sauce. What does your family ask for year after year?
I love to try a new dish or two each year but traditional menu items are a must of course. This list has the absolute best recipes of classic Thanksgiving items as well as a few new things you might want to try.
These ideas will make for a great meal while still being able to spend time with your family. No one wants to be stuck in the kitchen while their family is hanging out all day.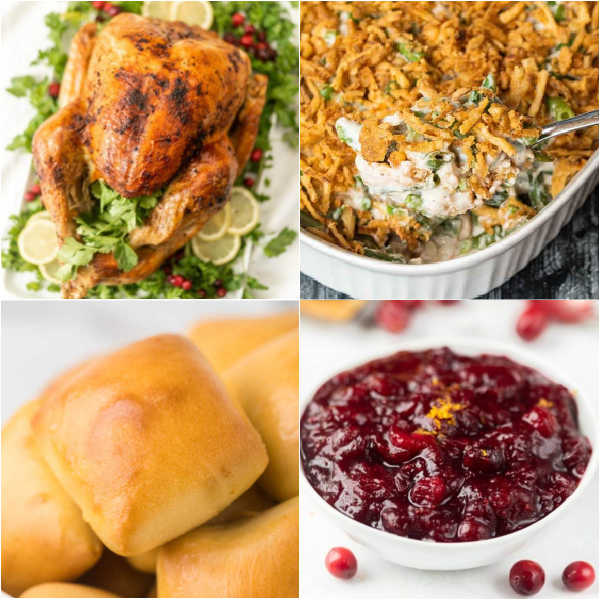 How to make a thanksgiving dinner
Make your list of what you plan to make. It all starts with a menu plan with Thanksgiving recipes. If someone else is bringing a dish, make a note on the list so you won't forget.
Separate according to items you can make ahead and recipes that need to be made on Thanksgiving.
Make your grocery list by scanning each recipe to see what ingredients you need for these easy Thanksgiving dinner recipes. I like to allow guests to salt and pepper recipes to taste as opposed to adding to the recipes. This helps to please everyone.
It is that simple to make your Thanksgiving menu.
Easy Thanksgiving Turkey Recipes
It definitely isn't Thanksgiving without a golden brown turkey and most people are pretty picky about it. Everyone wants moist and flavor packed turkey with fresh herbs and more. Cooking a turkey is easy once you know the best tips and tricks.
This list has options for a whole turkey as well as a turkey breast for those that prefer breast meat. Make this in a roasting pan in the oven or the slow cooker and even the instant pot.
The turkey should be at room temperature before baking. This will allow it cook evenly.
Also, use a meat thermometer to ensure the thickest part of the thigh is 165 degrees when you remove the turkey from the oven. It is handy to have one of these in the kitchen and definitely helps to ensure food safety.
How to Cook Thanksgiving Ham
Not everyone likes turkey and ham is a delicious option for Thanksgiving. You could even fix both if you have a large crowd and people that enjoy more options.
Spiral ham is very simple to make and I included options to bake it, slow cook it or use the pressure cooker. We have you covered with options you will love.
Ham should have an internal temperature of 145 degrees when finished cooking. You can use a meat thermometer to easily check. I prefer to use a digital easy read one.
Thanksgiving Potatoes
Is it really Thanksgiving without potatoes? While some are team mashed potatoes others must have a cheesy potato casserole. With so many delicious and easy options, why not make both.
This holiday is definitely a great time to indulge in comfort food. Forget a simple baked potato or potato soup, we have creamy and tasty mashed potatoes for the gravy.
Potatoes and stuffing and gravy all go hand in hand. There are lots of delicious options for potatoes.
Thanksgiving Sweet Potatoes
Sweet potatoes are another classic menu item everyone expects to see at Thanksgiving. Whether you mash them, bake them or turn them into a casserole, we have easy and tasty options.
I am a big fan of sweet potato casserole with brown sugar topping. It is my absolute favorite and the recipe below has the perfect blend of everything.
Sweet potatoes are a must for Thanksgiving. It is one of those side dishes that it would not be the same if it were missing.
Thanksgiving Rolls
Everyone is always happy if the bread basket is plentiful. Fresh, hot rolls complete the meal so don't forget this on the menu.
You can make homemade rolls in just 30 minutes and your kitchen will smell heavenly. From dipping in gravy or making sliders with leftovers, these rolls will not go to waste.
Bread is a must for Thanksgiving. I suggest on planning to make extra. Everyone loves a hot roll with their meal.
Slow Cooker Dinner Rolls
Free up some oven space, and make your rolls in your crock pot.
More Thanksgiving Side Dish Recipes
I always like to make a few extra side dishes. In our family, green bean casserole and creamed corn make the list every year. We love comfort food.
From brussel sprouts to bacon wrapped green beans, there is something to make every crowd happy.
These recipes include options for the crock pot and stove top. If you are like me, I love to make a few side dishes in the slow cooker and some in the oven.
It helps free up precious oven space doing it like that.
Thanksgiving Stuffing Recipes
Stuffing is definitely a standard menu item that is a must at Thanksgiving. I love to pour gravy all over it and eat it with cranberry sauce.
Most people are pretty picky about stuffing. These recipes have options for those that enjoy lots of veggies in the stuffing and recipes that don't.
You will find something to satisfy everyone. The stuffing muffins are easy to make with leftovers if you are looking for ideas.
Thanksgiving Dessert Recipes
Classic desserts with lots of pumpkin, luscious chocolate and decadent pecan all top the list for Thanksgiving favorites. You can't have too many desserts so why not make several for lots of options.
I doubt you will have any complaints with so many tempting desserts to choose from such as pumpkin pies and pecan pies.
Dessert has to be part of the menu plan so go ahead and make a couple of these. You really can't go wrong with any of these recipes. I love having several to choose from and they all sound amazing.
Easy Thanksgiving appetizers
Sometimes guests arrive early and it is so helpful to have a few appetizers set out. We always have a cheeseball and crackers for something easy that I can make ahead.
You can also do a vegetable tray. Most of these ideas can be made prior to Thanksgiving making it so easy.
The oven and kitchen space can be limited on the day of. I am always looking for ways to make the day easier.
Appetizers keep everyone happy and will keep you from feeling rushed. Friends and family can happily snack while you finish up dinner.
Traditional Thanksgiving Dinner ideas.
Which of these recipes do you plan to try? Let us know what recipes everyone expects to see on the table. There are lots of easy Thanksgiving dinner recipes to make.
Make your menu plan and get ready for the best Thanksgiving ever. Everyone will love trying these new recipes.
Whether you like butternut squash soup or prefer heartier dishes, Thanksgiving dinner will be a hit.
This list of ideas will save you a lot of time from searching all over. We have the absolute best recipes to choose from that will make your meal amazing.
It will be the best day full of good food, family and memories made. Try these easy but delicious ideas to spend more time with your family and less time in the kitchen.
More Thanksgiving ideas: