This post may contain affiliate links. If you make a purchase through links on our site, we may earn a commission.
If you are looking for a simple and delicious meal idea, try this Crock Pot Chicken Fajita Soup. It's packed with flavor, low carb, gluten free and sure to impress the entire family.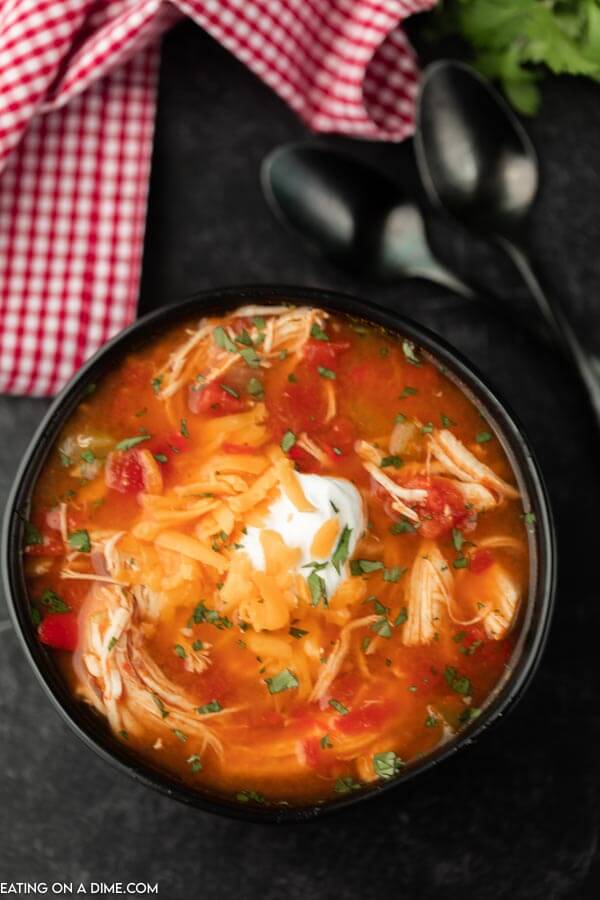 Easy Chicken Fajita Soup Recipe:
I was in the mood for chicken fajitas last week, but we didn't have any tortillas in the house so I had to compromise. Me… being my frugal self decided to create a new recipe. Basically I took my Crockpot Chicken Fajita recipe and turned it into a soup.
This soup turned out so good! I love the fact that it wasn't very heavy so my family can eat it even during the spring or summer. But it is the perfect comfort food on those cold winter nights!
Keto Friendly Chicken Soup:
If you are following a Keto Diet this is the perfect soup for you! This soup has all the Mexican flavors without all the carbs!
This soup is full of flavor that is high in protein and low in carbs. I love the fact that you don't have to feel guilty eating this delicious soup.
My entire family loves this soup! Which is great because on days when I don't want to eat low carbs, I know that I can serve this meal and everyone will enjoy it! It sure makes dinner time easier!
If you are following a Keto diet, make sure you check out all of our Keto recipes!
You will need a crock pot for this recipe.
If you are in the market for a new crockpot, this one is my favorite. I use this all the time and it's great. My favorite feature is that you can lock the lid down.
This is awesome for when you need to take the crockpot somewhere. I often use the slow cooker to take dishes to potluck events and this feature is amazing! There are several others on sale here.
Another favorite is this programmable crock pot for when I am am not at home all day. I love coming home to a nice meal ready and waiting!
I also like to use crock pot liners to make clean up a breeze. These are worth every penny and save a ton of time. This is especially helpful during busy weeks of school and activities. I'm all about crock pot liners.
If you are not using a crock pot liner, I recommend spraying the crock pot insert with a non stick cooking spray or rubbing it with olive oil for an easier clean up after you make this delicious soup recipe.
Ingredients:
Chicken breasts (mine were frozen) or chicken thighs
Diced Tomatoes, 14.5 oz
Chicken Broth
Taco Seasoning (I used homemade taco seasoning)
Minced Garlic
Onion, chopped
Green bell pepper chopped
Red bell pepper chopped
How to make Crock Pot Chicken Fajita Soup:
Combine all the ingredients in the crockpot.
Cook on high for 3 hours or low for 6-8 hours. (We prefer to cook on low for 6-8 hours)
Shred or chop the chicken. Stir the chicken back into the crock pot to combine the flavors.
Serve with tortillas or tortilla chips.
If you like a little extra heat, add a few dashes of red pepper flakes or chili powder to this slow cooker soup.
Topping Ideas:
If you are sticking with the low carb, try topping with extra cheese and sour cream. We love to add onion to the top of the soup also. I make sure to get some extra chicken in my bowl as well!
Tortilla chips are a great addition to this soup too (if you're not following a low carb or keto diet)! I add them to my soup when I am not eating low carb. It is so good and gives it that extra crunch! So yummy!
Also, if you are not following a low carb diet, you can easily add in some corn, black beans and pinto beans to the soup! It just adds a little extra flavor to the soup.
Once the soup is ready, add in some fresh cilantro and you are set with a delicious soup recipe!
Tips for making this Soup Recipe:
I use a small food chopper or processor to quickly and easily chop onions and green peppers. If you do not have one of these, I highly recommend them. They are such a time saver.
I usually just chop the entire vegetable and freeze what I don't need. It's so nice to be able to just take diced onion or bell peppers out of the freezer for my favorite recipes.
Learn how to freeze peppers and how to freeze onions and you will save so much time in the kitchen!
Don't have a crock pot but have an Instant Pot? We have Instant Pot Chicken Fajita Soup that is just as good and you can have dinner on the table in about 30 minutes!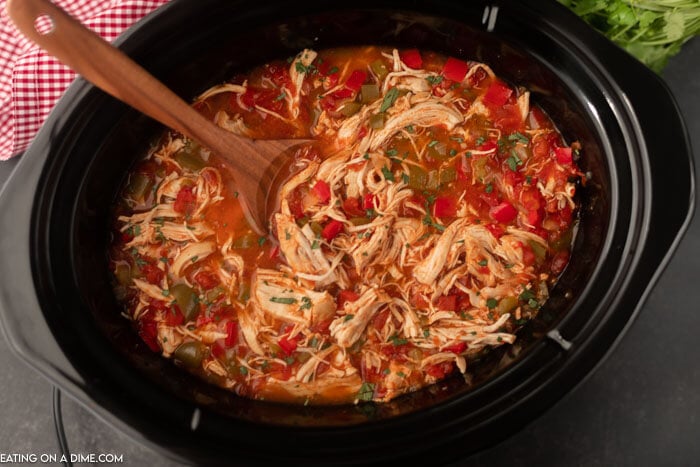 Print this Crock Pot Chicken Fajita Soup recipe below:
Crock Pot Chicken Fajita Soup
Crock Pot Chicken Fajita Soup is easy to make and tasty. The entire family will enjoy this Low Carb Crock Pot Chicken Fajita Soup recipe. It's also budget friendly.
Instructions
Combine all the ingredients in a 6 quart crock pot.

Cover and cook on low for 6-8 hours or on high for 3-4 hours.

Remove the chicken, shred and return it back to the crock pot.

Stir to combine the flavors. Serve with your favorite toppings. I topped mine with sour cream, shredded cheddar cheese and chopped cilantro.
Recipe Video
Recipe Notes
Refrigerate the leftovers in an air tight container for up to 5-7 days.  
Nutrition Facts
Calories
164
kcal
,
Carbohydrates
7
g
,
Protein
26
g
,
Fat
3
g
,
Saturated Fat
1
g
,
Trans Fat
1
g
,
Cholesterol
73
mg
,
Sodium
545
mg
,
Potassium
735
mg
,
Fiber
2
g
,
Sugar
4
g
,
Vitamin A
735
IU
,
Vitamin C
47
mg
,
Calcium
47
mg
,
Iron
2
mg
How to freeze Crock Pot Chicken Fajita Soup:
You can place everything in a freezer bag and freeze. When you are ready to cook the soup just take it out of the freezer and put it in the crock pot to cook on low.
Another option is to freeze the soup after it is cooked. I like to spoon it into silicone cupcake pans and then freeze them. This is perfect for size for individual size lunches.
More Low Carb Recipes.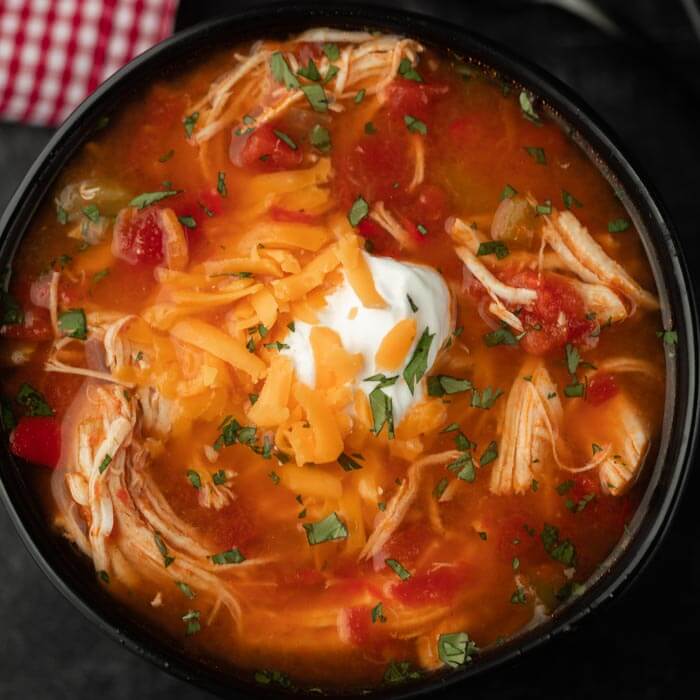 More Easy Crock Pot Recipes: