This post may contain affiliate links. If you make a purchase through links on our site, we may earn a commission.
We have tons of easy and delicious grilling recipes you need to try. From appetizers to sides to entrees and more, these recipes are sure to impress. Fire up the grill and get started!
We have the best grill recipes!
Are you ready to grill? Summer is just weeks away and my family has been firing up the grill. We are always looking for new grilling recipes and have a blast trying new ideas.
From avocados, to chicken, to vegetables and more, we love to grill. Try some of these recipes this summer while saving money and spending less time cleaning up the kitchen!
This roundup of grilling recipes should help you find the perfect recipe for your weeknight dinner.
Appetizers
Grilled Vegetable Packets
Try making zucchini, bell peppers and more in this easy veggie pack. They are healthy, frugal and so simple to prepare.
Grilled Salsa Steak Appetizer
Marinated steak gets turn into a tasty appetizer when served on chips and garnished with salsa and more. This steak app is a must try!
Grilled Fruit Recipe
Everything is better on the grill and fruit is no different. Grilled peaches, blueberries and more taste fabulous in this easy fruit recipe.
Grilled Pineapple
Sweet pineapple rings are so tasty on the grill. Try them for an easy appetizer or serve them with your grilled main dish.
BBQ Frito Corn on the Cob
Homemade BBQ butter takes grilled corn to the next level. This flavor packed corn recipe is easy and delicious.
Easy grilled Avocado Recipe
Grilled Avocado has the most amazing flavor. This recipe is so simple to prepare and absolutely delicious. Plus, it is keto friendly!
Bacon Wrapped Jalapeno Peppers
If you like hot and spicy, try this fun recipe for jalapeno peppers with bacon. So easy and inexpensive to make.
Corn Salsa Recipe
Salsa is always a great idea and this corn salsa is so fresh and delicious. Serve with tortilla chips for an easy appetizer.
Grilled Shrimp and Corn Quesadillas
Seasoned and delicious grilled shrimp combined with corn and all stuffed into a shrimp quesadilla makes the best appetizer. Cut these into small slices and watch them disappear!
Grilled Pizzas with Peppers and Onions
Sweet onions and the best vinaigrette turn grilled pizza into a show stopper. Slice this up and let everyone enjoy this appetizer before dinner.
Parmesan Grilled Zucchini
This recipe is a must try and even the kids will love. It is so simple to prepare, inexpensive and healthy. Not to mention the grill gives the zucchini such an amazing flavor.
Sides
Grilled Sweet Potatoes and Potatoes
Everyone will enjoy this savory and sweet side dish that is so delicious. You are going to love how easy and tasty this Sweet Potatoes Recipe is.
Grilled Potato Foil Packets
Potatoes turn out amazing in a foil pack. Each bite is so tender and makes an easy side dish. Try this foil pack recipe.
Seasoned Grilled Summer Vegetables
Round up all your summer veggies and turn them into the best side dish. Seasoned veggies are inexpensive, quick and always a hit.
Grilled Chili Lemon Corn on the Cob
Spice things up with this delicious combination of chili and lime. Grilled corn is super easy and this flavor can't be beat.

Grilled Asparagus Recipe
This is the easiest Asparagus Recipe you will try. There is no fuss and practically no work in making delicious grilled asparagus.
Grilled Pineapple
Chicken or pork taste delicious with a side of grilled pineapple. This takes just minutes to make and the sweet and savory combination is so tasty.
How to Grill Bell Peppers
Grilled peppers make the perfect veggie to go with chicken, fish and more. The grill makes the peppers amazing with perfectly crispy edges.
Grilled Veggie Kabobs
Colorful veggie skewers that are lightly seasoned make a simple yet delicious side dish. This is so easy and always a hit.
Balsamic Grilled Zucchini and Red Onions
Tangy balsamic, garlic and more seasoning give zucchini and onion a lot of flavor. Try this frugal grilled side dish option.
Grilled Broccoli
This easy broccoli recipe is simple, fast and delicious. The broccoli is packed with flavor from being grilled and the crispy edges just make it so much better!
Charred Romaine with burst tomatoes
Romaine lettuce is perfect on the grill and gets slightly wilted and charred for the best side dish. Serve with tomatoes for an amazing salad.
Grilled Asparagus
In just minutes, enjoy perfectly grilled asparagus. The secret to the flavor is Greek flavor and everyone will love it!
Grilled Zucchini Foil Packs
This is the easiest side dish and clean up is a breeze. The veggies have the best flavor from the grill and it is so frugal to make the foil pack.
Grilled Asparagus
Asparagus on the grill is slightly crisp around the edges and tender on the inside. Grab it on sale and make this easy side dish.
How to Grill Corn on the Cob
Summer is just around the corner, and if there is one thing you should have on the grill, it should be grilled corn on the cob! This is the easiest basic recipe but it tastes amazing.
Beef
Steak Kabobs
Flavorful steak and tender veggies combine on a skewer for an amazing dinner. Plus, grilled kabobs are so easy and hardly any clean up!
Perfect Steak Sous Vide
If you love steak but need to stay on budget, this is the recipe for you. Enjoy tender steak without sacrificing any flavor in this delicious recipe.
Rockin' Jalapeno Popper Burgers
Jalapeno peppers, bacon and beef come together for one amazing burger recipe. The grill gives it even more flavor. Yum!
Marinated London Broil
Fresh squeezed lemon juice, olive oil and seasonings make London Broil so flavorful. Try this marinated beef recipe on the grill for the best meal.
Grilled Taco Burgers with Avocado Salsa
Enjoy this delicious twist on a traditional burger with lots of Mexican flavor, pico de gallo and melted cheese. You may never fix a normal burger again after trying this Taco Burger Recipe.
Grilled Steaks with Garlic Butter
So tender and delicious, this garlic steak is packed with garlic butter. Each bite is scrumptious and everyone will come back for more.
Coffee Marinated Steak
If you are looking for a super easy marinade, this is the one to try. Coffee turns steak into a hearty and really tasty main dish option. Try coffee marinade!
How to grill steak perfectly every time
Learn how to grill steak so that it turns out perfectly each and every time. Find lots of tips and tricks for the best steak!
Pork
Rosemary Balsamic Grilled Pork Chops
Balsamic fig glaze turns plain pork chops into something so tasty and flavorful. Dinner is easy with rosemary pork chops.
Cajun Smoked Pork Ribs
This pork chops recipe is sweet and tangy with tons of Cajun flavor. Take pork ribs to the next level with this easy recipe.
Grilled Pork Chops 3 Ways
Make pork 3 different ways to satisfy everyone's craving. From spicy to sweet and sour and more, there are pork chop options for all.
Best BBQ Ribs Ever
Learn the secret to the best ribs and it isn't the sauce. Get ready to enjoy amazing BBQ Ribs.
Jalapeno Poppers Stuffed Pork Chops Recipe
The cream cheese makes it so smooth and creamy and the jalapeno peppers give the pork chops a little heat! This creamy mixture is good in just about anything!

Chicken
Italian dressing soy sauce marinade
You only need 2 simple ingredients to make this tasty marinade for chicken . Save money and skip the store bought marinade and make this amazing recipe at home.
Sweet Heat Chicken Kabobs
So much flavor and each bite is tender and amazing. Try chicken kabobs for tailgating, dinner and more.
Grilled Chicken Thighs
This Asian inspired marinade is gluten and dairy free. Enjoy perfectly grilled chicken and leftovers make a great salad the next day.
Taco Chicken Marinade
This easy Marinade is perfect for the grill. It is perfect for Taco Tuesday or just because! Your family will be asking for grilled Mexican chicken over and over again!
Hellman's Grilled Chicken Parm Pizza
Turn delicious chicken parmesan into a pizza! This easy grilled pizza recipe is perfect for busy weeknights and hungry kids.
How to Grill the Perfect Chicken
We have the best tips and tricks to learn how to grill chicken breasts perfectly every time. Try these tips for moist and tender chicken every single time!
Teri-Q Chicken Marinade
Grilled BBQ Teriyaki Chicken is inexpensive, quick and always a crowd pleaser. Give this tender and flavorful chicken a try for a great dinner.
Catalina Glazed Grilled Chicken
Catalina grilled chicken has the best flavor and tastes amazing on the grill. The entire recipe is so easy. Plus, you can use any type of chicken you prefer with this sweet and tangy dressing.
Balsamic Glazed Chicken
Each bite is the perfect blend of tangy and sweet while being so easy to prepare. Try this balsamic marinade on chicken breasts, thighs or anything you like. We love to grill the chicken but it is equally amazing in the oven.
10 Ways to use Leftover Grilled Chicken
If you are going to fire up the grill, go ahead and cook extra chicken. Instead of hitting the drive thru on a crazy weeknight, use left over grilled chicken for future dinners.
Fish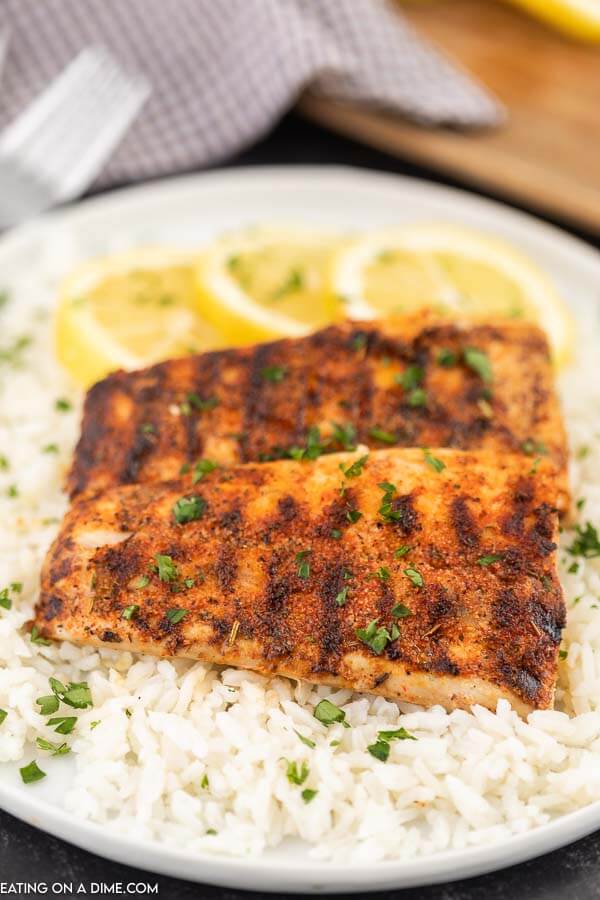 Grilled Mahi Mahi
Get dinner on the table fast with hardly any cleanup when you make this delicious fish. Grilled mahi mahi recipe is so easy to make and you only need a few simple ingredients.
Swordfish and Vegetable Kabobs
This recipe is so easy and grilled to perfection. Enjoy all that you need for dinner with these swordfish and veggie kabobs.
Grilled Cedar Plank Salmon
With only 5 ingredients, this tasty salmon is super quick and easy. Enjoy this healthy and delicious meal in minutes.
The best grilled tilapia recipe
This Lemon Pepper Grilled Tilapia Recipe is so easy it is hard to even call it a recipe. You can have dinner in under 10 minutes that is seasoned to perfection and so amazing!
Garlic Parmesan Grilled Shrimp Recipe
If you are looking for a quick and delicious meal idea, give this delicious parmesan shrimp a try. The flavor from the grill and all the seasoning from the shrimp make for an amazing recipe.
Desserts
Grilled Banana with Caramel
Luscious bananas with caramel turn into a decadent dessert once grilled. Try it with ice cream!
How to Grill S'mores
Learn how to make easy grilled smores and enjoy an ooey gooey treat when grilling. We have all the tips and tricks to make easy smores on the grill.
S'mores Campfire Cones
If you love s'mores, you are going to love this recipe for Smores campfire cones. The cones are so easy to make and eat.
Which of these Easy Grilling recipes will you try?