Quick and Easy Chicken and Pasta Recipes 
Everyone loves chicken and paired with pasta only makes it better! We have 20 simple chicken pasta dishes to make dinner a breeze. There is something for everyone! Many of these are one pot meals and if not, still very simple. We all know how hectic school nights can get and these recipes will take some of the stress out of the day. These are so simple that you can probably have them on the table faster than going out to eat.
I like to serve these pasta dishes with a green salad or a side of broccoli. In fact, I steam my broccoli in the microwave for a quick side.  Another simple side is this Easy Cucumber and Tomato Salad Recipe. Either of these quick sides would be perfect to pair with one of these pasta dishes.  Just keep it really simple and easy!
Now, if you have a few extra minutes, these Garlic Bread Cheese Sticks are out of this world! They look pretty impressive but they are made with refrigerated pizza dough and mozzarella sticks! Yes! So simple! But let me tell you they are amazing! The cheese just melts in your mouth and the garlic blend goes so well with the pasta dishes. I like to dip my bread sticks in the pasta sauce. Sometimes I even reserve a little pasta sauce just for dipping these bread sticks 🙂
20 Chicken Pasta Dishes 
Let's get started on these delicious menu ideas. I am already having trouble deciding which one to cook first.
Some of these can be made in the slow cooker. If you need a crock pot, here are some nice ones on sale. I must confess I have quite a few different slow cookers. My favorite, however, is  my programmable crock pot.  It's made such a difference around here, especially if I will be away from the house all day.
This dish is Chicken Parmesan simplified. It's perfect for those that don't have time to dredge cutlets but can just toss it all in the slow cooker. It's a one pot meal that is really easy and delicious.
2. Olive Garden Smoked Mozzarella Chicken and Penne Pasta 
The smoked mozzarella cheese in this recipe makes this dish taste just like Olive Garden's. Give it a try!
3. Crock Pot Chicken Alfredo Casserole Recipe 
4. Chicken Spaghetti Casserole Recipe 
This Chicken Spaghetti Casserole recipe is a yummy twist on classic baked spaghetti. The chicken is a nice change and all the ricotta, mozzarella and other cheeses make this dish so rich and creamy.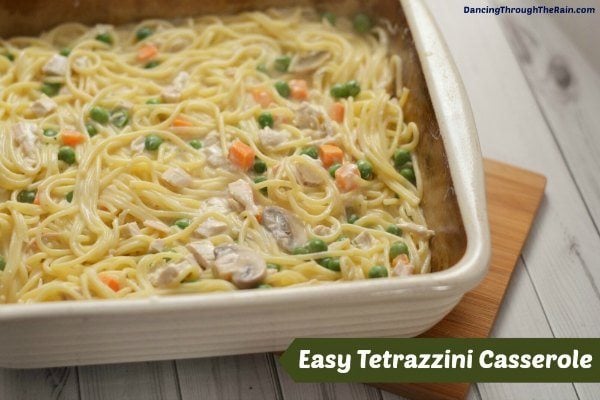 5. Tetrazzini CAsserole with Leftover Chicken
This meal can be easily made with leftover chicken! This is so easy and feeds a crowd. It's creamy and yummy too!
6. Creamy Chicken Pasta with Fresh Tomatoes 
This 20 minute dinner idea is one recipe that is perfect for a weeknight meal. Kids will love this creamy chicken recipe and so will adults. The fresh tomatoes really add to it!
The sauce in this pasta dish has Parmesan cheese and cream cheese in it to make it so incredibly creamy and cheesy.  The spinach adds a nice touch and the lemon juice gives it an extra burst of flavor.
Tangy and bursting with flavor, this pasta is going to be a hit! The chicken is seasoned perfectly and the tomatoes and pasta come together for a great meal.
9. Chicken Spinach Artichoke Pasta 
This chicken and spinach pasta is so creamy and cheesy.  It's comfort food at it's best! Give this a try even if you don't like spinach. It's so good!
10. Creamy Skillet Chicken and Mushrooms
Skillet Chicken is so creamy and the mushrooms add an incredible flavor. Serve it with egg noodles for the perfect meal for busy nights.
11.  Crock Pot Chicken Parmesan 
Chicken Parmesan can be a lot of work but not when you use the slow cooker! It's so easy and you can have dinner waiting. Serve it over whatever type of pasta you prefer.
Pesto chicken pasta comes together quickly for busy nights. It's also dairy free and uses a creamy coconut milk based sauce. The toasted almonds give it extra flavor as does the fried garlic chips and fresh herbs. It's also gluten free.
13. Copy Cat Olive Garden Chicken Alfredo 
If you love Olive Garden, this recipe duplicates their famous Chicken Alfredo. Save a ton of money by making this at home and it's absolutely delicious.
14. Skillet Broccoli Parmesan Chicken with Bow Tie Pasta
This one skillet recipe is the perfect all in one dish. It's easy to make, tastes great and budget friendly! The broccoli and chicken get a generous dose of Parmesan cheese, red pepper flakes and more. If you don't have broccoli on hand, you can easily substitute pea pods or spinach.
15. Instant Pot Tomato Chicken Penne Pasta Recipe 
This dish is so easy in your instant pot. It's bursting with flavor and is the ultimate comfort food. The Italian seasonings, tomatoes and  chicken will quickly become a new favorite.
17. One Pot Greek Chicken Pasta 
This pasta is packed with lots of yummy olives, fresh tomatoes and crumbled feta. The secret to this dish is to marinate the chicken before cooking!
18. Chicken Cordon Bleu Pasta Casserole 
People often think of chicken cordon bleu as a fancy dish. Turn it into an easy meal idea with this casserole idea. It's such an easy baked dish that the entire family will love. It freezes well so you might want to make a double recipe to have for later.
19. Slow Cooker Buffalo Macaroni and Cheese 
Veggies, chicken and pasta make an awesome mac and cheese dish! The secret is the hot sauce and all the cheese! They all come together to make a very cream and spicy mac and cheese with chicken.
20. Cheesy Chicken and Orzo Casserole 
The bacon with the chicken make this cheesy pasta oh so good! The orzo is so filling and delicious. Plus, it's so easy to get dinner on the table fast with this easy casserole!
Which Chicken Pasta Dishes do you want to try?
I have several written down to make this month. It seems each week gets a bit busier than the one before. Anything to help me get dinner on the table and avoid eating out is a winner in my book!
Plus, pasta is just such a good comfort food. It's soothing and hearty and just makes you feel better. Gather the family around the table with one of these quick and easy chicken and pasta recipes and recount the day's events. There is something so special about having a meal together as a family. Enjoy this delicious pasta and maybe a salad and some bread.
Life is so busy and the struggle is real. Hopefully these easy meal ideas will inspire you to cut the stress out of dinner time!
Try some of these other easy recipe ideas: