This post may contain affiliate links. If you make a purchase through links on our site, we may earn a commission.
Serve your family a delicious dinner even during busy weeknights when you try these chicken and pasta recipes. You will find quick options for the stove top, slow cooker or instant pot. Everyone can enjoy an amazing dinner without much prep work or cooking time.
Chicken and pasta recipes
Everyone loves chicken and paired with pasta only makes it better! We have lots of easy but delicious meals to serve your family. Each of these recipes are very simple but the results are sure to be a hit.
We all know how hectic school nights can get and these recipes will take some of the stress out of the day.
I like to serve these pasta dishes with a green salad or a side of broccoli. In fact, I steam my broccoli in the microwave for a quick side. Another simple side is this Easy Cucumber and Tomato Salad Recipe.
Now, if you have a few extra minutes, these Garlic Bread Cheese Sticks are out of this world! They look pretty impressive but they are made with refrigerated pizza dough and mozzarella sticks! You will love having something to dip into the pasta. Yum!
The best chicken and pasta recipes.
Let's get started with these easy dinner ideas. From the stove to the crock pot and instant pot, there are ideas that will suit any schedule.
Stove top recipes
Easy Chicken Penne Pasta
This one pot skillet meal is perfect for family dinner during busy weeknights. Everyone will love this delicious chicken paired with a rich and creamy sauce over pasta.
Spicy Creamy Chicken Pasta Recipe
This easy dish is loaded with tender chicken, tomatoes, cream cheese and more! It is so creamy and delicious and the best one pot meal in minutes. Try this creamy chicken pasta.
Creamy chicken pasta
You only need 20 minutes for the best skillet dinner. Skip takeout and make this creamy chicken dish in less time! Plus, it tastes amazing.
Pepperoni Chicken Pasta Recipe
Everyone loves pizza and this Italian dish will be a kid favorite. Learn all the tips and tricks for the best pepperoni chicken pasta.
One Pot Italian Chicken Pasta Recipe
Lots of cheesy goodness combine with tomatoes, meat and more to make the best meal. Add some garlic bread or a simple salad to this delicious Italian Chicken pasta for a great meal.
Creamy Cajun Chicken Pasta
The tomatoes combined with the half and half make it creamy and delicious. I can't wait for you to try this delicious chicken dish.
Chicken Scampi Recipe
Scampi sounds fancy but it is really so simple to prepare. Skip the restaurant and make this delicious scampi recipe at home with very little work.
Chicken and pasta casseroles
Easy Chicken Parmesan Pasta
Try this easy recipe that takes all the work out of traditional Chicken Parmesan and turns it into an easy casserole type dish. This is simple enough for busy weeknights but so tasty that you will want to serve Chicken Parmesan Pasta for company.
Chicken noodle casserole recipe
Creamy chicken and noodles with cheese make this a casserole everyone will go crazy over. Everyone will enjoy this easy noodle casserole and it is the best comfort food dish.
Easy Chicken Tetrazzini Casserole Recipe
The creamy chicken, mushrooms and pasta come together for the best comfort food. Plus, it is just so easy to make! Everyone will enjoy this chicken casserole.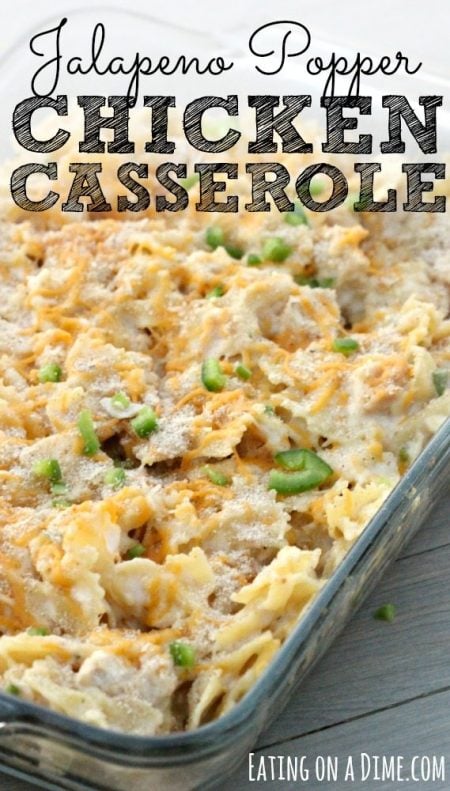 Jalapeno popper chicken casserole recipe
You can use precooked chicken and have this dinner on the table in just 30 minutes. Try jalapeno popper for an instant hit.
Crock pot chicken pasta recipes
Chicken Parmesan Pasta Bake
Everything you need for a delicious dinner including tender chicken and flavorful pasta is in the slow cooker! Make this any day of the week thanks to this amazing Crock Pot Chicken Recipe.
Crock pot Pesto Chicken Pasta Casserole
With very little prep work, this comes together quickly and easily. Tender chicken, flavorful pesto and more combine for a delicious casserole everyone will enjoy.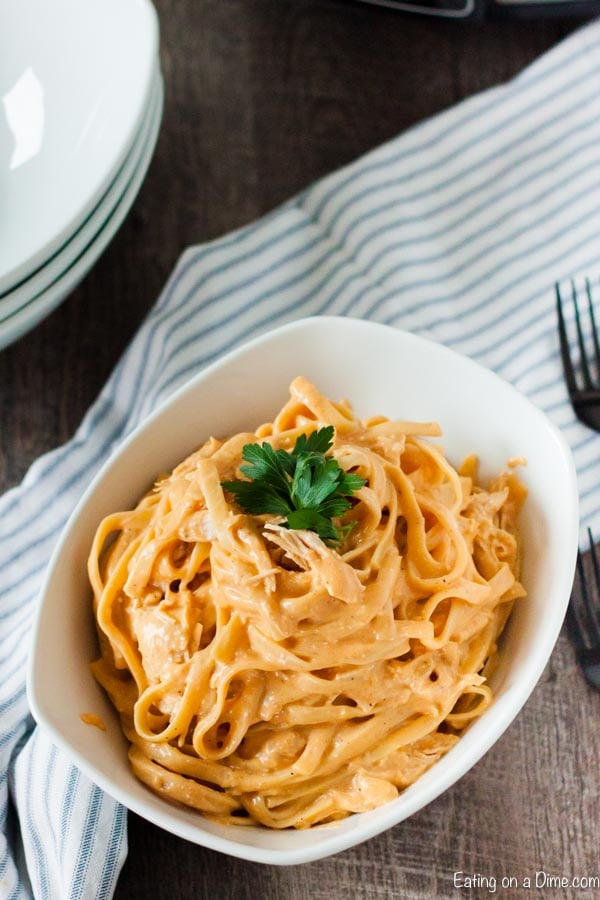 Crockpot Buffalo Chicken Pasta
Jazz up plain chicken with this delicious pasta dish with tons of buffalo flavor. Everyone will love the tasty cream cheese and buffalo sauce that combine for the best sauce for an easy weeknight pasta dinner.
Crock pot creamy salsa ranch chicken pasta recipe
Make this delicious meal anytime you are craving comfort food. The ranch flavor and salsa make the chicken and pasta so delicious and tender. Plus, the crock pot does all of the work!
Crock Pot Cajun Chicken Pasta Recipe
Make this creamy and delicious dish with a little bit of heat. The Cajun flavor really jazzes up this chicken dish for an easy meal that your family will love.
Crock pot chicken fajita pasta recipe
Busy nights are perfect for this one pot meal that has everything you need for a delicious dinner. If you love fajitas, this creamy fajita pasta will be a hit and the slow cooker does all of the work!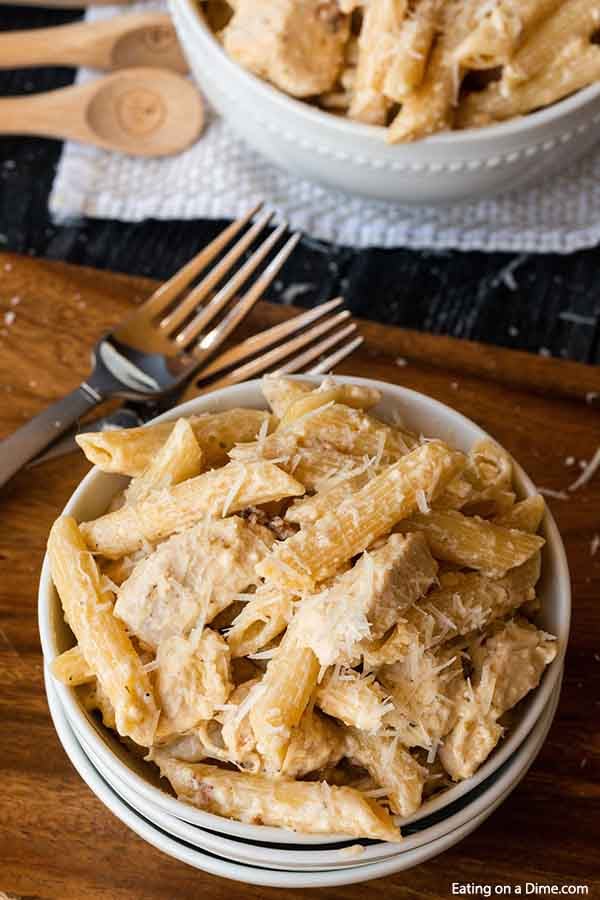 Crock pot olive garden chicken alfredo pasta
Olive Garden fans will love to make this at home and save a ton of money. Let the slow cooker do all the work and serve your family a delicious pasta meal.
Crock Pot Sun Dried Tomato Chicken Pasta
Everyone will love this dish loaded with a rich and creamy sauce and full of sun dried tomatoes and more. This is the best comfort food and perfect for any day of the week. Try this easy chicken pasta.


Crockpot lemon chicken
Each bite is so light and refreshing for a great meal with very little work. The creamy lemon sauce is delicious over the chicken and pasta for a tasty meal that is super easy.
Crock Pot Roasted Red Pepper Chicken Casserole
The flavor is amazing and the slow cooker makes this dish super easy. You will love this creamy and delicious red pepper sauce in the chicken and pasta casserole.
Instant pot recipes
Instant pot chicken fajita pasta recipe
You can enjoy all that you love about fajitas in this fabulous pasta dish. Even better, the pressure cooker makes this fajita meal in minutes!
Instant Pot Creamy Cajun Chicken Pasta Recipe
Everyone will go crazy over the creamy and delicious sauce with just the perfect amount of Cajun flavor. This Cajun chicken is perfect for busy weeknights and so easy to prepare.
Instant Pot Chicken Bacon Ranch Pasta Recipe
Tons of chicken, bacon, cheese and more with lots of ranch flavor make an amazing meal. Your family will go crazy over this bacon ranch pasta.
Instant Pot B

uffalo Chicken Pasta Recipe
Get this on the table in less than an hour and served with a vegetable for a quick weeknight dinner. The buffalo sauce and cream cheese mixed together makes a perfect sauce for this buffalo pasta dish that everyone will love!
Instant Pot Chicken Florentine Recipe
Your family will go crazy over this dinner idea with tons of cheese, spinach and tender chicken. Lots of pasta blend together for the best comfort food and the entire chicken Florentine meal is ready in minutes.
Which Chicken Pasta Dishes do you want to try?
Let us know what you try and how it turns out. They are all so delicious.
Try some of these other easy recipe ideas: