These freezer cooking recipes make dinner time a cinch! No more worrying about dinner and hitting the drive thru at the last minute! These easy freezer meal ideas will save you time, money and your sanity!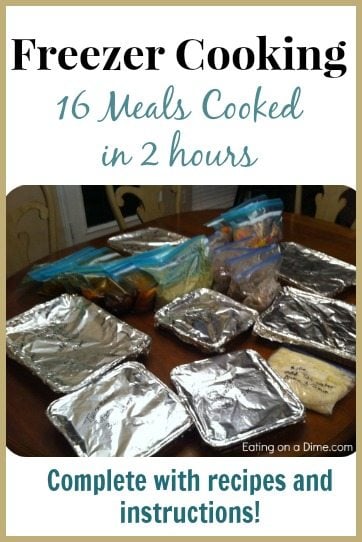 I posted these freezer cooking recipes almost 2 years ago, but I know many of you would love to try this. You will love having these freezer meals ready in the freezer after a busy day!
As most of you know, we are about to move. The "old" Carrie would have ordered pizza and hit the drive thru a few times due to the craziness that comes along with moving a house and 4 children. However, I decided that since I am a new money-saving crazy person that I should actually be smart and prepare for this move. So… in order to prepare properly, I did a huge (ok.. huge to me) freezer cooking session using some of my favorite freezer cooking recipes.
I learned a lot along the way (which I will definitely be doing a post on soon), but I wanted to share with you what I did along with the freezer recipes. That way you can help save yourself money too with these easy recipes!
16 Freezer Cooking Recipes:
6 freezer bags of marinated chicken (ready for baking, grilling, or broiling)
2 pans of taco rice casserole
1 pan of mashed potatoes
2 pans of twice baked potatoes
1 bag of cooked rice (to heat up as a side)
5 pound of browned ground beef with onions and shredded zucchini (ready for taco meat, taco soup, etc…)
2 recipes of pizza pasta casserole
2 bags of crockpot chicken teriyaki dinner (you just toss it in the crockpot frozen and let it cook all day)
How to do a freezer cooking session:
First, you will want to wash your potatoes and get them in the oven baking.(for the twice baked potatoes)
Next, peel some potatoes and place them in a pot to boil (these are for the mashed potatoes)

Then start the browning process for the ground beef (don't forget to add your chopped onions and shredded zucchini in there for extra flavor). Brown it in intervals and dump the meat into a 9×13 pan to start cooling. By the time you are done with the ground beef your boiling potatoes will be done. Strain and allow to cool.

While the beef and potatoes are cooling, start the rice. I cooked mine in the microwave, but you could cook it on the stove (you will need 4 cups cooked rice total).
How to Make Freezer Taco Rice Casserole
Then brown 2 pounds of ground turkey with onions and shredded zucchini (you can use beef if you want). Once its browned, add 2 cans of beans (I used black beans), one package of taco seasoning, and 2 cans of Rotel. Stir to combine.
Next, spray 2 disposable 9×13 pans with non-stick spray. Spoon 2 cups of cooked rice and spread into the bottom of the pan. Spoon mixture evenly over the rice. (I had leftover rice so I spoon the leftovers into a freezer bag to use later)
Top with shredded cheese. Allow to cool completely. Then write instructions on the foil on top of the pans (Taco Rice Bake – Thaw and Bake at 350 degrees for 1 hour)
Freezer Friendly Potatoes
How to make Freezer Pizza Pasta Casserole
Now we need to brown the other 2 more pounds of ground turkey (with onions and shredded zucchini) for the other freezer meal ideas.
Once browned, add 2 cans of diced tomatoes (you could use crushed or sauce). Stir in garlic salt and Italian Seasoning.
Meanwhile boil one pound of spaghetti noodles. Allow to cool.
Spray 2 more 9×13 disposable pans with non stick spray. Pour the cooked spaghetti noodles equally into the pans.
In a small bowl whisk two eggs. Separate into the 2 disposable pans. Stir with the fork to mix the egg with the noodles. Season your pasta with garlic salt.
Pour your meat sauce equally over the pasta. Top with mozzarella cheese and pepperonis. Cover with foil and label "Pizza Pasta Casserole -thaw and bake at 350 for 1 hour"


Freezer Twice Baked Potatoes

Now it is time to do the twice baked potatoes. Cut them in half. Spoon out the potatoes. Mash them with milk, salt, pepper, and shredded cheese. Then spoon back into their skins. Place into a 9×9 disposable pan and cover with foil. Label "Twice Baked Potatoes – thaw and bake at 350 degrees for 45 minutes"
The hard part is officially over!!
Easy Freezer Chicken Marinades
I love doing marinades for the freezer, because at the chicken thaws in the fridge your chicken is marinating. How easy is that?!
First, grab 6 gallon freezer bags. Label each of them with the name of the marinade. I did Lemon Pepper (from the bottle x1), Catalina Chicken (just used Catalina dressing – x1), Teri-Q Chicken (x2), Taco Chicken Marinade (x2).
Next, place marinades in the proper bags. Then add your chicken and mix around. Seal out the air.
Freezer Friendly Teriyaki Crockpot Chicken Dinner:
This recipe is very easy. Just dump all the ingredients into the bag. When you want to cook it, allow it to thaw slightly in your fridge over night (just to loosen it from the bag). Place in the crockpot and cook on low for 8 hours. Serve over rice.
First you need to label your bags "Crockpot chicken teriyaki dinner – cook on low for 8 hours, serve over rice"
Next, place 3 chicken breasts, ½ cup of Teriyaki sauce, 1 can of pineapple, ½ onion chopped, a handful of carrots chopped about a ½ tsp of garlic powder and pepper in 2 gallon size freezer bags
Lastly, seal the bags and freeze.
Remember the ground beef you browned in the very beginning? Well, you need to finish that too!
Freezer Friendly Ground Beef
Now that your beef is all cooled, it is time to get it ready to freeze. I choose to freeze it by the pound, so I grabbed 5 quart size baggies.
Label each freezer bag "Beef"
Spoon the beef equally among the 5 bags.
That is it!! You are officially done!
Are you overwhelmed?
I know this huge post can seem overwhelming, but it doesn't have to be. Since I was short on time, it was easier for me to block out a few hours in my day and just attack the freezer cooking recipes and get it all done at once. However, you can just pick one. Maybe you just want to make the potatoes. Or maybe you just want to make the chicken marinades or the casseroles. Pick one and go with it. AND don't forget to let me know which one you are going to try?
Freezer Meal Ideas:
Beef mixture:
5 pounds of beef
2 onions chopped
2 zucchinis shredded (optional)
5 quart size freezer baggies
Taco Rice Casserole:
2 pounds of ground turkey (you could use beef)
1 taco seasoning
2 cans Rotel
2 cans of black beans
4 cups of cooked rice
2 9×13 disposable pans
Mashed potatoes:
as many potatoes as you want to make, plus milk, butter, salt and pepper
square disposable pans
Twice Baked potatoes:
As many potatoes as you want to make (plus milk, butter, cheese, salt and pepper)
square disposable pans
Pizza Pasta Casseroles:
1 pound spaghetti
2 pounds of ground turkey (or beef)
2 cans of diced tomatoes (or crushed)
Italian seasoning and garlic salt
2 eggs
mozzarella cheese
pepperoni
Crockpot teriyaki Chicken Dinner:
6 chicken breasts
(2) ¼ cup teriyaki sauce
2 cans of pinapple
garlic powder
1 onion
carrots -chopped
2 gallon size freezer bags
Was it all worth it?
Yes!! I have already enjoyed 2 meals so far. I am too tired to cook after I have been packing. Instead of cooking, I am now playing with the kids while the meal is cooking in the oven. 😉
Will I do it again?
Yes, as soon as I get settled in, I will definitely be doing another freezer cooking session. It may be not as big, but this one has made me think outside the box.
Stay tuned… Next I'll give you a few more tips to help you when you freeze and thaw your food. 😉
More Freezer Meal Ideas: