Start a tradition and make Easter Brunch with some of these 35 recipes. They are easy to make and friends and family will love how delicious they are.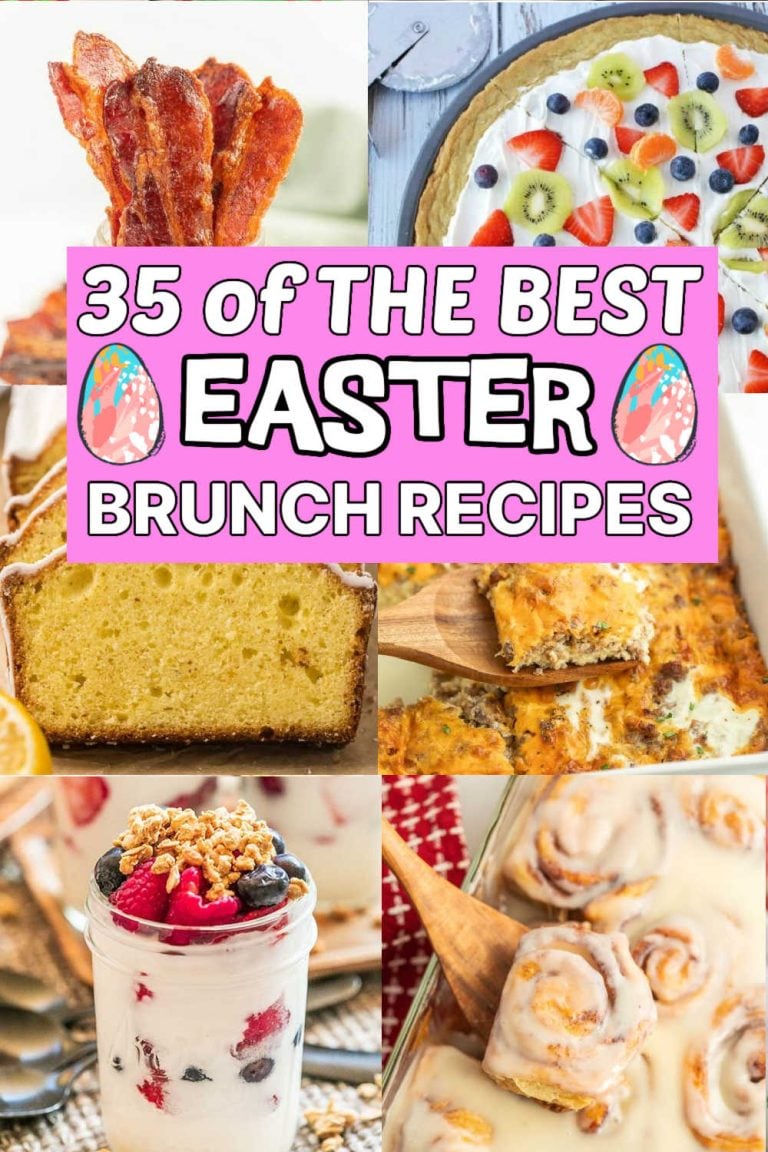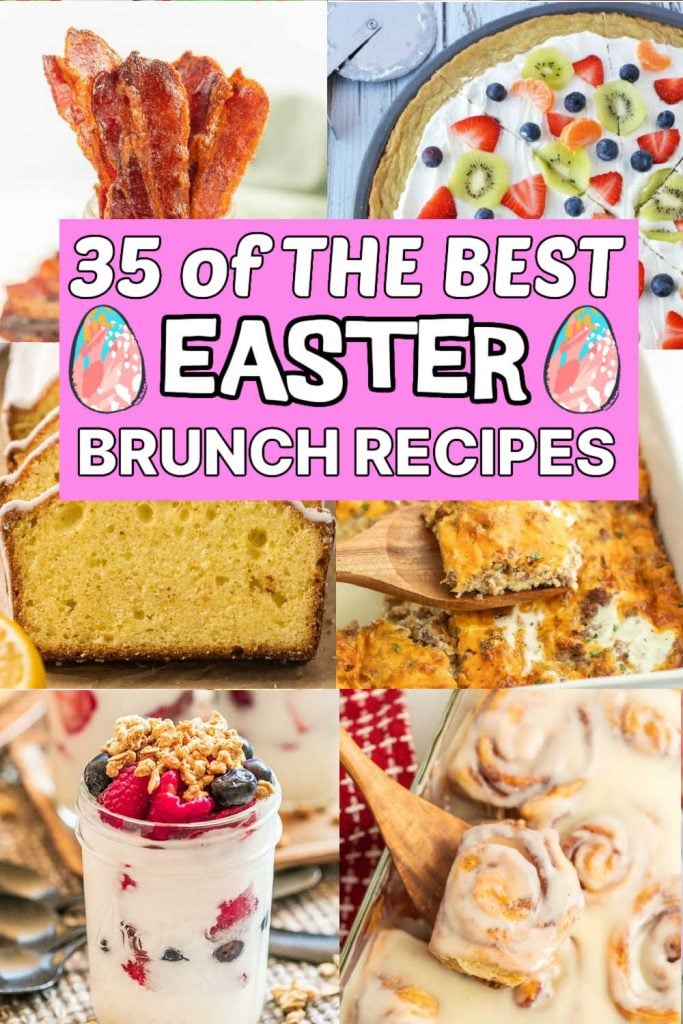 Best Easter Brunch Menu Ideas:
These 35 recipes for Easter brunch spread are delicious and easy to make. We love that these recipes are made with simple ingredients.
Spend your time at Easter egg hunts this year with these easy Easter Brunch recipes. From pancakes, breakfast casseroles, to homemade bread we have you covered.
Easy Easter Brunch Recipes:
Easter Sunday Brunch is the perfect time to gather with friends and family and make one of these delicious brunch recipes.
These Easter brunch ideas will help you display lots of different recipes that are budget friendly and are delicious too.
Table of Contents
1. TikTok Cinnamon Rolls:
This Tik Tok Cinnamon Rolls Recipe is a popular recipe on social media. It takes your canned cinnamon rolls and makes them extra gooey. Your cinnamon rolls get an upgrade with these simple ingredients.
2. French Toast Casserole:
Invite some friends over for brunch and make this overnight french toast. It pairs perfectly with many sides and your friends will think you spent so much time in the kitchen.
3. Homemade Blueberry Muffin Recipe:
You are going to love how simple it is to make blueberry muffins even during the week. It is so easy to throw together for a fun breakfast idea. You are going to love this blueberry muffin recipe.
4. Blueberry Pancakes:
It seems that pancakes are always a hit when it comes to recipes. Our family loves these for breakfast, brunch and even dinner. This blueberry pancakes recipe only requires a few ingredients and they turn out so light and fluffy.
5. Paula Deen Breakfast Casserole:
Once the sausage is cooked perfectly in the skillet it is then layered in a baking dish. The eggs are then seasoned and poured over the sausage and cheese.
6. Mini Donut Muffins Recipe:
My favorite part is the Cinnamon and Sugar Topping. There is nothing better than sugar, cinnamon and butter mixed together. We make sure that we have made enough as my kids like to keep dipping their donut each time they take a bite.
7. How to Make Homemade Biscuits:
Our kids love to have some biscuits. Biscuits are so easy to make so there really is so reason not to make them at home.
8. Crock Pot Breakfast Casserole:
We all love this easy breakfast casserole and the slow cooker makes it so easy! You can enjoy this for special family gatherings, holidays or any day of the week thanks to the crock pot.
9. Cinnabon Cinnamon Rolls:
We love making cinnamon rolls from the can and from scratch. These Cinnabon Cinnamon Rolls are ooey gooey and are a family favorite. I love copycat recipes and this recipe is better than the Cinnabon ones at the restaurant.
10. Chick-Fil-A Hash Brown Scramble Bowl:
We love getting the Chick-Fil-A Hash brown scramble bowl anytime we head to this favorite fast food restaurant. It is loaded with our favorite ingredients and now we can make it at home.
11. Bacon Egg and Cheese Breakfast Casserole:
This delicious casserole is one of those easy breakfasts that you can just throw it all together without having to do a lot of thinking first thing in the morning.
12. Fruit and Yogurt Parfait:
Fruit and Yogurt Parfait is loaded with flavor and healthy ingredients.
13. Lazy Day Homemade Donuts:
This homemade donut recipe is the absolute best recipe. You will not believe that donuts can be this amazing from a can of biscuits. They are that good.
14. Easy Quiche Recipe:
You only need a few ingredients to make this tasty quiche and it is perfect for busy weeknights. Serve it for dinner with a simple side salad and fresh fruit.
15. Easy Cinnamon Swirl Bread Recipe:
There is nothing better than Homemade Bread straight from the oven. The smell of the cinnamon and sugar filling our home just makes me happy. It reminds me of french toast.
16. Easy Breakfast Egg Muffins Recipe:
This Breakfast Egg Muffins Recipe is loaded with flavor and easy ingredients.
17. Nutella French Toast:
This recipe takes French Toast up a level. It is stuffed with Nutella for the absolute best idea for breakfast.
18. Chick-Fil-A Breakfast Burrito:
We love Chick-Fil-a's Breakfast Burrito Recipe. We love that chicken nuggets and tator are added to their breakfast burrito. This hash brown scramble burrito is loaded with flavor and easy to make. It is one of our favorite breakfast items.
19. Cinnamon Roll Waffles:
Waffles made out of canned refrigerated cinnamon rolls. The entire family absolutely loved them and asked for more! It's just so fun making these in the waffle maker.
20. French Toast Sticks:
One thing I love about this recipe is that you can make huge batches of these french toast sticks and then freeze them. These are perfect served with maple syrup.
21. Starbucks Egg Bites:
If you are like me, you probably enjoy a latte at Starbucks and their egg bites when you are in a rush. I am sure you find that these eggs bites are so delicious and easy to eat while you are driving to work.
22. Homemade Iced Coffee Recipe:
Homemade Iced coffee is the best. I love to make this and take on the go.
23. Easy Banana Bread:
This recipe has the perfect amount of banana flavor. It's great for snacks, breakfast and more. Everyone will love this easy recipe!
24. Starbucks Vanilla Bean Frappuccino Recipe:
A Frappuccino is a cold blended coffee drink that is made with either coffee or a crème base (like ice cream). So you can make a coffee Frappuccino or a crème Frappuccino.
25. Easy Coffee Cake:
Coffee cake is amazing and we look for any excuse to make it. It's the perfect idea for breakfast or an afternoon snack.
26. Starbucks Lemon Loaf:
My favorite thing to order at Starbucks is their famous lemon loaf. The glaze is the absolute best with the moist lemon bread. Pair it with a delicious cup of coffee and the day is even better.
27. Sugar Cookie Fruit Pizza Recipe:
Sugar Cookie Fruit is loaded with fruit and delicious cream cheese topping. The cream cheese icing is out of this world! The fruit on top is so delicious and I love that you can use what is in season.
28. Starbucks Chai Tea Latte:
There is nothing better than a hot latte on a cold day. I love to enjoy Chai Tea at Starbucks so I decided to make this aromatic tea at home. It is simple to make and now I can enjoy it without leaving home.
29. Easter Veggie Tray:
This Easter Vegetable Tray is the perfect addition to your Easter celebration. This adorable Bunny Veggie tray is festive, cute and easy to make. The perfect side dish.
30. Homemade Lemon Blueberry Muffins:
The entire recipe is so simple and everyone will think you have been to the bakery. They are seriously that good. It is definitely a favorite reicpe around here.
31. Cream Cheese Banana Bread:
Banana bread is such a classic treat. We all love it and this new recipe with cream cheese is absolutely divine. I love anything with cream cheese and this is no exception.
32. Crock Pot Cinnamon Roll Casserole:
I tried a crock pot cinnamon roll french toast casserole at a friend's house the other day. It was delicious so I started thinking about how to make creating it even easier and that's how this easy crock pot cinnamon roll casserole was born.
33. Easy Candied Bacon Recipe:
You are going to love this candied bacon recipe with brown sugar. It is seriously so delicious. You get perfectly caramelized bacon in each bite.
34. How to Make a Easter Bunny Cake:
Make a fun and festive Easter Bunny Cake for your holiday brunch.
35. Adorable Peeps Cupcakes:
These store bought Peeps Easter cupcakes are perfect for any Easter party and any celebration.
More Easter Ideas: