Super Bowl Party Food
It's time to get ready for Super Bowl and for me that means getting the superbowl food in order! From starters to main dishes to snacks and desserts, we have 75 Super Bowl Recipes everyone will love. Clearly, it's all about the food 🙂 .  Whether you are throwing a party for a crowd or just a few people, these recipes are sure to be a hit.
Look no further to find everything you will need to throw the best party.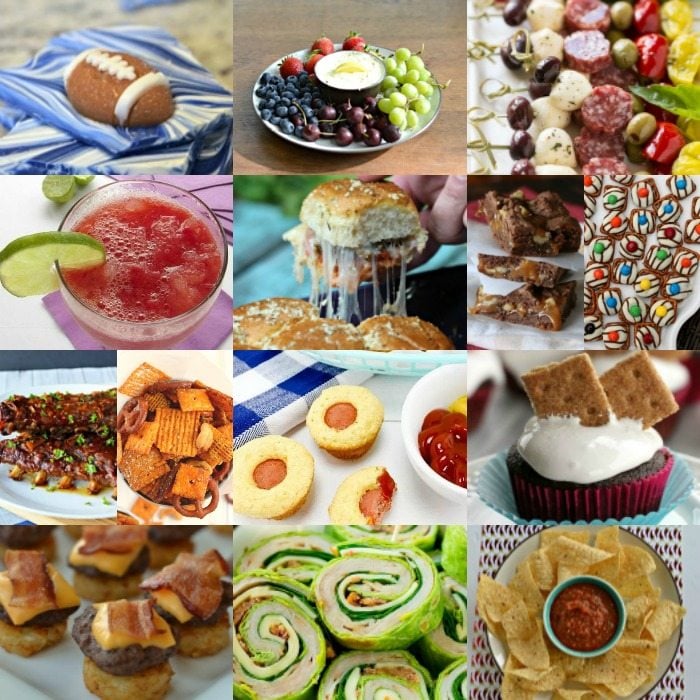 Superbowl Food 
Make things even easier by using your slow cooker for many of these recipe ideas.  (If you need a new one, there are several on sale here.) They even have a double dipper so that you can put one dip on each side. So handy!
Super Bowl Snacks or Super Bowl Appetizers
Every good party needs finger foods. These snacks are the perfect starters and will keep everyone coming back for more during the game.
Creamy dip full of cheese, chicken and hot sauce. Perfect appetizer for game day.
These layers of antipasto skewers are hearty and easy to eat on skewers.
Spice up peanuts with this sweet and spicy buffalo sauce. These are great for munching on.
Cheese and tons of flavor are packed into these bite size mushrooms. So good!
Cream Cheese Jalapeno Poppers with Bacon 
Bacon topped jalapeno poppers are amazing with this cream cheese filling.
Tater tots topped with layers of cheese and ground beef make a tasty appetizer.
Take the work out of subs and layer it all in a salad dip. Serve with crusty bread or crackers.
Bacon and Ranch make everything amazing. This dip combination will keep guests coming back for more.
An assortment of beans, veggies and more make this caviar a dip that will be gone in minutes.
Spinach and Feta Cheese Stuffed Mushrooms 
Spinach and Feta come together in these mushrooms to make a blend so incredible that no one can eat just one.
Best Crock Pot White Cheese Dip 
This authentic cheese dip is so easy you will wonder why you ever bought store bought. It's so tasty.
Make guacamole and grab some tortilla chips for the perfect snack.
Everyone loves a good cheese ball and this one is packed with lots of flavor. The seasoning make it delicious.
Make this simple pimento cheese and serve it as a dip for crackers.
Corn Dip is a classic appetizer that is sure to please a crowd. The cheese, corn and jalapenos bake together for a delicious dip full of melting cheese and more.
Mini bloomin' onions are the perfect size for parties. Plus, no worries about them getting soggy b/c they stay extra crispy.
Easy Seafood Stuffed Mushrooms 
Seafood lovers will love these mushrooms packed with crab meat and more.
Artichoke and ham make the perfect rolls up and they are low carb!
Make a hearty salsa with lots of corn, bean and tomato! Perfect for eating with corn chips or tortilla chips.
You won't find any velveeta here. This amazing cheese dip is made with american cheese. So simple and delicious.
This dip is like eating a bacon cheeseburger loaded with extra cheese. So good.
Bean dip is so simple to make and better than store bought. This is a crowd please for sure.
Make your own snack mix loaded with tons of parmesan and ranch flavor.
These mini taco bowls are full of yummy taco meat and topped with all your favorite toppings.
Whip up a batch of homemade salsa that tastes just like a Mexican restaurant. Its tangy and delicious.
Everyone will want to eat the fruit tray when it comes with this amazing dip. It's packed with creamy goodness guaranteed to make everyone want to have some healthy fruit.
If you need a quick and easy appetizer, this is the one. This Cheese Stuffed Jalapeño Peppers Recipe will be your new favorite Stuffed Jalapeño Peppers Recipe. It is easy to make and everyone loves them!
Make pretzels from scratch in much less time than you think. They taste amazing and much better than store bought.
Pepper Jack Cream Cheese Wontons 
These wontons are packed with cream cheese and pepper jack cheese. The pepper jack adds just a little kick that makes these extra good.
Super Bowl Party Food Menu
If you are looking for main dishes, tacos, chili and more, search no further. We have everything from chicken tenders to hearty chili sure to feed a hungry crowd.
These homemade chicken fingers are crunchy and packed with flavor. Serve with an assortment of dipping sauces and you are set.
Pizza sliders are a fun twist on traditional sliders. Loaded with all your favorite pizza toppings for a fun way to eat pizza!
Serve up a big pot of chili for all your friends. This one is only 6 ingredients and so simple.
Perfect for eating with one hand and watching the game. These corn dog bites are hearty, budget friendly and easy to make.
Spice up traditional chili by making Taco Chili. This is even better topped with sour cream, cheese, onion and corn chips.
Roll ham and swiss in crescents to make a yummy meal. You can easily switch up the meat and cheese options to please everyone.
Crock Pot Jalapeno Poppers Chicken Soup Recipe 
All the delicious flavors of jalapeño poppers come together in a delicious soup to warm you up on cold days. This is full of chicken and hearty ingredients perfect to feed a hungry crowd.
Make a nacho bar and let guests make their own nachos. Fun and simple.
Ranch Bacon Mac and Cheese Cups 
Put all your favorites like ranch, bacon and Mac and Cheese together to make individual cups packed with flavor.
Let your slow cooker do all the work. Make chicken tacos in the crockpot with only 3 ingredients.
Little Smokies Crock Pot Recipe 
Nothing says a party like a crock pot full of little smokie sausages. The goodness is in the sauce. Yum!
Make wings with this amazing honey barbecue sriracha sauce but be prepared to make a double batch. They are that good.
Put all your favorite taco toppings in a big bowl to make this hearty salad. Top with more doritos for extra crunch.
These chicken wings are packed with lots of parmesan flavor. The garlic makes them even better.
Take Little Smokies to the next level by wrapping them in bacon.Bacon fans will love this.
This White Chicken Taco Chili recipe is full of chicken, white beans and tons of flavor. It will go perfectly with some quesadillas or tortilla chips.
Use meatballs to make sliders. This can easily be changed with different sauces to please everyone.
Make a batch of Asian style wings that are sweet and spicy. So good!
Ultimate Slow Cooker Cocktail Sausages 
The secret ingredient in in the sauce for these cocktail sausages. It makes all the difference.
Sneak in some healthy avocado in these roll ups and no one will be the wiser. The turkey and other ingredients layer to make a tasty meal.
Hawaiian Ham and Cheese Sliders 
This is frugal to make and easy to feed a crowd. Everyone will love the ham and cheese melted on these delicious rolls.
Crock Pot Sweet And Sour Meatballs 
Sweet and Sour sauce make these meatballs hard to put down. You can't eat just one!
Layers of tater tots, bacon, cheese and more make these bite size hamburgers tasty and delicious.
Pack all your favorite toppings for tacos in a Dorito or Corn Chip bag. These Walking Tacos are perfect for game day and keeping the meals simple and mess free.
Ribs do not have to be complicated when you use the slow cooker. Plus, they literally fall off the bone they are so tender and amazing.
Easy Slow Cooker Lasagna Soup Recipe 
Make a hearty pot of lasagna soup that is so tasty you might like it better than the traditional version. Serve with slices of crusty bread to dip in the soup.
Super Bowl Drinks for Kids
Every party needs a fun drink to serve. These are all kid friendly and sure to please everyone. From lemonade to punch, these ideas are quick and easy but oh so good.
Sherbet punch goes to a new level with this cherry limeade. Kids and adults alike will enjoy this.
Quick and Easy Sherbet Punch Recipe
Only 2 ingredients needed for this punch. It doesn't get any easier then this and it's so delicious.
Chick-Fil-A fans can make their famous lemonade at home. Whip up a pitcher of this and everyone will think you catered it in.
Kid Friendly Cotton Candy Drink Recipe
Kids will enjoy this drink made with cotton candy. It's really pretty too and perfect for any party.
Quick and Easy Strawberry Slushie Recipe
Make your own Slushie at home that all the kids will love. Easily make different flavors to please everyone! It's really budget friendly too.
Super Bowl Desserts
Sweets are a must at any party. Super Bowl is no exception. From cookies to brownies and decadent dips, there is something for everyone.
Chocolate bark is so good and it's extra special in the shape of footballs.
Bacon fans will go nuts over this recipe.  Candied bacon is sweet and glazed to perfection.
This "salad" is full of apples, snickers, caramel and more. Definitely my kind of salad 🙂 .
Mini No Bake Chocolate Chip Cookie Cheesecake Recipe 
No need to heat the oven up for this no bake dish. Layers of chocolate chip cookies and cheesecake in individual cups make this perfect for parties.
Brownies turned into footballs are perfect for a super bowl party. So easy and cheap too!
Layer apple slices to make nachos. Top with all your favorite toppings like chocolate chips, caramel, peanut butter and more.
Banana Pudding becomes a dip in this tasty recipe. Serve with vanilla wafers to make this dip taste just like the real thing.
Pretzes and hershey kisses come together for the perfect bite size dessert. These melt together and bake into an amazing dessert.
Cupcakes decorated with icing turned into goal posts make the cutest dessert for a football party. So tasty and cute.
If you love cookie dough give this, dip a try. It's packed with chocolate chips and lots of cookie dough flavor.
Double Chocolate Chip Brownies 
Brownies are even better when they have double the chocolate in them. Splurge and make these decadent over the top brownies.
Gooey Chocolate Caramel Bars Recipe 
Gooey bars have layers of chocolate, caramel and more to make each bite out of this world!
Everyone loves s'mores so why not make a cupcake version! These melt in your mouth s'mores cupcakes have lots of warm and gooey s'more flavor but packed into a delicious cupcake!
This cookie dip is even better with m&m's! The dip has a secret ingredient that is healthy and I bet no one will notice.
Crock Pot Chocolate Chip Cookie 
Let your slow cooker do all the work so you can enjoy your guests. This decadent chocolate chip cookie is so easy and we love to serve it with ice cream. Yum!
All of these 75 Super Bowl Recipes sound amazing!
Choosing which ones to use for your Super Bowl Party Food will be hard. They all sounds so delicious. Make your list, gather the ingredients and have the best party ever. Football is ok but really it's the food 🙂 Wow your guests with these amazing dishes sure to please a crowd.
I love that they are simple to make and budget friendly. My kind of recipes! 🙂
You can also whip up these fun football pops together in just minutes. Football Cookie Pops are so tasty.
Try these other easy party recipes: