We love using our crockpot especially during the colder weather. Fall Crockpot Recipes are comforting to warm up to during the winter months.
The Best Fall Crock Pot Recipes:
We have gathered 45 of the most comforting Fall Slow Cooker Recipes. We have slow cooker soups, chili, and stews. These fall recipes are easy dinners to make and taste amazing. They are the perfect recipes to warm you up when you are cold.
We love everything when it comes to fall season. The comforting food, the cooler weather and the leaves changing colors. But it is also a busy time because of school and my kids activities.
If you are needing a new crock pot, check out our recommendations for the Best Slow Cookers.
Cooking a good meal in the crock pot helps get me through this busy season. Most of these recipe everything cooks in the crock pot and all you have to do is a few easy sides or french bread.
Easy Crockpot Recipes for Fall:
Cooking in our crockpot helps with those busy weeknights. We use it year round, but my favorite recipes to make is a large crock pot full of soup or chili. Especially when the temperature drops, it is what we make the most during the cooler season.
These 45 Crockpot Fall Recipes are my favorite recipes. They are even kid approved. These recipes will help you with a weeknight meal or if you are feeding a crowd. You can also make fall instant pot recipes such as butternut squash soup or try one of our White Bean Recipes.
Fall Crockpot Recipes: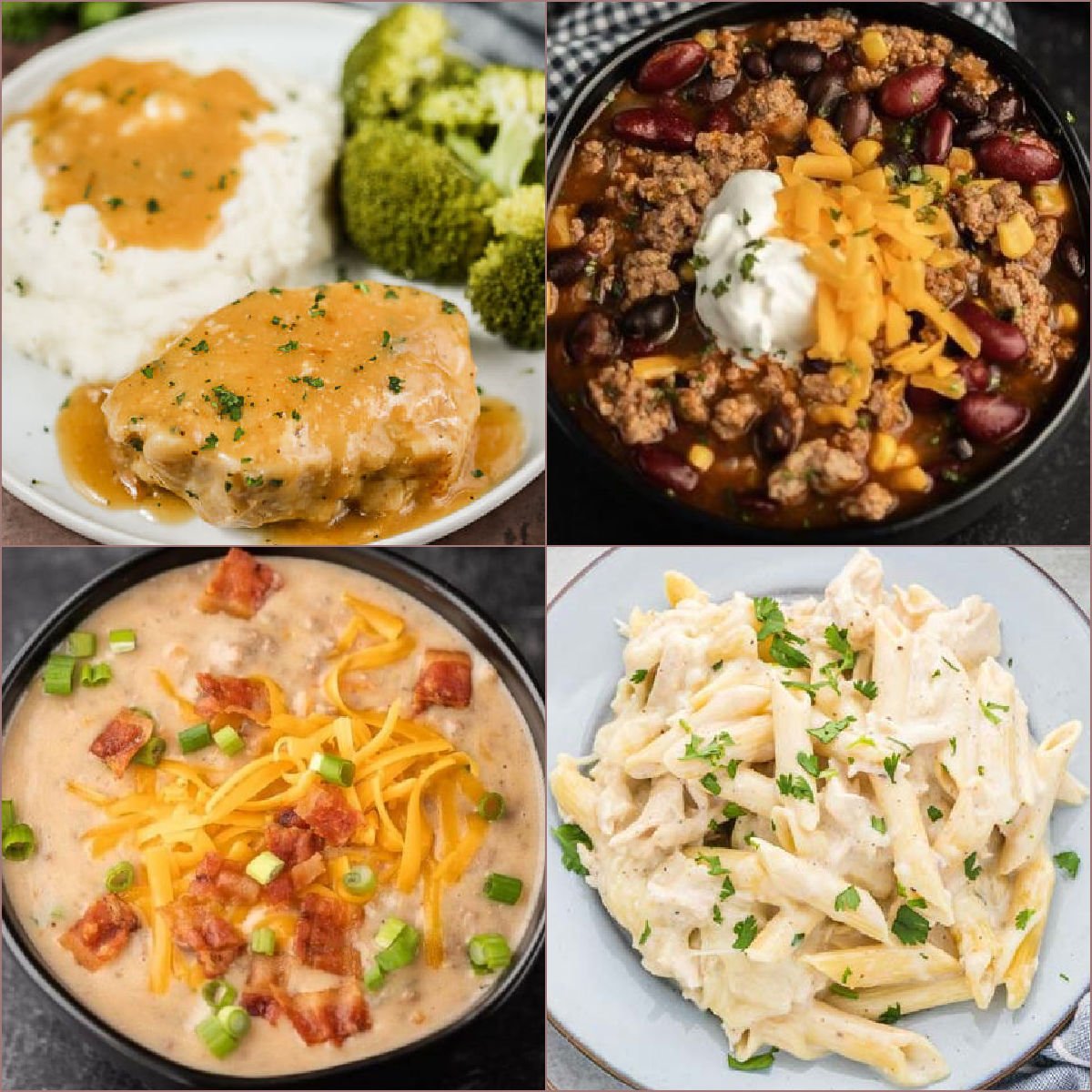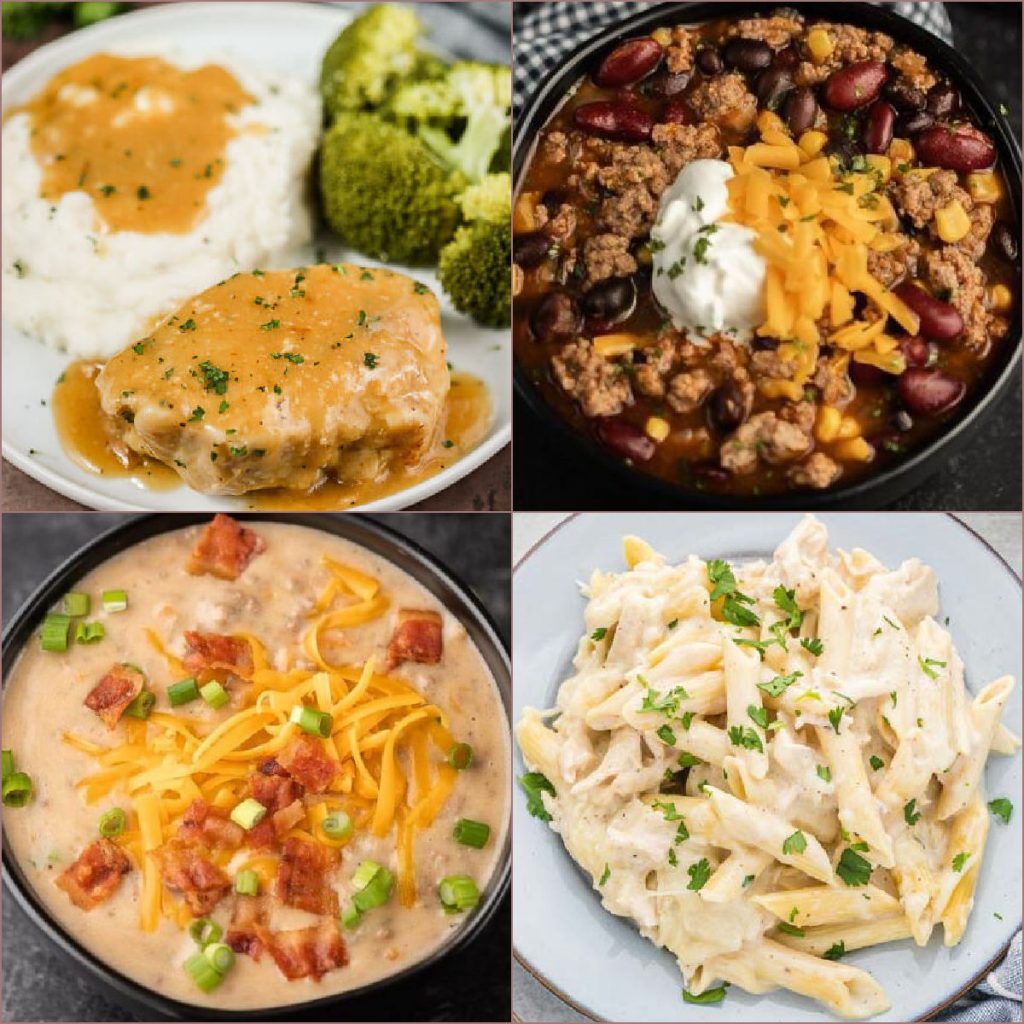 1. Slow Cooker Chicken Noodle Soup:
I love comfort food. This soup is filled with so much warmth that it is perfect for a fall day or if you are fighting a cold. You can use chicken thighs or chicken breast.
2. Crock Pot Chicken and Dumplings:
It is the best Crock Pot Chicken and Dumplings with biscuits recipe you will find and so very simple to make.
3. East Crock Pot Potato Soup:
We absolutely love potato soup around here and I was so happy to be able to use my crockpot. It is so nice coming home to dinner waiting.
4. Crock Pot Macaroni and Cheese Recipe:
We are huge fans of macaroni and cheese and finally have perfected the best recipe. It has the perfect blend of cheese and tastes amazing.
5. Crockpot White Chicken Chili Recipe:
Crockpot White chicken chili is by far one of my family's favorite soup recipes. Even my kids LOVE this crockpot white chicken chili recipe because the beans practically disappear with the chicken.
6. Crock Pot Hamburger Helper Recipe:
This delicious recipe has everything you love but without all the processed ingredients in the box kits. Plus, everything gets tossed into the slow cooker for a meal that can't get any simpler.
7. Gluten Free Crock Pot Lasagna Soup:
This recipe is loaded with all the meat, veggies and italian spices that we all love in a traditional Lasagna Soup. But we have added in Gluten Free noodles and I am almost sure that your family will not even notice.
8. Crock Pot Mexican Beef Stew:
The recipe calls for diced tomatoes with green chilies and lots of delicious spices. It really gives the entire dish the best flavor.
9. Crock Pot Cheesy Potato Casserole:
My family loved this recipe and I hope you do too. This recipe is perfect to make your the summer holidays and barbecue. You can enjoy a delicious cheesy potato casserole without heating up your kitchen!
10. Crock Pot Tator Tot Casserole:
Our entire family goes crazy over Cheesy Tator Tot Casserole. It's loaded with hearty meat and lots of cheese.
11. Crockpot Ravioli and Sausage:
The crock pot makes this meal so incredibly simple and your house will smell amazing as this cooks. The Italian sausage adds a ton of flavor to the cheese ravioli and makes a really hearty dish everyone will love.
12. Crock Pot Cranberry Sauce:
This Homemade Cranberry Sauce is made with fresh cranberries. The entire recipe cooks in the slow cooker and is so simple.
13. Crock Pot Creamed Corn:
Sweet Corn is a favorite side dish around here. Creamed corn is always a huge hit and my family gobbles it up. It is just so creamy and tastes amazing.
14. Crock Pot Sweet Potatoes:
We do this all the time and the sweet potatoes turn out so delicious. My favorite is to cook a crock pot full of potatoes on Sunday and I can enjoy them for a quick lunch during the week.
15. Crock Pot Chili Mac and Cheese Recipe:
We are always looking for new and delicious ways to use our crock pot. This recipe does not disappoint and is loaded with tons of cheese, flavorful ground beef and so much more.
16. Slow Cooker Scalloped Potatoes:
Scalloped potatoes are one of my favorite side dishes and this Slow Cooker Scalloped Potatoes Recipe does not disappoint. It is the best comfort food and so creamy and flavorful.
17. Crock Pot Crack Potato Soup:
Potato soup is the best comfort food for Fall and Winter! This new recipe for crack potato soup is amazing.
18. Crock Pot Apple Pie Dump Cake:
This recipe is so delicious and will remind you of the apple cobblers your Grandma used to make but without all the work. It is so sweet and amazing for the best dessert any day of the week.
19. Crock Pot Chicken Corn Chowder:
Corn chowder is so delicious and this recipe is packed with lots of tender chicken for a great meal. I love that the slow cooker does all of the work for this fabulous meal.
20. Easy Crock Pot Green Bean Casserole Recipe:
Making the traditional green bean casserole recipe in the crock pot casserole dish is awesome for Thanksgiving or Christmas.
21. Crock Pot Sweet Potato Casserole:
Sweet potatoes are simply amazing. They are sweet and delicious. I think they taste even better slow cooked.
22. Crockpot Broccoli Cheddar Soup:
Broccoli and cheese soup is one of my favorite types of soup. I love all the cheese combined with broccoli in a delicious broth.
23. Easy Crock Pot Pumpkin Cinnamon Roll Casserole Recipe:
This pumpkin cinnamon roll bake does not disappoint. Every single bite tastes like the inside of a cinnamon roll but with pumpkin.
24. Crock Pot Salisbury Steak:
This recipe is comfort food in every single bite. The onion and mushrooms simmer together with butter, Worcestershire and more to make the perfect gravy for the Salisbury steak.
25. Crock Pot Chicken Wild Rice Soup Recipe:
This tasty recipe is so easy and one of our favorite meals to enjoy during a busy week. It is so very simple and we all enjoy this soup.
26. Crockpot Stuffing:
Stuffing taste amazing made in the crock pot.
27. The Best Crock Pot Roast Recipe:
This is our favorite roast recipe and made in the slow cooker.
28. Quick and Easy Crock Pot Beef Stew Recipe:
Making a beef stew in the crock pot is simple and easy to do and the flavor is even better.
29. Crock Pot Pumpkin Butter Recipe:
This recipe is super easy to make too. You just toss all the ingredients in the crock pot and let the crock pot do its thing.
30. Crock Pot Cube Steak and Gravy:
This cube steak is delicious after being slow cooked all day and that gravy is just the best. Perfect served with mashed potatoes or egg noodles.
31. Crockpot Chicken and Gravy Recipe:
The flavorful gravy tastes delicious with the chicken and makes a meal your family will love.
32. Crock Pot Pork Chops and Gravy:
Each bite is really tender from being slow cooked and the flavor is the best. Once you make pork chops like this, you will see why our family loves it so much.
33. Crock Pot Minestrone Soup Recipe:
Minestrone Soup is one of our favorite types of soup and it is so easy to make.
34. Crockpot Applesauce:
Crockpot homemade applesauce captures everything you love about apples, where the store bought sauces tend to be watered down and bland.
35. Crock Pot Chicken Alfredo Casserole Recipe:
Easy Crockpot Chicken Alfredo Casserole is one of our favorite crock pot meals to make. It is easy to make with simple ingredients.
36. Crockpot Hot Chocolate:
Hot chocolate is the perfect drink once the weather turns cool. I love making it in the crock pot for parties because it is just so easy. Apple Cider is another fall favorite.
37. Crock Pot Olive Garden Chicken Gnocchi:
Chicken Gnocci soup is the best comfort food and our favorite is this Crock Pot Olive Garden Chicken Gnocchi recipe.
38. Crock Pot Crack Chicken Casserole Recipe:
The ranch flavor combined with the bacon and cream cheese make this casserole anything but boring.
39. Crock Pot Hamburger Hashbrown Casserole Recipe:
The hamburger mixture is so creamy and delicious and one of our favorite comfort food dishes. All of the cheese is melted to perfection to make this simply wonderful.
40. Crock Pot Apple Crisp:
We love making this apple crisp dessert so we don't have to heat up our oven.
41. Crock Pot Italian Sausage Tortellini Soup Recipe:
We love soup and this Crock Pot Italian Sausage Tortellini recipe is so filling and delicious that everyone will really enjoy it.
42. Crock Pot White Hot Chocolate:
White Hot Chocolate is the perfect drink to warm up to.
43. Crock Pot Cheeseburger Soup Recipe:
My family loves soup especially in the Fall and Winter when it's chilly outside and I love making them in the crock pot because they're easy to make!
44. Crockpot Original Taco Soup Recipe:
You only need a few simple ingredients to make this delicious soup. This is the perfect recipe to set it and forget it.
45. Crock Pot Chicken Tortellini Soup Recipe:
Soup is a favorite around here and it is just so simple to make. We love coming up with new recipes to try and this Crock Pot Chicken Tortellini Soup Recipe does not disappoint.
More Crockpot Recipes: