Pair your meals this Thanksgiving with 51 easy Thanksgiving side dishes. We have so many side dish ideas for Thanksgiving that your whole family will surely enjoy!
Easy Thanksgiving Sides to Make This Year
Thanksgiving dinner won't be complete without delicious side dishes. In this post, you'll discover various tasty Thanksgiving side dishes that are easy to make for guests.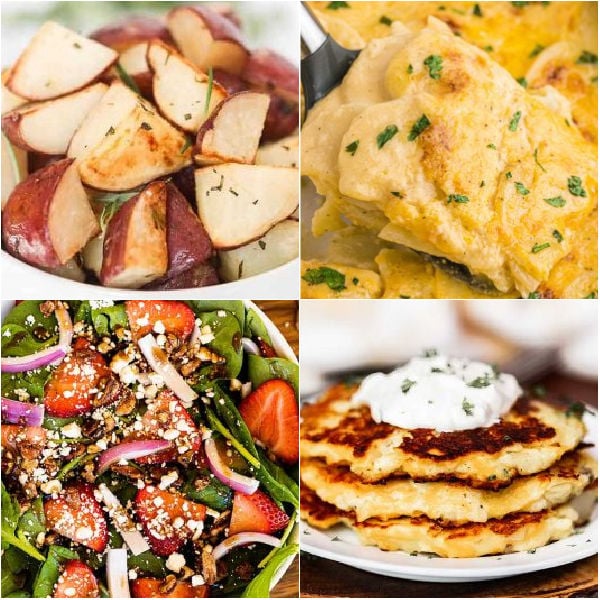 What is the most popular Thanksgiving food other than turkey?
From casseroles to salads, you can choose from countless side dish ideas to serve friends and family. Green bean casserole, sweet potatoes, cranberry sauce and more always make popular side options.
If you love using your Instant pot, also see Instant Pot Thanksgiving Sides.
Easy Thanksgiving Casseroles
If you want delicious casseroles for Thanksgiving, try out these easy recipes on the Thanksgiving menu.
1. Cracker Barrel Sweet Potato Casserole
The sweet and creamy mashed sweet potatoes are perfectly cooked and layered in a baking dish. It's also topped with praline topping.
2. Sausage Stuffing with Sage
This recipe combines ground sausage, bread, vegetables, and seasoning.
3. Cracker Barrel Potato Casserole with Cheddar Cheese
It's made with cheese, hash browns, and other easy ingredients. Your family will totally love this cheesy potato dish.
4. Green Bean Casserole
From the creamy green beans to the crispy fried onion topping, green bean casserole should never be missing from the menu.
5. Crock Pot Corn Pudding Casserole
This dish has an amazing sweet corn flavor that everyone will love.
6. Cornbread Sausage Stuffing
It's rich and savory and made with simple ingredients for a classic Thanksgiving stuffing.
7. Jalapeño Corn Casserole
The sweet corn combined with the hot Jalapeño peppers is what makes this easy recipe so delicious.
8. Crock Pot Cheesy Broccoli Casserole
This healthy casserole dish is loaded with broccoli, cheese, and easy seasoning.
9. Skillet Green Bean Casserole
Cooking green bean casserole on a skillet is so easy and the result tastes amazing.
10. Broccoli and Rice Casserole
Wild rice and broccoli make such an amazing combination. It's so creamy, cheesy, and flavorful.
11. Keto Loaded Cauliflower
This recipe is packed with bacon, cheese, and more. It's so tasty.
Easy Potato and Sweet Potato Side Dishes
If you're preparing for Thanksgiving, you should never forget about potato and sweet potato side dishes. Try these delicious potato recipes that your family will love.
12. Crock Pot Sweet Potato Soup
It's so creamy, rich, thick, and full of flavor. You can taste all the flavors of fall in this easy recipe.
13. Pan Fried Potatoes
Each potato is crispy on the outside, but fluffy in the center. It's the perfect comfort food.
14. Air Fryer Baked Potatoes
This makes the cooking process so much quicker while still tasting delicious. It results in light and fluffy baked potatoes.
15. Mashed Potato Cakes
Turn your creamy mashed potatoes into delicious cakes fried until golden brown, with this recipe.
16. Rosemary Roasted Potatoes
The rosemary added to roasted potatoes is just so good and delicious that you won't be able to resist them.
17. Grilled Sweet Potatoes
Grilled sweet potatoes are great for Thanksgiving because they have a savory and sweet taste. We love to drizzle with olive oil and maple syrup.
18. Potatoes Au Gratin
It's made with thinly sliced potatoes that are mixed in a creamy sauce topped with cheese.
19. Cauliflower Mashed Potatoes
This recipe has a smooth and creamy texture and tastes almost just like regular mashed potatoes.
20. Microwave Baked Potatoes
It only takes a few minutes to make, but you will still be able to create amazing results.
21. Oven Baked Sweet Potato Fries
Oven baked sweet potato fries are so much healthier than regular fries. These roasted sweet potatoes are healthier so you won't have to deal with all the greasy oil.
22. Garlic Mashed Potatoes
Each bite from this delicious side dish is full of fluffy and creamy goodness.
23. Traditional Potato Salad
This recipe has the perfect blend of mayonnaise, sweet pickles, spices, and more.
Easy Thanksgiving Salad Recipes
24. Mediterranean Pasta Salad
Make this pasta salad recipe that's mixed with a vinaigrette dressing consisting of lemon zest and more.
25. Spinach Strawberry Salad
This recipe combines crispy spinach, sweet strawberries, feta, and more.
26. Copycat Panera Strawberry Poppyseed Salad
It's made with fresh fruit, flavorful chicken, and tangy poppyseed dressing that just makes this an amazing side dish.
27. Tropical Fruit Salad
It's an amazing fruit salad that's made with various tropical fruits covered with an amazing honey lime glaze.
28. Chick-fil-a Spicy Southwest Salad
This copycat version of the salad tastes just like the real thing.
29. Ramen Noodle Salad
It's crispy and the dressing really brings this recipe together.
30. Classic Italian Pasta Salad
This recipe uses ingredients that make it feel like an authentic Italian pasta dish.
31. Roasted Tomato and Mozzarella Salad
The tomatoes are roasted to perfection and pair well with the mozzarella cheese and balsamic vinegar.
32. Creamy Greek Salad
It's made with tomatoes, cucumbers, peppers, and more blended with lots of olives and feta cheese.
Easy Vegetable Side Dishes
Here are some of the best and vegetable side dishes you can try at home.
33. Panfried Zucchini
Just slice the zucchini, season them with salt and pepper, fry them, and then you're done.
34. Creamy Vegetable Soup
The vegetables provide an amazing texture to the delicious creamy soup.
35. Vegetable Kabobs
The recipe uses various vegetables like cucumbers, cherry tomatoes, yellow squash, and more covered with a delicious marinade.
36. Instant Pot Chicken Vegetable Soup
When looking for a quick and easy side dish for Thanksgiving, instant pot soup will do the job.
37. Crock Pot Vegetable and Beef Chili
It's an amazing Thanksgiving side dish that's loaded with veggies, beef, and just the right amount of heat.
38. Roasted Zucchini and Squash
The vegetables are seasoned perfectly and have a tender texture on the inside.
39. Chipotle Cilantro Lime Rice
The combination of cilantro and lime adds so much flavor to white rice.
40. Parmesan Roasted Zucchini
The cheesy flavor of the parmesan matches so well with the roasted flavor of the zucchini.
41. Instant Pot Glazed Carrots
The brown sugar adds just the right amount of sweetness to the soft carrots.
42. Bacon Brussels Sprouts
Being cooked in the skillet makes the veggies crispy and full of flavor and adding bacon makes it savory. It's an easy 4 ingredient vegetable dish that even the kids will enjoy.
43. Microwave Spaghetti Squash
Making spaghetti squash in the microwave is a quicker, easier, and healthier alternative to regular pasta. You can also add all sorts of toppings and sauces to this dish.
Easy Bread Recipes for Thanksgiving
We can't forget about adding some easy bread recipes you can pair with your main dishes. Bread lovers will definitely love these delicious recipes.
44. Air Fryer Garlic Bread
Garlic bread is a staple side dish for lots of main dishes. It tastes great and it's easy to make, so no wonder that's the case. This air fryer garlic bread recipe can be made in under 5 minutes, perfect for a busy Thanksgiving dinner party.
45. Homemade Artisan Bread
Make your own homemade artisan bread using this easy recipe. All you need are 3 simple ingredients, and you can serve this delicious bread at your Thanksgiving table.
46. Indian Fry Bread
Serve this Indian fry bread with your favorite toppings on Thanksgiving. It has a puffy look that has a crispy exterior. All you need are 5 ingredients to make this Indian style bread.
47. Crock Pot Monkey Bread
Making monkey bread is so fun and easy that you can make this with the kids. This recipe makes gooey cinnamon flavored bread that the whole family will love. The slow cooker makes the cooking process so convenient.
48. Garlic Bread Cheese Sticks
Combine garlic bread and cheese sticks and you have garlic bread cheese sticks. The garlic flavor of the bread combined with the cheese that melts in your mouth is an amazing experience. Try this recipe on Thanksgiving.
49. Jalapeño Popper Stuffed Cheesy bread
Each bite from this jalapeño popper stuffed cheesy bread is full of delicious cheesy flavor with a mix of spiciness. It's a perfect side dish to pair with other Mexican main dishes, but it also pairs greatly with almost anything.
50. Cornbread Muffins
These cornbread muffins are so sweet and serve as an amazing Thanksgiving side dish. Making them from scratch is so easy and will only take you a few minutes. They are inexpensive and taste so much better than store bought ones.
51. Indian Fry Bread Tacos
Combining Indian fry bread with delicious taco ingredients makes an amazing side dish. The crispiness of the bread and the savory taste of the beef go together so well. Making Indian fry bread tacos is a great way to change up your regular tacos.
52. Candied Yams
53. Ambrosia Salad with Jello
There are so many tasty recipes to try for the best Thanksgiving side dishes. Everyone will love absolutely love these delicious recipes.
More Thanksgiving Recipes: