Dump and go slow cooker recipes are simple easy meals that you can throw in the crock pot without any browning. They require very little work so you can just toss and go before you head to work.
Dump and go slow cooker recipes
Sometimes you just need to be able to throw some ingredients into the crock pot and come home to dinner. Schedules are so busy and dinner time can be stressful.
We have the solution to meal time with these easy recipes. Your family will love these meals.
What makes these recipes dump and go?
They require minimum prep work. You can literally toss and go in the morning before you leave.
Recipes like this are definitely a game changer during the week.
Do you need to brown meat before adding it to the slow cooker?
No, you do not. These recipes do not require any browning making it even easier.
Need a new slow cooker? Check out our recommendations for the Best Slow Cookers.
How to freeze dump and go slow cooker recipes?
You can use a freezer bag or container. I personally prefer bags because they freeze flat and save space.
If you are like me and don't have a ton of freezer space, this is such a great way to get more freezer meals. The bags just stack right on top of each other.
Make sure whatever you use, it is sealed well before freezing and you get the air out. They will last up to 3 months in the freezer.
Also try Crock Pot Pork Recipes or one of our White Bean Recipes.
Chicken Dump and Go Slow cooker Recipes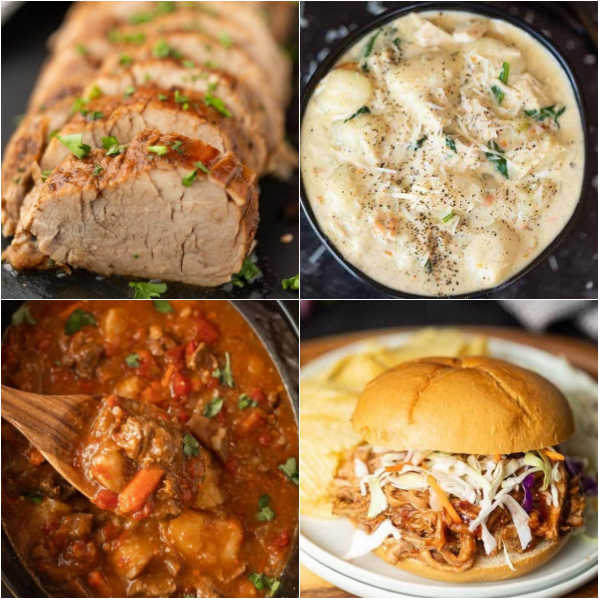 1. Crock Pot Chicken and Dumplings
Enjoy comfort food any day of the week with this easy recipe for Chicken and Dumplings in the slow cooker.
2. Crockpot Chicken Pot Pie
Skip the oven and make Chicken Pot Pie right in the crock pot. This is a game changer and seriously the best recipe.
3. Crock Pot Chicken Fajita Soup
No one will miss the carbs in this low carb soup recipe. It is also frugal and really delicious.
4. Crock Pot Creamy Tuscan Chicken
No need to get take out with amazing Italian dishes like this Tuscan chicken. Each bite is so creamy.
5. Crock Pot Monterey Chicken Recipe
This copy cat Chili's recipe will save you time and money. The flavor is amazing and you can enjoy this dish at home.
6. Crock Pot Chicken Pot Pie Soup Recipe
Enjoy chicken pot pie without any of the work in this delicious soup recipe. Lots of chicken and vegetables make this hearty and tasty.
7. Slow Cooker Crack Chicken Recipe
Cheesy and delicious, this chicken is tender and loaded with flavor. It is perfect for dinner, Game day and really any day of the week.
8. Slow Cooker Chicken Burrito Bowl
These burrito bowls are so easy and everyone can add their favorite toppings. It is a great way to stretch your meat and really effortless.
9. Slow Cooker Whole Chicken
If you are tempted to buy the rotisserie chicken in the store, make one at home instead. You can easily use your crockpot for this delicious chicken.
10. Crockpot Chicken and Stuffing
This is the best combination and a great comfort food meal. Tender chicken and savory stuffing make a tasty weeknight dinner.
11. Crock Pot Chicken Corn Chowder
Stretch your meat budget with this chicken corn chowder soup. The veggies and broth are so amazing. Add your favorite toppings for a great meal.
12. Crock Pot Chicken Stew
Change things up with this easy chicken stew. Each bite is packed with veggies and chicken.
13. Easy Crockpot Chicken Taquitos Recipe
Chicken and cheese combine for a meal the kids will ask for again and again. The crock pot does all of the work.
14. Crockpot Chicken Quesadillas Recipe
The slow cooker makes chicken so tender without any work. Make quesadillas with the chicken for an easy weeknight meal.
15. Crock Pot Mississippi Chicken
You can't go wrong with 4 ingredients. This simple meal is so easy but always a crowd pleaser.
16. Southwest Crock Pot Chicken and Rice
Jazz up chicken and rice with this Southwest dish.
17. Crock Pot Chicken Broccoli and Rice Casserole
Make this one pot meal for a really easy dinner. Everything you need for a great dinner is in the crock pot.
18. Crock Pot Chicken Parmesan Recipe
Chicken Parmesan does not have to be hard to make. This slow cooker recipe makes it simple enough for weeknights.
19. Crockpot Chicken Tortilla Soup Recipe
Feed a crowd with this budget friendly soup recipe. It has all of the flavors you love in tortillas in an easy soup with black bean, corn and more. Top with sour cream or add cream cheese to make it creamy.
20. Slow Cooker Creamy Chicken Tortilla Soup
Mexican Monday is even easier with this soup. The creamy base is so flavorful with the chicken breast.
21. Crock Pot Jalapeno Popper Chicken Soup
Spice things up with this recipe. Everything you love about jalapeno poppers is combined in this tasty chicken soup. You can use chicken breasts or chicken thighs.
22. Crock Pot Chicken Fajita Pasta
If your family likes fajitas, make this pasta dish for an easy meal.
23. Crock Pot Creamy Chicken Parmesan Soup
Enjoy Chicken Parmesan in a soup without any effort. This is the perfect way to get all the flavors of this classic recipe without the work.
24. Slow Cooker Cilantro Lime Chicken
This is quick and easy but absolutely amazing. It is perfect served over rice, nachos, salad and more.
25. Crock Pot Olive Garden Chicken Gnocchi
Save money and make this Olive Garden favorite at home. It is creamy and flavorful.
26. Crock Pot Olive Garden Chicken Alfredo Pasta
Chicken alfredo is super easy in the slow cooker. You won't be tempted to get takeout with this easy meal.
27. Slow Cooker Mexican Chicken Corn Chowder
Take corn chowder to the next level with this recipe packed with Mexican flavor.
28. Crock Pot Chipotle Chicken Recipe
There are so many wonderful flavor combinations in this recipe. From the fresh lime to the chipotle peppers, it is perfection in each bite.
29. Crock Pot Chicken Tacos
You only need 3 ingredients to make chicken tacos. The slow cooker does all of the work and dinner is waiting when you get home.
30. Crockpot Chicken and Vegetable Soup
You only need a few simple ingredients to make chicken vegetable soup. It is the best comfort food and simply amazing.
Beef Dump and Go Crock pot Recipes
31. Easy Crockpot Taco Meat Recipe
Make taco meat in the slow cooker for an easy meal. Taco Tuesday is even easier now.
32. The Best Crock Pot Roast Recipe
No seasoning packets needed and this roast comes together quickly and easily.
33. Mississippi Pot Roast
With only 4 ingredients, roast is no longer just for Sunday dinner. It is easy enough for any night of the week.
34. Crock Pot Steak and Potatoes Beef Stew
Enjoy steak on a budget in this simple to make stew recipe. It is the best.
35. Tangy Crockpot Steaks
Cooking steak in the slow cooker is the solution to busy weeks. It turns cheap cuts of meat into tender and flavor packed steak.
36. Crock Pot Street Tacos
Mexican Monday is a favorite around here. Street tacos are so easy in the slow cooker and really tasty too.
37. Slow Cooker Steak Soup
Steak soup is perfect for leftovers or to stretch your meat. Enjoy a savory soup with very little time or money.
38. Crock Pot Dill Pickle Roast
Enjoy this ranch flavored roast with only 4 ingredients. The combination of ranch and pickles make an amazing roast.
39. Balsamic Crock Pot Roast
The balsamic flavor is so tasty on the pot roast and veggies. It is going to be a family favorite.
40. Crock Pot Roast Beef with Peppers
Roast is even more tasty cooked with peppers. The combination is a winner.
41. Crock Pot Beef Stew
This simple stew is quick to toss together. Everything you need for a great meal is in this crock pot.
42. Crock Pot Mexican Beef Stew
If you love beef stew, try something different with this recipe loaded with Mexican flavor.
42. Crock Pot Beef Tacos
You are guaranteed to have tender beef when you let it slow cook all day. This meat makes the best tacos.
43. Crock Pot Chipotle BBQ Steak Tacos
Take street tacos to the next level with all of this chipotle bbq flavor. It is perfect for tacos.
44. Gluten free crock pot Mexican Shredded Beef Tacos
Enjoy this gluten free recipe perfect for the entire family. The shredded beef is so tender it falls apart.
Pork Dump and Go Crock Pot Recipes
45. Crock Pot Pork Roast
Once you make a pork roast in the slow cooker, you might not ever make it another way. It is super easy and fall apart tender.
46. Crock Pot Pork Loin
If you are looking for comfort food, pork loin with gravy is the meal to cook.
47. Crockpot BBQ Porkchops
You won't have tough pork chops when you use the slow cooker. The BBQ sauce makes each bite fabulous. Serve it over rice or mashed potatoes.
48. Crock Pot Smothered Pork Chops
The gravy in this recipe makes the pork chops super tasty. You will love the combination.
49. Crock Pot Pulled Pork Sandwich
Pulled pork with a tangy sauce is actually very simple to make. It is perfect on buns or sliders.
50. Crock Pot Pork Tenderloin Tacos
The peach salsa really jazzes up the pork tacos. The flavor combination is perfect.
51. Crock Pot Country Style Pork Ribs
Once you learn how to make ribs in the crock pot it is a game changer. They are so tender they fall off the bone.
52. Crock Pot Cuban Mojo Pork Tenderloin
The citrus flavor makes the best sauce to pair with pork tenderloin.
52. Honey Lime Crock Pot Pork Tenderloin
Your family will love the honey lime drizzle. It is the perfect sauce with pork.
53. Crockpot Teriyaki Pork Chops
Teriyaki sauce, pineapple and more combine for a meal so good, you won't even be tempted to get takeout.
54. Balsamic Pork Tenderloin Crock Pot Recipe
Balsamic pork has just the right amount of seasoning and turns out so tender.
55. Crock Pot Ranch Pork Chops
It is so easy to turn pork chops into an amazing meal with a little ranch flavor.
56. Crockpot Pork Chop Dinner
This is one of the easiest one pot meals. Everything you need for dinner is in the crock pot.
57. Crock Pot Pork Tenderloin with peaches
The peach glaze makes this dish even better. You have to try it.
58. Slow Cooker Pork Carnitas
If you are looking for authentic but easy, make tender pork carnitas. You can use the meat for tacos, salads or anything you prefer.
Vegetarian Dump and Go Slow Cooker Recipes
59. Crock Pot Vegetarian Chili
No one will miss the meat in this hearty veggie chili recipe.
60. Crock Pot Vegetable Soup
This classic vegetable soup recipe is so easy in the slow cooker.
61. Instant Pot Quinoa Soup
Thanks to the pressure cooker, you only need 5 minutes to get dinner on the table.
The best dump and go slow cooker recipes.
There are so many easy recipes to try. I think you will love these new dump and go recipes.
They are so tasty and perfect for busy weeknights. Dinner time will no longer be stressful with these simple but amazing meals.
Toss and dump dinners are perfect for any night of the week.
Try these crock pot dessert recipes: